Introduction
Have you ever found yourself munching on a succulent nectarine and wondered if your canine companion could enjoy this delectable treat too? Our furry friends are more than just pets; they're cherished members of our families. As devoted pet owners, we're naturally concerned about their health and well-being. One common query that often arises among dog lovers is whether dogs can indulge in fruits like nectarines. In this comprehensive guide, we're going to unravel the mystery surrounding nectarines and your dog's diet, addressing the burning question: Can dogs eat nectarines?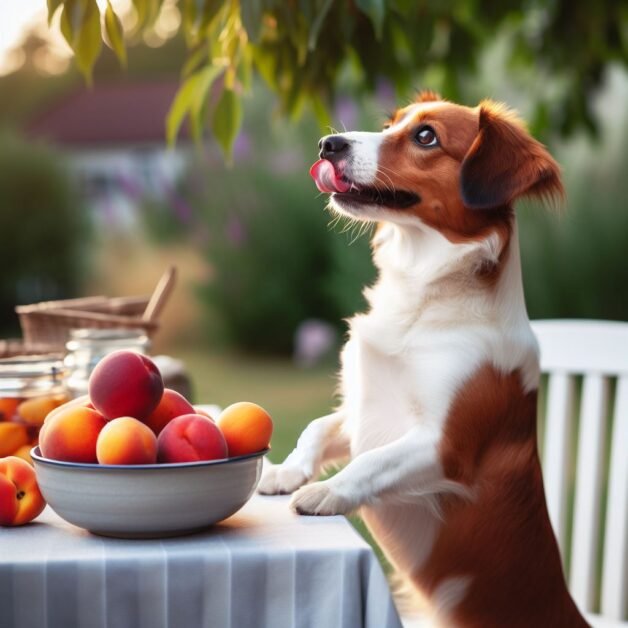 Our canine friends, with their wagging tails and soulful eyes, bring boundless joy into our lives. It's our responsibility to ensure they lead happy, healthy lives, and a significant aspect of their well-being is their diet. Understanding what our dogs can and cannot eat is crucial, especially when itcomes to foods that are part of our daily lives. Nectarines, with their tantalizing sweetness and juiciness, are a popular fruit choice for many, making them a common curiosity for dog owners. Can this delightful fruit be shared with our four-legged companions, or should it be strictly off-limits?
So, are you ready to uncover the secrets behind nectarines and canine companionship? Let's embark on this enlightening journey, ensuring that your dog's diet remains as delightful and safe as their wagging tail and affectionate cuddles. Join us as we explore the intricacies of this canine fruit dilemma, empowering you to make informed choices for your beloved furry friend. Let's dive in!

Can dogs eat nectarines? It's a question that many pet owners ponder as they watch their furry companions eyeing that juicy, ripe nectarine on the kitchen counter. The good news is that nectarines, in moderation, are generally considered safe for dogs. They are not inherently toxic, and many dogs might enjoy the sweet, succulent taste of this summer fruit. However, as with any new addition to your dog's diet, it's crucial to understand both the benefits and potential drawbacks.
Table of Contents
Nutritional Facts of Nectarines
Before we delve into the specifics of whether dogs can eat nectarines, let's break down the nutritional content of this delectable fruit. Nectarines, belonging to the Rosaceae family, boast an impressive array of vitamins and minerals. Here's a snapshot of the nutritional value of nectarines in a nutshell:
| Nutrient | Amount per 1 medium nectarine (142g) |
| --- | --- |
| Calories | 63 kcal |
| Protein | 1.5 g |
| Carbohydrates | 15 g |
| Fiber | 2.4 g |
| Sugar | 11.2 g |
| Fat | 0.5 g |
| Vitamin C | 8.5% of the Daily Value (DV) |
| Vitamin E | 7.3% of the DV |
| Vitamin A | 2.7% of the DV |
| Potassium | 6.1% of the DV |
| Copper | 13.3% of the DV |
Nectarines are a rich source of essential vitamins and minerals, including vitamin A, vitamin C, calcium, and dietary fiber. Vitamin A promotes healthy vision and immune function, while vitamin C supports collagen formation, ensuring the integrity of your dog's skin and joints. The dietary fiber in nectarines aids digestion, preventing constipation and promoting a healthy gut.
The Pros and Cons of Feeding Nectarines to Dogs
While nectarines offer a plethora of nutrients, they do come with some potential drawbacks. One significant concern is the pit of the nectarine, which contains a compound called amygdalin. Ingesting amygdalin in large amounts can break down into cyanide, which is highly toxic to both humans and dogs. Therefore, it is absolutely imperative to remove the pit entirely and never allow your dog to chew or ingest it.
Furthermore, some dogs may be allergic to nectarines. Allergic reactions can manifest as itchiness, swelling, or gastrointestinal problems. If you're introducing nectarines into your dog's diet for the first time, it's crucial to do so slowly and observe for any adverse reactions. Additionally, the high sugar content in nectarines might not be suitable for dogs with diabetes or weight issues, potentially leading to obesity-related problems. As with any treat, nectarines should complement, not replace, a dog's primary diet.
Feeding Nectarines to Dogs: Best Practices Reiterated
If your dog shows no signs of allergy and you've removed the pit, nectarines can indeed be a delightful occasional treat. To ensure your dog's safety and enjoyment, it's advisable to cut the fruit into small, manageable pieces to prevent choking hazards. Remember, moderation is key; too much of any fruit, including nectarines, can upset your dog's stomach. A small piece now and then can be a flavorful addition to your dog's treat repertoire.
How Much Nectarines Can a Dog Eat?
One of the key aspects of introducing any new food into your dog's diet, including nectarines, is understanding the importance of moderation. While nectarines can indeed be a delightful treat for your canine companion, it's crucial to remember that treats should never comprise more than 10% of your dog's daily calorie intake. Dogs have specific dietary requirements, and too many treats, regardless of how healthy they might seem, can upset this delicate balance.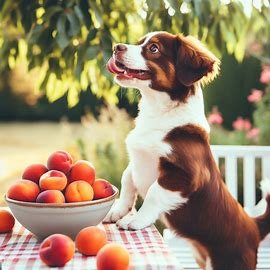 When it comes to nectarines, it's advisable to start with a small piece. Observing how your dog reacts to this new addition is essential. Some dogs might take to the taste immediately, while others might need a bit of time to adjust. Like with any new treat, it's best to introduce nectarines slowly into their diet. This cautious approach allows you to monitor for any allergic reactions or digestive issues that may arise, ensuring your furry friend's safety and well-being.
Preparing Nectarines for Your Dog
Proper preparation of nectarines is just as vital as portion control. Before offering this fruit to your dog, it's imperative to remove the pit, seeds, and any leaves entirely. As mentioned earlier, the pit contains amygdalin, which can break down into cyanide, posing a severe risk to your dog's health. Ensuring that the nectarine is free from these potentially harmful components is a non-negotiable step.
Additionally, it's a good practice to cut the nectarine into small, manageable pieces. This not only prevents choking hazards but also allows your dog to enjoy the treat without any difficulty. Dogs, just like humans, appreciate their food in bite-sized portions, and cutting the nectarine appropriately ensures a safe and enjoyable snacking experience.
Factors Affecting Nectarine Consumption
It's essential to recognize that the appropriate serving size of nectarines for your dog can be influenced by various factors, including their size, breed, and individual tolerance levels. Larger dogs may be able to tolerate slightly larger portions compared to smaller breeds. Similarly, the overall health condition of your dog plays a role in determining how much nectarine they can safely consume.
A general rule of thumb is to offer nectarines based on your dog's weight. For instance, a small dog weighing around 10-15 pounds should have no more than a few small pieces of nectarine, while a larger dog weighing 50-75 pounds might be able to enjoy a bit more, perhaps half a nectarine at most. Always consult your veterinarian if you're unsure about the appropriate serving size for your specific dog, as they can provide personalized guidance tailored to your pet's unique needs.
In summary, while nectarines offer a delicious and nutritious option for your furry friend, exercising caution, and understanding your dog's limits are paramount. By being mindful of portion sizes, preparing the fruit correctly, and considering your dog's individual characteristics, you can safely incorporate nectarines into their diet, enhancing their culinary experiences without compromising their health.
Remember, every dog is different, so paying attention to your pet's reactions and consulting with your vet ensures that you provide the best care possible. With the right approach, you can indulge your canine companion with the occasional nectarine treat, enhancing their diet while nurturing the bond between you and your beloved furry friend.
Risks of Feeding Nectarines to Dogs: Understanding Potential Hazards
While nectarines may seem like a delightful addition to your dog's diet, it's essential to recognize the potential risks associated with feeding these fruits to your furry friend. Understanding these risks can help you make informed decisions and safeguard your pet's health.
Food Allergies and Intolerance:
Just like humans, dogs can also develop food allergies. When it comes to nectarines, some dogs may be allergic to certain compounds present in the fruit. Allergic reactions can manifest in various ways, including itchiness, swelling, or gastrointestinal problems. These reactions are often immediate and can occur within minutes to a few hours after ingestion.
Short-term signs of food intolerance, especially gastrointestinal distress, could be a result of your dog consuming nectarines. Symptoms such as vomiting, diarrhea, or excessive drooling might indicate that your dog's system is not tolerating the fruit well. It's crucial to be vigilant and observe your pet closely, especially after introducing nectarines into their diet.
Specific Hazards in Nectarines:
Beyond allergic reactions, certain components of nectarines can pose significant risks to dogs. As previously mentioned, the pit of the nectarine contains amygdalin, which, when broken down, can produce cyanide. Cyanide is a potent toxin that can cause severe health issues and, in extreme cases, be fatal. Thus, ensuring the complete removal of the pit before offering nectarines to your dog is non-negotiable.
Additionally, the high sugar content in nectarines can lead to various health concerns, particularly for dogs with diabetes or those struggling with weight issues. Excessive sugar intake can contribute to obesity, dental problems, and diabetes-related complications. Monitoring your dog's sugar intake, even from natural sources like fruits, is essential to maintaining their overall health.
Signs and Symptoms of Adverse Reactions:
It's crucial for pet owners to be aware of the signs and symptoms that might indicate an adverse reaction in dogs after consuming nectarines. These signs can include:
Itchiness and Skin Irritation: Look out for excessive scratching, redness, or swelling on your dog's skin.
Gastrointestinal Distress: This includes symptoms like vomiting, diarrhea, or abdominal pain.
Difficulty in Breathing: Allergic reactions can sometimes lead to respiratory problems, which should be treated as an emergency.
Swelling of Face or Throat: This can be a severe sign of an allergic reaction, necessitating immediate medical attention.
Lethargy and Weakness: If your dog appears unusually tired or weak after consuming nectarines, it might indicate an adverse reaction.
If you observe any of these symptoms in your dog after they've consumed nectarines, it's imperative to discontinue the fruit immediately and seek veterinary care. Prompt action can make a significant difference in your pet's recovery and well-being.
In conclusion, while nectarines are packed with nutrients, their consumption by dogs requires careful consideration. Being aware of potential risks, monitoring your dog's reactions, and promptly addressing any adverse symptoms are essential steps in ensuring your canine companion's safety. By staying informed and attentive, you can make treat time a delightful and worry-free experience for both you and your furry friend. Remember, a healthy dog is a happy dog, and your vigilance plays a vital role in their well-being.
How to Feed Nectarines to Your Dog: Making Treat Time Delicious
Feeding your dog nectarines can be a delightful experience, and there are several creative and enjoyable ways to incorporate this nutritious fruit into your furry friend's diet. By exploring different methods, you can enhance your dog's meals, making them not only nutritious but also incredibly flavorful.
1. Fresh or Frozen Treats:
One of the simplest and most straightforward ways to introduce nectarines to your dog is by offering them fresh or frozen slices. Many dogs enjoy the cool, refreshing taste of frozen nectarine slices, especially on a hot day. Just ensure that the pit, seeds, and leaves are removed entirely before serving. Frozen nectarines can also provide relief for teething puppies, soothing their gums as they chew on the cold fruit.
2. Food Topper or Mixer:
Nectarines can be finely diced and used as a food topper or mixer for your dog's regular meals. Adding a small amount of nectarine to your dog's kibble or wet food can enhance the overall taste and aroma, encouraging picky eaters to enjoy their meals more. However, always keep the portions small and monitor your dog's reaction to ensure they tolerate the addition well.
3. Homemade Treats and Snacks:
Get creative in the kitchen and whip up some homemade dog treats incorporating nectarines. You can make simple treats by pureeing nectarines and mixing the puree with dog-friendly ingredients like oats, peanut butter, or plain yogurt. Shape the mixture into small, bite-sized treats, and after a quick freeze, you'll have delicious nectarine-infused snacks ready for your pup. These treats not only provide a tasty reward but also pack a nutritional punch.
4. Enhancing Your Dog's Meals:
Apart from treats, consider enhancing your dog's regular meals with nectarines. Create a balanced meal by combining lean proteins, vegetables, and a small portion of nectarine. For example, you can prepare a homemade dog-friendly stew by including cooked chicken or turkey, sweet potatoes, and diced nectarines. This mixture not only adds a burst of flavor but also introduces additional vitamins and minerals to your dog's diet.
5. Fun and Interactive Toys:
Transform treat time into an engaging activity by using interactive toys. Stuff a Kong toy or any treat-dispensing toy with a mixture of mashed nectarines and other dog-friendly ingredients. This not only stimulates your dog mentally but also provides a tasty reward for their efforts, making mealtime an exciting and enjoyable experience.
Nectarine Recipes for Your Furry Friend:
Nectarine Doggie Ice Cream:</strong>

Ingredients: Pureed nectarines, plain yogurt, honey (optional).
Mix pureed nectarines with yogurt and a drizzle of honey for sweetness.
Freeze the mixture in ice cube trays or silicone molds.
Serve as a cool, refreshing treat on hot days.

Nectarine and Oat Biscuits:

Ingredients: Pureed nectarines, oats, a tablespoon of peanut butter.
Mix pureed nectarines with oats and peanut butter to form a dough.
Shape the dough into small biscuits and bake until golden brown.
Let them cool completely before offering them to your dog.
Remember, while nectarines can be a fantastic addition to your dog's diet, it's crucial to maintain moderation and observe your dog's reactions. Every dog is different, so what works for one might not suit another. By experimenting with these creative feeding methods and homemade recipes, you can make treat time a joyful and enriching experience for your beloved furry companion. Enjoy the process of nourishing your dog's body and soul, one nectarine treat at a time!

Frequently Asked Questions About Dogs Eating Nectarines: Unraveling the Canine Fruit Enigma
As the debate about whether dogs can safely consume nectarines continues, numerous questions arise among concerned pet owners. To clear the air and provide you with accurate, reliable information, here are the answers to some of the most frequently asked questions about dogs eating nectarines:
1. Can All Dogs Eat Nectarines?
While nectarines aren't inherently toxic to dogs, not all dogs should indulge in this fruit. Dogs with certain health conditions, such as diabetes or obesity, should avoid nectarines due to their high sugar content. Additionally, dogs with a history of allergies should be introduced to nectarines cautiously.
2. Can Dogs Eat Nectarine Skin?
Nectarine skin, like peach skin, contains a compound called lectin. While small amounts may not harm your dog, it's safer to remove the skin. Some dogsmight have sensitive stomachs and can develop digestive issues if they consume too much skin.
3. What Should I Do If My Dog Accidentally Eats Nectarine Pits?
Nectarine pits contain cyanide-producing compounds and can be extremely dangerous if ingested. If your dog accidentally eats a nectarine pit, contact your veterinarian immediately. They might need to induce vomiting or take other measures to prevent cyanide poisoning.
4. Can Nectarines Cause Upset Stomach in Dogs?
Yes, nectarines can cause an upset stomach in dogs, especially if consumed in large quantities. The natural sugars and fiber content can lead to gastrointestinal discomfort, including diarrhea and vomiting. Always start with small amounts and monitor your dog's reaction.
5. Are There Any Alternatives to Nectarines for Dogs?
If you're looking for alternatives to nectarines, consider dog-friendly fruits like apples, blueberries, or watermelon. These fruits are lower in sugar and can be a safer option for your pet.
6. Can Puppies Eat Nectarines?
Puppies have delicate digestive systems and are generally more susceptible to gastrointestinal issues. It's advisable to avoid giving nectarines to puppies, especially if they haven't been introduced to solid foods yet. Consult your veterinarian before introducing any new foods to your puppy's diet.
7. Can Dogs Eat Canned Nectarines?
Canned nectarines often come in syrup, which is high in sugar. Excessive sugar consumption can lead to obesity and other health issues in dogs. If you're considering offering nectarines to your dog, fresh or frozen varieties without added sugars are a much better choice.
8. Can Nectarines Cause Allergic Reactions in Dogs?
Yes, nectarines can cause allergic reactions in some dogs. Allergic symptoms might include itching, swelling, or gastrointestinal distress. If you notice any of these symptoms after feeding your dog nectarines, stop giving them the fruit and consult your veterinarian.
9. Can Nectarines Help with a Dog's Bad Breath?
While nectarines can provide a refreshing burst of flavor, they aren't a solution for bad breath in dogs. Persistent bad breath could indicate dental issues or other health problems, and it's essential to consult your veterinarian for proper diagnosis and treatment.
10.How Should I Store Nectarines for My Dog?
When storing nectarines for your dog, ensure they are fresh and ripe. Refrigerate them to prolong their freshness. If you plan to offer frozen nectarine slices as treats, store them in an airtight container in the freezer. Always thaw frozen nectarines before giving them to your dog to prevent tooth sensitivity.

Conclusion
In conclusion, the question of whether dogs can eat nectarines is nuanced. While this juicy fruit offers essential vitamins and fiber, its potential hazards, especially in the form of pits and skin, require careful consideration. Moderation is the key, and even then, nectarines aren't essential to a dog's diet. As a responsible pet owner, it's crucial to prioritize your dog's well-being and opt for treats that pose minimal risks.