Dogs, our beloved companions, often share our homes and sometimes our meals. This camaraderie naturally leads pet owners to wonder: can dogs partake in the diverse culinary delights that humans enjoy, including fish? The answer, in short, is a definitive yes. However, this affirmative response comes with a slew of considerations that delve deep into the realms of canine nutrition and health.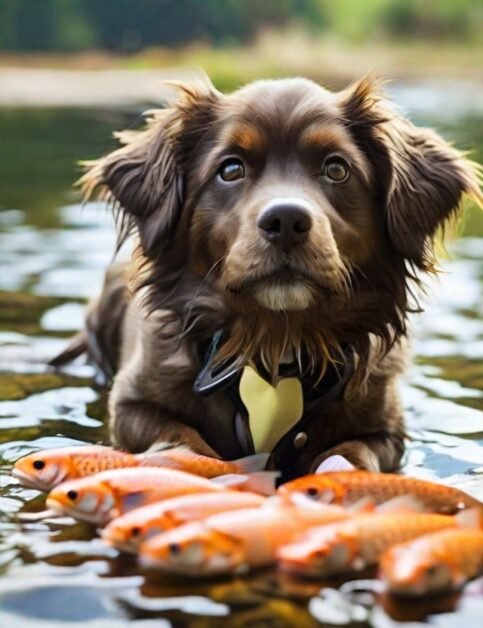 Table of Contents
Unraveling the Omega-3 Enigma
At the heart of the debate lies the nutritional powerhouse that is fish, particularly its abundant reserves of omega-3 fatty acids. These essential polyunsaturated fats are not only beneficial but are, in fact, critical for a dog's holistic well-being. The wonders of omega-3 fatty acids are manifold. They act as potent anti-inflammatory agents, making them invaluable for dogs struggling with joint-related ailments, notably arthritis. Furthermore, these fatty acids lend crucial support to a dog's cognitive functions, making them vital for both the exuberance of puppies and the wisdom of senior dogs. Fish varieties like salmon, mackerel, and sardines stand out as troves of these invaluable nutrients.
Navigating the Murky Waters: Risks and Cautions
While fish offers a plethora of nutritional advantages, the path to a healthy canine diet is not without its perils. Certain fish species, due to their natural habitat or diet, can accumulate alarming levels of mercury. When ingested in large quantities, mercury can pose significant health risks to dogs. Therefore, an informed pet owner must exercise caution and avoid feeding their canine companions high-mercury fish such as swordfish and shark.
Additionally, the very anatomy of fish carries hidden dangers. Bones, while an integral part of fish, can pose a severe choking hazard to dogs. Thus, serving fish boneless and cooked thoroughly becomes paramount in ensuring a safe dining experience for your furry friend.
A Holistic Approach: Fish-Based Diets and Canine Health
The Protein Paradigm: Fish as a Source of Vital Nutrients
Protein, the cornerstone of any balanced diet, is abundantly found in fish. High-quality protein is essential for the development and repair of body tissues, the growth of muscles, and the fortification of the immune system. Fish-based protein, often easily digestible for dogs, offers a holistic nutritional package. For dogs with sensitive stomachs or food allergies, fish can be a godsend, providing the necessary nutrients without triggering adverse reactions.
Skin Deep: Fish and Canine Dermatology
Beyond internal health, the benefits of fish extend to a dog's external well-being, manifesting as a glossy coat and itch-free skin. Omega-3 fatty acids, the unsung heroes of this narrative, possess not just anti-inflammatory properties but also transformative effects on a dog's fur and skin. Regular consumption of fish can bestow upon your canine companion a luscious, shiny coat while mitigating skin irritations. For dogs grappling with allergies or dry skin conditions, the introduction of fish into their diet can bring about a marked improvement in their overall comfort and vitality.
In conclusion, the query of whether dogs can eat fish is not merely a yes-or-no affair; it is a nuanced exploration of nutrition, risks, and benefits. Responsible pet ownership necessitates a discerning approach, where awareness of the types of fish safe for canine consumption is coupled with the meticulous preparation of fish to eliminate potential hazards. By embracing fish as a part of your dog's diet, and doing so responsibly, you gift your furry companion not just a meal, but a ticket to enhanced vitality, both inside and out.
Can Dogs Eat Fish? Demystifying Canine Nutrition
When it comes to expanding our pets' culinary horizons, fish often emerges as a tantalizing option. But can dogs truly indulge in this aquatic delight? The answer lies in the nuanced understanding of canine nutrition. Fish, in general, is not toxic to dogs, and many canines indeed relish the taste of this flavorful protein source.
Nutritional Breakdown: Fish on the Canine Menu
Let's delve into the nutritional facts of fish, unpacking the wealth of benefits it offers to our four-legged companions. In the table below, we highlight the essential nutrients found in fish, elucidating the reasons why it is often considered a valuable addition to a dog's diet.
| Nutrient | Function in Canines |
| --- | --- |
| Protein | Supports muscle growth and repair |
| Omega-3 Fatty Acids | Reduces inflammation, promotes brain health |
| Vitamins (B12, D) | Essential for overall health and vitality |
| Minerals (Calcium, Phosphorus) | Contributes to bone health |
The Double-Edged Sword: Benefits and Drawbacks of Fish Consumption
Fish, being a treasure trove of nutrients, offers several advantages to dogs. The high-quality protein content aids in muscle development and immune system support. Additionally, the presence of omega-3 fatty acids, notably EPA and DHA, not only reduces inflammation, making it a boon for arthritic dogs, but also fosters optimal brain function. Moreover, fish serves as a rich source of vitamins like B12 and D, crucial for energy production and bone health, respectively. The minerals calcium and phosphorus further fortify a dog's skeletal structure.
However, this aquatic feast is not without its caveats. Excessive consumption of fish, especially in its raw form, can lead to a condition called thiamine deficiency. Thiamine, or vitamin B1, is essential for carbohydrate metabolism and nerve function. Inadequate levels of thiamine can result in severe health complications, emphasizing the importance of moderation in incorporating fish into a dog's diet.
Fish as a Complement, Not a Replacement
While fish offers an array of nutrients, it should not supplant a dog's primary diet. Dogs require a balanced diet that encompasses various protein sources, carbohydrates, and vegetables to ensure they receive a comprehensive array of nutrients. Fish can certainly be a delightful addition, providing diversity in taste and nutrition. However, it should be part of a well-rounded, carefully curated diet plan.
In conclusion, the question of whether dogs can eat fish isn't just about a simple yes or no. It's about understanding the delicate balance of nutrients, potential benefits, and associated risks. By incorporating fish into your dog's diet in moderation, you can enrich their culinary experience while ensuring their overall health and well-being.
How Much Fish Can Your Dog Safely Consume?
Feeding fish to your canine companion can be a delightful experience, but it's crucial to exercise caution and prudence. As with any treat or addition to your dog's diet, moderation is key. Treats, including fish, should never constitute more than 10% of your dog's daily calorie intake. While fish offers a plethora of health benefits, overindulgence can lead to nutritional imbalances or other health issues.
Start Small: Observing Your Dog's Reaction
When introducing fish into your dog's diet, it's wise to begin with a small portion and keenly observe their reaction. Just like humans, dogs can have individual preferences and tolerances. Some may take to fish immediately, relishing every bite, while others might need time to adjust to the new taste and texture. By starting with a modest portion, you can gauge your dog's enthusiasm and ensure there are noadverse reactions.
The Art of Preparation: Ensuring Safety and Palatability
Preparing fish for your furry friend requires careful attention to detail. To mitigate potential risks, always serve fish boneless and thoroughly cooked. Removing bones is crucial, as even the smallest bone fragments can pose a choking hazard or, in rare cases, cause internal injuries. Grilling, baking, or boiling fish are excellent cooking methods that retain the nutritional value while eliminating potential hazards. Avoid adding any seasonings, spices, or oils, as these additives can upset your dog's stomach.
Size, Breed, and Individuality: Factors Influencing Fish Consumption
The amount of fish your dog can comfortably tolerate depends on several factors, including their size, breed, and individual metabolism. Larger dogs typically have a higher tolerance for fish consumption compared to their smaller counterparts. However, it's essential to tailor the serving size to your specific dog. As a general guideline, a small dog weighing around 10 pounds might comfortably enjoy a tablespoon-sized serving, while a larger breed weighing 50 pounds or more could safely consume up to half a fillet. Always adjust the serving size according to your dog's weight and monitor their reaction closely.
Consulting Your Veterinarian: Personalized Dietary Guidance
Every dog is unique, and consulting your veterinarian for personalized dietary guidance is invaluable. Your vet can provide recommendations tailored to your dog's health condition, age, and dietary requirements. If you are considering incorporating fish into your dog's regular diet, especially as a replacement for their primary protein source, your veterinarian can guide you regarding the appropriate balance and supplementation to ensure your dog receives a well-rounded diet.
In conclusion, while fish can be a delectable and nutritious addition to your dog's diet, responsible pet ownership demands careful consideration. By approaching fish consumption with moderation, starting small, preparing it thoughtfully, and factoring in your dog's size and breed, you can offer your furry friend a treat that not only tantalizes their taste buds but also contributes to their overall well-being.
The Risks of Feeding Fish to Dogs: Understanding Allergies and Potential Hazards
While fish undoubtedly offers a multitude of health benefits for dogs, it's imperative for pet owners to be aware of the associated risks, especially when it comes to allergies and potential hazards.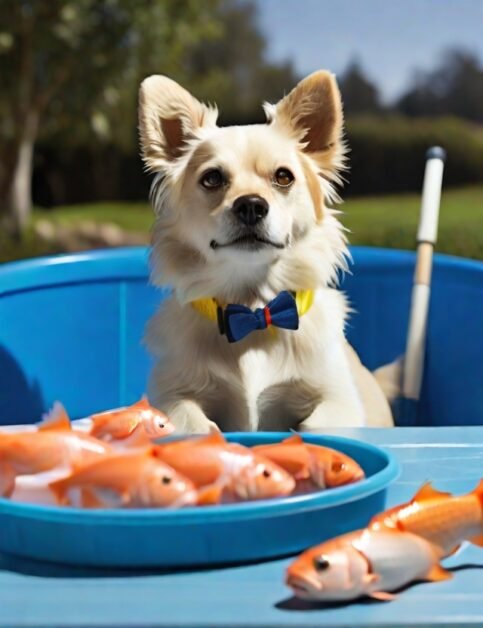 Food Allergies and Intolerance: A Concern for Canines
Just like humans, dogs can develop allergies to certain foods, including fish. Allergic reactions occur when a dog's immune system treats specific proteins in fish as harmful invaders. Symptoms of food allergies can manifest in various ways, including skin problems (such as itching, redness, or hives), gastrointestinal issues (vomiting or diarrhea), and even chronic ear infections. It's crucial for pet owners to observe their dog's behavior closely after introducing fish into their diet, especially if it's their first time consuming it.
Gastrointestinal Distress: Short-Term Signs of Food Intolerance
Even if a dog is not allergic to fish, they can still experience short-term signs of food intolerance, especially if they consume it in excessive amounts. Gastrointestinal distress, including vomiting and diarrhea, can result from a sudden dietary change or overindulgence. This distress is a clear indication that the dog's digestive system is struggling to process the new protein source. To prevent such discomfort, it's vital to start with small portions of fish and gradually increase the quantity if your dog shows no adverse reactions.
Potential Hazards: Components to Be Cautious About
Beyond allergies and gastrointestinal distress, there are specific components in fish that can pose hazards to dogs. One such element is fish bones. Even when cooked, fish bones can splinter and cause choking or internal injuries if ingested. Therefore, always ensure that fish is boneless before serving it to your canine companion.
Moreover, parasites and bacteria are potential hazards in raw or undercooked fish. These harmful microorganisms can lead to foodborne illnesses in dogs, which manifest in symptoms such as vomiting, diarrhea, and lethargy. Cooking fish thoroughly eliminates this risk, making it a safer option for your dog's consumption.
Recognizing Allergic Reactions: Signs and Symptoms
Pet owners must be vigilant and promptly recognize signs of allergic reactions or adverse responses in their dogs. Common signs of an allergic reaction include itchy skin, swelling, rashes, sneezing, coughing, difficulty breathing, diarrhea, and vomiting. In severe cases, anaphylaxis can occur, leading to a rapid drop in blood pressure and potentially life-threatening consequences. If you notice any of these symptoms after feeding your dog fish, consult your veterinarian immediately.
In conclusion, while fish offers a myriad of benefits for dogs, including essential nutrients and healthy fats, it's crucial for pet owners to be mindful of potential risks. Understanding the signs of food allergies, being cautious about gastrointestinal distress, and recognizing the hazards associated with certain fish components empower pet owners to make informed decisions about their dog's diet. Responsible pet ownership involves not only providing nutritious meals but also safeguarding your furry friend's well-being through careful dietary choices.
Enhancing Your Dog's Dining Experience: Creative Ways to Incorporate Fish into Their Diet
Feeding fish to your furry friend doesn't have to be a mundane task. With a bit of creativity, you can turn this nutritious addition into a delightful experience for your canine companion. Here are some innovative ways to incorporate fish into your dog's diet and make their meals more enjoyable:
1. Fresh or Frozen Fish Treats: A Wholesome Indulgence
One of the simplest and healthiest ways to introduce fish to your dog is by offering it as a fresh or frozen treat. Fresh fish chunks, when frozen, can provide a refreshing and soothing experience, especially during hot weather. These bite-sized treats not only satisfy your dog's taste buds but also offer a crunchy texture that can be incredibly satisfying.
2. Fish as a Food Topper or Mixer: Elevating Mealtime Excitement
Transform your dog's regular meals by adding a fishy twist. Use cooked, boneless fish as a topper or mixer for their kibble or wet food. This not only enhances the flavor but also adds a boost of nutrition. The aroma of fish can entice even the pickiest eaters, making mealtime a more enjoyable and eagerly anticipated affair for your dog.
3. Homemade Fish Treats: Tail-Wagging Goodness
Get creative in the kitchen and whip up some homemade fish treats for your canine companion. Fish-based dog treats are surprisingly easy to make and allow you to control the ingredients, ensuring they are wholesome and nutritious. Consider baking fish biscuits or dehydrating fish slices to create crunchy snacks that your dog will love. You can experiment with different fish varieties to find your dog's favorite flavor.
4. Fishy Food Enhancements: Infusing Flavor and Nutrients
Aside from treats, you can enhance your dog's regular meals by infusing them with fishy goodness. Prepare a fish broth by simmering fish bones (without sharp edges) in water and then adding the broth to your dog's food. Alternatively, blend cooked fish into a puree and mix itwith their food for an extra burst of flavor and nutrients. These enhancements not only make the meal more appealing but also provide additional health benefits.
5. Frozen Fish Popsicles: Cool and Tasty Refreshment
During warmer months, consider making frozen fish popsicles for your dog. Blend cooked fish with water or low-sodium broth and pour the mixture into ice cube trays. Freeze them, and voila – your dog gets a refreshing, fishy popsicle to enjoy. Not only is this a great way to keep your dog hydrated, but it also provides a fun and cooling treat.
Try These Simple Recipes: Homemade Fishy Delights
Fishy Biscuits:
1 cup cooked and mashed fish (like salmon or mackerel)
1 cup whole wheat flour
1 egg
1 tablespoon olive oil
Mix the ingredients, roll out the dough, cut into shapes, and bake at 350°F (175°C) for 15-20 minutes.
Fishy Broth:
Fish bones (from safe fish varieties)
4 cups water
Simmer the bones in water for 1-2 hours, strain, and cool. Add a splash of this broth to your dog's food for added flavor and nutrition.
These creative approaches not only make feeding fish to your dog exciting but also allow you to tailor their diet according to their preferences and dietary needs. By incorporating fish in these innovative ways, you not only provide a balanced and nutritious diet but also strengthen the bond between you and your canine companion through shared moments of culinary delight.
Frequently Asked Questions: Dogs Eating Fish
As pet owners become more conscious about their dog's diet, questions about incorporating fish into their meals abound. Here are answers to ten frequently asked questions about dogs consuming fish: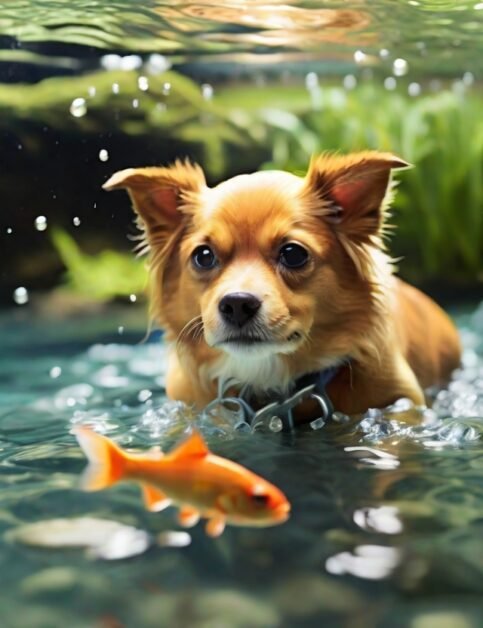 1. Can All Dogs Eat Fish?
Yes, in general, most dogs can eat fish. However, it's crucial to consider individual allergies and preferences. Some dogs might be allergic to fish proteins, so it's wise to introduce fish gradually and monitor their reactions.
2. Which Fish Varieties Are Safe for Dogs?
Safe fish varieties for dogs include salmon, mackerel, sardines, and whitefish. Avoid high-mercury fish such as swordfish and shark. Always choose boneless and thoroughly cooked fish to prevent choking hazards.
3. Can Dogs Eat Raw Fish?
While some pet owners opt for raw diets, raw fish can harbor parasites and harmful bacteria. Cooking fish thoroughly eliminates these risks, making it a safer choice for your furry friend.
4. How Much Fish Can I Feed My Dog?
Fish should be a treat, constituting no more than 10% of your dog's daily caloric intake. Serving sizes vary based on your dog's size. For example, a small dog might enjoy a tablespoon-sized portion, while a larger breed can have half a fillet.
5. Are Fish Bones Safe for Dogs?
No, fish bones are not safe for dogs. Even cooked bones can splinter, posing a choking hazard or causing internal injuries. Always serve fish boneless to ensure your dog's safety.
6. Can Fish Cause Food Allergies in Dogs?
Yes, fish can trigger allergies in dogs. If your dog shows signs of allergies such as itching, redness, or digestive issues after consuming fish, consult your veterinarian. Allergic reactions are individual, so monitor your dog's response closely.
7. Is Fish Oil Beneficial for Dogs?
Fish oil, rich in omega-3 fatty acids, offers various health benefits for dogs. It supports joint health, reduces inflammation, and promotes a shiny coat. Fish oil supplements can be a valuable addition to your dog's diet with the guidance of your veterinarian.
8. Can Fish Help Dogs with Skin Conditions?
Yes, fish, especially varieties rich in omega-3 fatty acids, can alleviate skin irritations and allergies in dogs. The anti-inflammatory properties of omega-3s promote healthier skin and fur, making fish a valuable addition for dogs with skin conditions.
9. Can Puppies Eat Fish?
Yes, puppies can eat fish, and the omega-3 fatty acids in fish are particularly beneficial for their brain development. However, ensure the fish is boneless and thoroughly cooked to prevent choking hazards and infections.
10. How Can I Introduce Fish to My Dog's Diet?
Introduce fish gradually and observe your dog's reaction. Start with small portions, preferably cooked, and incorporate it into their regular meals. Mixing fish with their favorite foods can make the transition smoother. If your dog enjoys the taste and shows no adverse reactions, you can continue incorporating fish into their diet.
Incorporating fish into your dog's diet can be a nutritious and enjoyable experience. By understanding your dog's needs, choosingsafe fish varieties, and introducing fish gradually, you can provide your furry friend with a tasty and healthful treat that enhances their overall well-being.

Conclusion:
In conclusion, while it's established that dogs can eat fish in moderation, it's vital to maintain a cautious approach. Fish can indeed offer valuable nutrients and benefits, but it should be considered an occasional treat rather than a staple in their diet. Overindulgence can lead to health issues, so it's crucial to limit their intake.
If you're looking for alternative snacks that are safe and healthy for your dog, consider options like blueberries, carrots, or sweet potatoes. These treats are not only lower in sugar and acidity than fish but also provide essential vitamins and minerals. Remember always to remove any seeds or cores to ensure your pet's safety.
We hope this article has provided valuable insights into feeding fish to your furry friend. Your dog's well-being is our priority, and understanding their dietary needs is a fundamental aspect of responsible pet ownership.