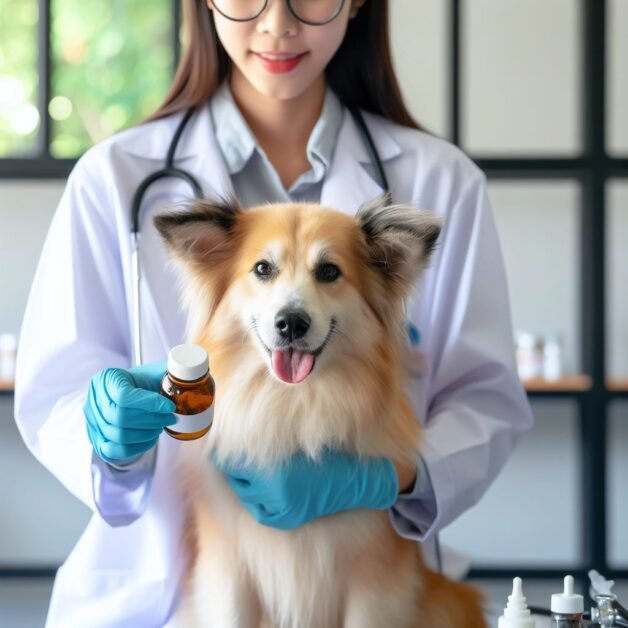 Table of Contents
I. Introduction
Ondansetron, a medication well-known in the world of human healthcare, has increasingly found its place in the realm of canine medicine. This versatile drug, with the generic name Ondansetron, plays a significant role in canine healthcare by addressing a range of gastrointestinal issues in dogs. In this comprehensive guide, we will explore the various aspects of using Ondansetron for dogs, shedding light on its benefits, proper dosage, potential side effects, and more.Ondansetron is not an unfamiliar term to many, as it is commonly prescribed to humans to manage nausea and vomiting, particularly in chemotherapy and post-surgery scenarios. However, its use in veterinary medicine has been gaining recognition for its effectiveness in treating similar issues in our canine companions. This introduction serves as a gateway to understanding the importance of Ondansetron in canine healthcare and the myriad ways it can improve the well-being of our four-legged friends.
Importance of Seeking Professional Guidance
Consulting a veterinarian before administering any medication to dogs is of paramount importance. While Ondansetron can be highly effective in addressing specific canine health issues, its application should be supervised and approved by a qualified veterinary professional. Veterinarians are equipped to determine the correct dosage and administration methods, ensuring the safety and well-being of your furry companion.
The Purpose of the Article
The primary objective of this article is to provide dog owners with accurate and detailed information about Ondansetron. By the end of this guide, you will have a comprehensive understanding of how this medication can benefit your canine friend, the appropriate dosage, potential side effects, and the importance of consulting your veterinarian before initiating treatment. As we navigate through the sections that follow, we will uncover the multitude of ways Ondansetron can enhance the quality of life for dogs facing various gastrointestinal challenges.
II. Understanding Ondansetron
In the realm of veterinary medicine, Ondansetron emerges as a powerful tool to address specific gastrointestinal issues in dogs. To fully comprehend its significance, we must first explore what Ondansetron is, how it functions within a dog's body, and the range of common conditions and ailments in dogs that Ondansetron can effectively manage.
What is Ondansetron?
Ondansetron is the generic name for a medication that primarily functions as an antiemetic. As an antiemetic, Ondansetron is designed to combat nausea and vomiting, making it a valuable asset in managing gastrointestinal disorders in dogs. The drug is also widely recognized by its brand name, Zofran, a name often associated with its human applications. However, the veterinary world has increasingly embraced Ondansetron for its effectiveness in managing similar issues in dogs.
How Does Ondansetron Work in Dogs' Bodies?
To appreciate Ondansetron's role in alleviating nausea and vomiting in dogs, it is crucial to understand its mechanism of action within a dog's body. Ondansetron primarily targets specific receptors in the brain, known as serotonin receptors. These receptors, when activated, trigger a cascade of signals that ultimately lead to the sensation of nausea and the reflex of vomiting.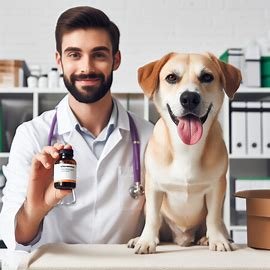 Ondansetron works by selectively blocking these serotonin receptors. By doing so, it interferes with the chain of events that culminate in nausea and vomiting. This targeted approach to mitigating these distressing symptoms makes Ondansetron a remarkable solution for dogs grappling with gastrointestinal distress.
Common Conditions and Ailments in Dogs that Ondansetron Can Treat or Manage
Now that we have a grasp of how Ondansetron operates in the canine system, let's explore the common conditions and ailments in dogs that this medication can effectively address. Ondansetron's versatility extends to various scenarios, making it an essential option for managing gastrointestinal issues. Here are some of the conditions and situations where Ondansetron proves beneficial:
1. Gastrointestinal Infections
Dogs are prone to gastrointestinal infections that can lead to nausea and vomiting. Ondansetron can help alleviate these symptoms, providing relief and preventing dehydration caused by excessive vomiting.
2. Motion Sickness
Just like humans, some dogs are prone to motion sickness. Whether it's a car ride or a boat trip, motion sickness can lead to discomfort and vomiting. Ondansetron can help your canine companion enjoy the journey without the unpleasant side effects of motion sickness.
3. Post-Surgical Recovery
After surgery, dogs may experience nausea and vomiting as a result of anesthesia or other factors. Ondansetron can be administered to ease post-surgical distress and facilitate a smoother recovery.
4. Chemotherapy-Induced Nausea
Dogs undergoing chemotherapy may suffer from severe nausea and vomiting. Ondansetron is a valuable addition to their treatment plan, providing relief and improving their overall quality of life during this challenging time.
5. Toxin Ingestion
In cases of toxin ingestion, dogs may experience nausea and vomiting as their bodies attempt to eliminate harmful substances. Ondansetron can help mitigate these symptoms while the toxins are addressed.
6. Parvovirus Treatment
Parvovirus is a highly contagious and potentially life-threatening condition in dogs. Vomiting is one of the prominent symptoms of this disease. Ondansetron plays a vital role in managing vomiting associated with parvovirus, contributing to the overall treatment strategy.Understanding the wide range of conditions and situations where Ondansetron can make a substantial difference in a dog's well-being emphasizes its significance in the field of veterinary medicine. This medication offers much-needed relief to dogs experiencing nausea and vomiting, contributing to their comfort and recovery in various healthcare scenarios.
III. Administering Ondansetron to Dogs
Administering Ondansetron to dogs is a crucial aspect of their healthcare when dealing with nausea, vomiting, and various health issues. This section provides comprehensive guidance on dosage, frequency of administration, directions for use, and emphasizes the importance of adhering to prescribed dosages to ensure the optimal therapeutic benefits of this medication.
Dosage Guidelines
Determining the correct dosage of Ondansetron for your dog is essential to achieve the desired therapeutic effect and prevent potential side effects. Dosage is typically determined based on your dog's size, weight, and the specific condition being treated. Here are some general guidelines to consider:
Size and Weight

: Larger dogs may require a higher dosage than smaller breeds due to variations in metabolism. Veterinarians typically calculate dosages based on a dog's weight in kilograms.

Condition

: The condition being treated can also impact the dosage. For example, post-operative dogs may require a different dosage than dogs with motion sickness.

Veterinarian's Recommendation

: Always follow the dosage prescribed by your veterinarian. They will consider your dog's individual needs and may adjust the dosage accordingly.
As a responsible pet owner, never attempt to determine the appropriate dosage without consulting a veterinarian. Administering an incorrect dose could lead to ineffective treatment or potential side effects.
Frequency of Administration
The frequency of Ondansetron administration varies depending on the condition being treated and the veterinarian's recommendations:
As Needed

: In some cases, Ondansetron may be prescribed on an as-needed basis. For example, dogs with motion sickness may receive the medication prior to travel.

Daily

: Dogs receiving Ondansetron for specific chronic conditions, such as chemotherapy-induced nausea or parvovirus treatment, may require daily dosing. The timing and frequency should be followed as directed by your veterinarian.

Post-Surgery

: Dogs recovering from surgery may be administered Ondansetron during their post-operative phase. The frequency and duration will be determined by the veterinarian based on the dog's recovery progress.
The dosing frequency is crucial to ensure the continuous therapeutic effect and prevent the recurrence of symptoms.
Directions for Use
Administering medication to dogs can sometimes be challenging, especially when they are uncooperative or experiencing nausea. Here are some tips for effectively administering Ondansetron:
Oral Tablets

: Ondansetron is available in tablet form, which can be administered directly or crushed and mixed with a small amount of dog food. Ensure that your dog consumes the entire dose if administering it this way.

Oral Liquid

: If your dog has difficulty swallowing tablets, an oral liquid form is also available. This can be measured using a syringe and administered directly into the mouth or mixed with a small amount of liquid, such as broth or flavored water, to encourage consumption.

Hiding in Treats

: For dogs that are resistant to taking medication, consider hiding the tablet or liquiddose within a treat or a small amount of canned food. Be certain your dog consumes the full dose.
Importance of Adhering to Prescribed Dosages
Adhering to the prescribed dosages of Ondansetron is essential for several reasons:
Effective Treatment

: The prescribed dosage is determined to provide the most effective treatment for your dog's specific condition. Deviating from this can result in inadequate symptom relief.

Preventing Side Effects

: Proper dosing minimizes the risk of side effects. Administering more than the recommended dose can lead to adverse reactions.

Ensuring Safety

: Overdosing can be harmful to your dog's health. It's vital to prioritize their well-being by following your veterinarian's instructions.

Optimal Recovery: For conditions that require Ondansetron as part of a treatment plan, adhering to the prescribed dosages supports your dog's overall recovery and well-being.
IV. Potential Side Effects and Precautions
When using Ondansetron for dogs, it's essential to be aware of potential side effects, precautions, and considerations to ensure the safety and well-being of your canine companion. While Ondansetron is generally considered safe, understanding the possible side effects and taking necessary precautions is crucial.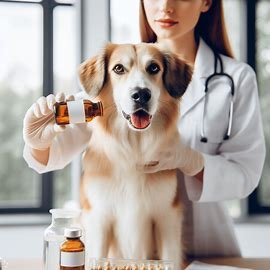 Common Side Effects of Ondansetron in Dogs
Ondansetron is well-tolerated by most dogs, and side effects are relatively rare. However, some dogs may experience mild and transient side effects, which can include:
Mild Sedation

: Some dogs may exhibit mild sedation, drowsiness, or lethargy. This effect is usually short-lived and may subside as the dog's body adjusts to the medication.

Gastrointestinal Upset

: In some cases, dogs may experience minor gastrointestinal disturbances, such as diarrhea or constipation. These symptoms are typically temporary.

Hypersalivation

: Excessive salivation or drooling may occur in a small percentage of dogs. This side effect is generally harmless.
Identifying Severe or Adverse Reactions
While severe or adverse reactions to Ondansetron are rare, it's essential to be vigilant and monitor your dog's response to the medication. If any of the following symptoms occur, contact your veterinarian immediately:
Allergic Reactions

: Signs of an allergic reaction may include hives, difficulty breathing, swelling of the face, lips, tongue, or throat. Seek immediate medical attention if you observe these symptoms.

Irregular Heartbeat

: Ondansetron can cause heart rhythm disturbances, particularly at higher doses. Symptoms of an irregular heartbeat in dogs may include weakness, lethargy, collapse, or fainting.

Uncontrolled Vomiting

: If your dog's vomiting becomes uncontrollable or worsens while on Ondansetron, this may be a sign of a severe underlying condition. Contact your veterinarian.
Difficulty Breathing

: Rapid or labored breathing can be a sign of a more severe reaction. It's important to address this symptom promptly.

Swelling

: If your dog experiences sudden swelling of the face, neck, or extremities, this may be indicative of an adverse reaction.
Precautions for Pregnant or Lactating Dogs
For pregnant or lactating dogs, using Ondansetron should be done with caution, and only under the guidance of a veterinarian. Research on Ondansetron's effects on pregnant dogs is limited, and it's always advisable to avoid unnecessary medication during pregnancy.In pregnant dogs, it's vital to weigh the potential benefits of Ondansetron against the risks. Your veterinarian will consider the specific condition being treated and your dog's overall health to make an informed decision. In some cases, the benefits of controlling severe nausea and vomiting may outweigh the potential risks.For lactating dogs, Ondansetron may be excreted in small amounts in milk, and the safety of the medication in nursing puppies is not well-documented. In such cases, it's crucial to consult with your veterinarian to discuss the appropriate course of action.
Interactions with Other Medications or Supplements
Before administering Ondansetron to your dog, it's essential to inform your veterinarian of any other medications, supplements, or herbal remedies your dog may be taking. Ondansetron may interact with certain medications, potentially reducing their effectiveness or increasing the risk of side effects.
Some medications that may interact with Ondansetron include:
Apomorphine

: Ondansetron should not be used with apomorphine, a medication used to induce vomiting.

Medications that Affect Heart Rhythm

: Ondansetron can affect heart rhythm, so it should be used cautiously in combination with other medications that have a similar effect.

Serotonin Reuptake Inhibitors (SSRIs)

: Ondansetron can interact with SSRIs, a class of antidepressants, potentially increasing the risk of serotonin syndrome.

Other Antiemetic Medications: Using multiple antiemetic medications simultaneously may not provide additional benefits and can increase the risk of side effects.
V. Consultation with a Veterinarian
Emphasizing the Importance of Professional Guidance
When it comes to your dog's health and well-being, professional guidance is paramount. Ondansetron, like any medication, should be used under the supervision and advice of a qualified veterinarian. Here, we underscore the significance of consulting a veterinarian when considering Ondansetron as part of your dog's treatment plan.
Overdose Information and Possible Toxicity/Effects
While Ondansetron is generally safe for dogs, overdosing is a potential concern. If your dog inadvertently consumes more than the prescribed dose of Ondansetron, it's crucial to understand the potential consequences. Overdose symptoms can include severe side effects and may warrant immediate medical attention.Common signs of Ondansetron overdose in dogs can include:
Severe Sedation

: Excessive drowsiness, disorientation, or loss of consciousness may occur with an overdose.

Heart Rhythm Disturbances

: Overdose can lead to irregular heartbeats, which can manifest as palpitations, rapid heartbeat, or fainting.
Signs or Symptoms: When to Call the Vet
In addition to overdose symptoms, certain signs or symptoms while your dog is on Ondansetron treatment should prompt you to consult with a veterinarian. These signs include:
Worsening Condition

: If your dog's underlying condition, such as nausea or vomiting, worsens instead of improving with Ondansetron treatment, it may indicate a need for a different approach.

Recurring Vomiting

: Prolonged or recurrent vomiting while on Ondansetron may be indicative of an underlying issue that requires further investigation.

Allergic Reactions

: If your dog exhibits signs of an allergic reaction, such as hives, facial swelling, or difficulty breathing, it is a medical emergency that necessitates immediate veterinary care.
Unusual Behavior

: Sudden and significant changes in behavior, energy levels, or appetite should be assessed by a veterinarian to rule out adverse effects of the medication.

Side Effects Persisting Beyond Adjustment Period

: Some mild side effects, like sedation or minor gastrointestinal disturbances, are expected initially but should resolve within a short period. If these symptoms persist or worsen, it's essential to consult with your vet.

Any Concerns or Questions

: If you have any concerns or questions regarding your dog's response to Ondansetron, the medication's effectiveness, or its potential interactions, do not hesitate to reach out to your veterinarian. They are your best resource for guidance and answers.
How to Discuss Ondansetron with Your Veterinarian and Seeking a Second Opinion
Engaging in an open and informed dialogue with your veterinarian is a crucial aspect of your dog's healthcare. When discussing Ondansetron with your vet, consider these guidelines:
Provide a Comprehensive Medical History

: Share your dog's complete medical history, including any pre-existing conditions, current medications, allergies, and recent or ongoing treatments.

Describe the Symptoms

: Be specific about your dog's symptoms, including their duration, severity, and any changes you've noticed since starting Ondansetron.

Ask Questions

: Don't hesitate to ask your veterinarian questions about the medication, its intended effects, potential side effects, and any precautions you should take.
Discuss Alternative Options

: In some cases, alternative treatments or therapies may be available. Talk to your vet about whether Ondansetron is the most suitable choice for your dog's condition.

Seeking a Second Opinion

: If you have reservations about your dog's treatment plan, there's no harm in seeking a second opinion from another qualified veterinarian. A fresh perspective can provide clarity and ensure the best course of action for your dog's health.
VI. Comparison with Similar Drugs in This Category
Ondansetron is a valuable medication when it comes to managing nausea and vomiting in dogs. However, like in any field of medicine, there are alternative drugs within the same category. This section explores the efficacy of similar drugs, the situations in which alternatives might be chosen, and the cost considerations when evaluating different treatment options.
Comparing the Efficacy of Drugs
When evaluating the efficacy of Ondansetron in comparison to other drugs in the same category, it's important to consider the following aspects:
Antiemetic Properties

: Ondansetron is renowned for its effectiveness in preventing and alleviating nausea and vomiting in dogs. It is considered a potent antiemetic, especially for chemotherapy-induced nausea and post-operative vomiting. In comparison to some other antiemetics, Ondansetron often demonstrates equal or superior efficacy.

Mechanism of Action

: Ondansetron operates by blocking certain serotonin receptors (5-HT3 receptors) in the body. This targeted mechanism makes it highly effective in treating specific causes of nausea and vomiting, such as those triggered by chemotherapy. Comparatively, some alternative drugs may have a different mode of action with varying results.

Safety and Tolerance

: Ondansetron is known for its excellent safety profile in dogs, with minimal side effects when used appropriately. Its suitability for dogs of different breeds, sizes, and ages is another advantage. While alternatives may also be safe, the potential for side effects and how well a dog tolerates a particular medication should be assessed individually.
Availability

: The availability of alternative drugs may vary depending on your location and your veterinarian's recommendations. In some regions, Ondansetron might be more readily accessible than other options.

Clinical Studies

: Consider the clinical studies and research supporting the efficacy of different antiemetic drugs. Published studies often provide valuable insights into a medication's effectiveness.

Case-Specific Factors

: Your dog's specific condition and response to treatment can also influence the perceived efficacy of Ondansetron. Your veterinarian's expertise plays a crucial role in assessing which drug will work best for your dog's unique needs.
When to Choose an Alternative
While Ondansetron is a powerful antiemetic, there are situations where an alternative medication may be preferred:
Cost Considerations

: In some cases, Ondansetron can be more expensive than other antiemetics. Cost may influence the decision to explore alternative options.

Drug Availability

: The availability of specific medications can vary by location and the particular veterinary clinic or hospital. If Ondansetron is not readily available, alternatives will be considered.

Ineffectiveness or Side Effects

: If your dog doesn't respond well to Ondansetron or experiences side effects, your veterinarian may explore alternative antiemetics with different mechanisms of action.
Combination Therapy

: In complex cases, veterinarians may opt for combination therapy, using more than one antiemetic. Combining medications with different modes of action can sometimes provide enhanced relief.

Underlying Conditions

: If your dog has underlying health conditions, your veterinarian may choose alternative antiemetics to ensure there are no contraindications with other medications your dog is taking.

Individual Preferences

: Veterinarians often have their own preferences based on their experiences and success rates with different medications. They may recommend alternatives based on their expertise.
Comparing the Cost of the Drug
Cost is a practical consideration when it comes to choosing the right antiemetic for your dog. Ondansetron is known for its efficacy, but it might come at a higher price point compared to some alternatives. Several factors can influence the cost of a drug:
Brand vs. Generic

: Ondansetron is available in both brand-name and generic versions. Generic options are typically more affordable, providing a cost-effective alternative without compromising quality.

Dosage and Treatment Duration

: The cost of the medication is influenced by the required dosage and the duration of treatment. Longer treatment periods or higher dosages can increase the overall expense.

Veterinary Fees

: Consider the costs associated with veterinary consultations and follow-up appointments, as these are integral to the overall cost of treatment.
Insurance Coverage

: If your dog is insured, check whether the prescribed medication, including Ondansetron or any alternative, is covered by the insurance plan. Insurance can significantly offset the cost of treatment.

Pharmacy or Clinic Pricing

: Prices may vary between different pharmacies and veterinary clinics. It's advisable to compare prices and inquire about any potential discounts or savings.
VII. Frequently Asked Questions (FAQs)
In this section, we'll address some common questions dog owners often have about Ondansetron. Understanding how this medication works and when to use it is essential for providing the best care to your furry friend.
1. What Is Ondansetron, and How Does It Work for Dogs?
Ondansetron is a medication belonging to the class of drugs known as antiemetics. It's primarily used to prevent and treat nausea and vomiting in dogs. Ondansetron works by blocking certain receptors in the body, specifically the 5-HT3 (serotonin) receptors, which play a significant role in triggering nausea and vomiting. By blocking these receptors, Ondansetron helps prevent these distressing symptoms in dogs.
2. When Should Ondansetron Be Used for Dogs?
Ondansetron can be used in various situations, including:
Chemotherapy

: It is often administered to dogs undergoing chemotherapy to alleviate the nausea and vomiting associated with cancer treatment.

Post-Operative Care

: After surgery, dogs may experience post-operative nausea and vomiting. Ondansetron helps manage these symptoms and allows for a smoother recovery.

Digestive Disorders

: Dogs with gastrointestinal issues or inflammatory bowel disease may benefit from Ondansetron, as it can help reduce nausea and improve their overall well-being.
Motion Sickness

: If your dog tends to get motion sickness during car rides, your veterinarian may prescribe Ondansetron to make travel more comfortable.

General Nausea and Vomiting

: In some cases, dogs may experience nausea and vomiting unrelated to specific conditions. Ondansetron can provide relief in these situations.
3. Is Ondansetron Safe for Dogs?
Yes, Ondansetron is generally considered safe for dogs when used as directed by a veterinarian. It has a low incidence of side effects, and most dogs tolerate it well. However, it's crucial to follow your veterinarian's dosage instructions and to inform them of any existing health conditions your dog may have.
4. What Are the Common Side Effects of Ondansetron in Dogs?
While Ondansetron is well-tolerated, some dogs may experience mild side effects. The most common side effects include:
Constipation

: Ondansetron can sometimes cause constipation in dogs. Make sure your dog has access to plenty of water to help prevent this side effect.

Mild Drowsiness

: Some dogs may appear slightly drowsy after taking Ondansetron, but this effect is typically temporary and not severe.

Upset Stomach

: In rare cases, Ondansetron can cause gastrointestinal upset, including diarrhea. If this occurs, consult your veterinarian.
5. Can Ondansetron Be Used Alongside Other Medications?
Yes, in many cases, Ondansetron can be used in conjunction with other medications. In fact, it's often used alongside chemotherapy drugs to prevent nausea and vomiting. Always inform your veterinarian about any other medications or supplements your dog is taking to ensure there are no potential interactions.
6. How Is Ondansetron Administered to Dogs?
Ondansetron is available in various forms, including tablets and oral liquid. Your veterinarian will determine the most suitable form and dosage for your dog based on their specific condition and needs. It can be given with or without food, but always follow your veterinarian's instructions regarding administration.
7. What Should I Do If I Miss a Dose of Ondansetron for My Dog?
If you accidentally miss a dose of Ondansetron, administer it as soon as you remember. However, if it's nearing the time for the next scheduled dose, skip the missed one and continue with the regular dosing schedule. Never give your dog a double dose to make up for a missed one.
8. When Should I Consult the Veterinarian About Ondansetron?
If you have any concerns or questions about your dog's treatment with Ondansetron, it's always a good idea to consult your veterinarian. Additionally, contact your veterinarian if:
Your dog experiences severe or persistent side effects.
Your dog's symptoms worsen or do not improve.
Your dog's condition changes, and you're unsure whether to continue Ondansetron treatment.
Remember that your veterinarian is your best resource for guidance on using Ondansetron or any other medication to ensure your dog's well-being.
9. Is Ondansetron Only Available by Prescription?
Yes, Ondansetron is a prescription medication. It's essential to consult a veterinarian to determine if Ondansetron is the appropriate treatment for your dog's condition and to receive the correct dosage and administration instructions.
10. Can I Use Ondansetron from My Own Medicine Cabinet on My Dog?
Never use human medications, including Ondansetron, on your dog without first consulting your veterinarian. The dosage and safety considerations for dogs are different from those for humans. Using medications intended for human use can be dangerous and ineffective for your pet.