Introduction
Are you considering bringing a Maltipoo into your life? This delightful crossbreed dog combines the best of the Maltese and Poodle breeds, resulting in an adorable, intelligent, and affectionate companion. In this comprehensive guide, we'll delve into the world of Maltipoos, covering everything from their unique characteristics to their care requirements.
Maltipoos have gained popularity over the years due to their charming personalities and hypoallergenic coat. However, with an abundance of information available on the internet, it's crucial to have a reliable and up-to-date source that provides you with all the essential details you need to know about this endearing breed.
Maltipoo Breed Information
Here's a detailed table summarizing key information about Maltipoos:
| Field | Information |
| --- | --- |
| Height | 8 to 14 inches (20 to 36 cm) |
| Weight | 5 to 20 pounds (2.3 to 9 kg) |
| Life Span | Not known |
| Good with | Children, other pets |
| Temperament | Playful, affectionate |
| Intelligence | High |
| Shedding Amount | Minimal |
| Grooming | Regular grooming required |
| Exercise Needs | Moderate |
| Energy Level | Energetic |
| Barking Level | Can be vocal |
| Drool Amount | Minimal |
| Coat Length/Texture | Long, wavy or curly |
| Colors | Various |
| Patterns | Solid or mixed colors |
Please note that while some specific details such as height, weight, and lifespan may not be readily available, this breed's overall characteristics and care requirements are well-documented and will be discussed in detail throughout this guide.
Table of Contents
Maltipoo Origins
Before we dive deeper into their characteristics and care, let's explore the origins of the Maltipoo breed. Maltipoos are a relatively new breed, a product of crossing a Maltese with a Poodle. This intentional breeding aimed to combine the Maltese's charm with the Poodle's intelligence and hypoallergenic coat.
The result is a designer dog that quickly captured the hearts of dog enthusiasts and families worldwide. The Maltipoo's charming appearance and affectionate nature make them a popular choice for those seeking a lovable companion that's well-suited for various living environments.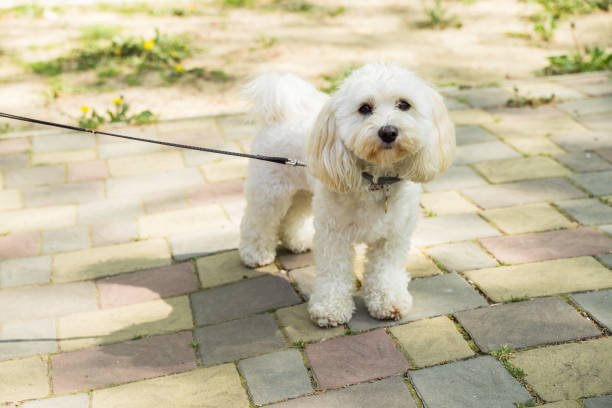 Unique Characteristics of Maltipoos
Maltipoos possess a plethora of unique characteristics that set them apart from other breeds. Here are some key traits that make them stand out:
Hypoallergenic Coat
One of the standout features of Maltipoos is their hypoallergenic coat. Thanks to their Poodle lineage, they shed very little, making them an excellent choice for individuals with allergies. However, it's important to note that their luxurious coat does require regular grooming to prevent matting.
Affectionate Temperament
Maltipoos are renowned for their affectionate nature. They thrive on human companionship and are known to form strong bonds with their owners. These dogs are often described as "velcro dogs" because they love being by your side and showering you with affection.
High Intelligence
With genes from the intelligent Poodle, Maltipoos are highly intelligent dogs. This intelligence makes them relatively easy to train, making them a great choice for first-time dog owners. They excel in obedience training and often enjoy engaging in mentally stimulating activities.
Playful Energy
Maltipoos have a playful and energetic disposition. They love interactive playtime and daily walks. While they have a moderate exercise requirement, it's important to keep them mentally and physically stimulated to prevent boredom.
In the following sections, we'll delve deeper into Maltipoo care, grooming needs, training, and more. By the end of this comprehensive guide, you'll have a thorough understanding of what it takes to provide the best care for your Maltipoo companion. Whether you're a prospective owner or already have one by your side, this resource is your go-to reference for all things Maltipoo-related.
Breed History and Origin
Exploring Their Roots
The Maltipoo breed may be a relatively new addition to the canine world, but its fascinating history begins with the intentional crossbreeding of two distinct and beloved breeds: the Maltese and the Poodle. To truly understand the Maltipoo, it's essential to dive into the historical development of this captivating breed.
Maltese Origins: The Maltese, with its distinctive silky white coat, is an ancient breed with a history dating back thousands of years. These small dogs were treasured by various civilizations, from the Egyptians to the Romans. Maltese dogs were known for their affectionate disposition and were often favored as companions to royalty and nobility.
Poodle Ancestry: Poodles, on the other hand, have a lineage that traces back to water retrievers in Germany. These intelligent and water-loving dogs were initially bred for hunting waterfowl. Their distinctive curly coat served a practical purpose, providing insulation and buoyancy in cold water.
The intentional crossing of these two breeds, the Maltese and the Poodle, marked the inception of the Maltipoo. Breeders aimed to create a dog with the charm and affection of the Maltese and the intelligence and hypoallergenic qualities of the Poodle. This crossbreeding opened the door to a world of possibilities, resulting in a delightful companion with a unique blend of traits.
Notable Traits
What makes the Maltipoo breed truly unique in history are the standout traits it has inherited from its Maltese and Poodle ancestors:
1. Hypoallergenic Coat: The hypoallergenic coat of the Maltipoo is a direct legacy of the Poodle. Poodles are known for their curly, non-shedding coats, making them an excellent choice for allergy sufferers. This trait has been passed down to Maltipoos, making them a sought-after breed for those with allergies.
2. Affectionate Temperament: The loving and affectionate nature of the Maltese has been a defining feature of the Maltipoo breed. Maltipoos are known for forming deep bonds with their human companions and are often described as loyal and devoted.
3. Playful Intelligence: Both the Maltese and the Poodle are intelligent breeds, and Maltipoos inherit this high level of intelligence. This makes them not only easy to train but also great at learning tricks and commands. Their quick wit and eager-to-please attitude make them excellent canine companions.
4. Compact Size: The small size of the Maltipoo, reminiscent of the Maltese, makes them ideal for apartment living and as lap dogs. Their compact stature and portable nature have made them a popular choice among urban dwellers.
Relevance of Origin
Understanding the origin of the Maltipoo breed provides valuable insights into why they exhibit specific characteristics and traits today. The careful selection of the Maltese and Poodle as parent breeds was driven by the desire to create a dog that combined the best of both worlds.
Influence on Temperament: The affectionate and loyal temperament of Maltipoos can be attributed to their Maltese ancestry. The Maltese breed has a long history of being cherished companions to royalty, and these qualities have been passed down to Maltipoos, making them loving and devoted pets.
Hypoallergenic Coat: The Poodle's hypoallergenic coat was a critical consideration in the breed's development. This feature ensures that Maltipoos are suitable for households with allergy sufferers, a characteristic that continues to make them a popular choice for families.
Intelligence and Trainability: Maltipoos' intelligence, inherited from both parent breeds, makes them quick learners and eager to please. Their ability to pick up commands and engage in various activities can be traced back to the Poodle's hunting and working background.
In summary, the Maltipoo's history and origin reveal a purposeful blending of two exceptional breeds to create a loving, intelligent, and hypoallergenic companion. This crossbreed's unique traits and qualities can be traced back to the deliberate choices made by breeders, resulting in the charming and beloved Maltipoo we know today. In the next section, we'll delve into the physical characteristics and appearance of Maltipoos, providing a detailed description of their size, coat, and more.
Understanding the Maltipoo Breed's Traits
When considering bringing a Maltipoo into your life, it's essential to understand their physical characteristics, temperament, and specific needs. In this section, we'll delve into what makes the Maltipoo breed unique and provide valuable insights into their traits.
Physical Characteristics
Size
Maltipoos are small-sized dogs, typically weighing between 5 to 20 pounds (2.3 to 9 kg) and standing around 8 to 14 inches (20 to 36 cm) tall at the shoulder. Their size makes them a popular choice for individuals and families living in apartments or homes with limited space.
Coat Type and Color
Maltipoos boast a luxurious coat that can vary in length and texture. They often inherit their coat characteristics from their Poodle lineage, which can result in either a wavy or curly coat. This distinctive coat is typically soft to the touch and comes in a wide array of colors, including:
White
Cream
Apricot
Silver
Black
Chocolate
Maltipoos can also exhibit various patterns, such as solid colors or a mix of two or more colors. Their coat's diversity adds to their charm, and many Maltipoo owners adore their fluffy and hypoallergenic fur.
Distinguishing Features
Maltipoos often have expressive eyes that can be dark brown or black, depending on their coat color. Their ears are typically floppy, and they have a well-defined nose. Their overall appearance is a harmonious blend of both the Maltese and Poodle traits, resulting in a charming and endearing look.
Temperament Overview
Suitability as Family Pets
Maltipoos are known for their affectionate and gentle nature, making them excellent family pets. Their small size makes them suitable for households with children, but it's essential to teach kids how to interact respectfully with dogs. As with any dog breed, supervision is crucial when young children are involved.
Unique Personality Traits
Affectionate: Maltipoos thrive on human companionship and often form deep bonds with their owners. They are known for their cuddly and loving nature, making them great lap dogs.
Playful: These dogs have a playful and energetic side. They enjoy interactive playtime, fetch, and other games. Daily exercise and mental stimulation are important to keep them happy.
Alert: Maltipoos have a natural alertness and may bark to alert their owners of approaching visitors or potential threats. This can make them excellent watchdogs despite their small size.
Compatibility with Other Pets
Maltipoos can be compatible with other pets, but early socialization is essential to ensure harmony in a multi-pet household. Their sociable nature means they can get along well with other dogs and even cats if introduced properly. Supervised introductions and positive interactions are key to fostering good relationships between pets.
Environment Needs
Space
Maltipoos are well-suited to both apartments and houses with small yards. Their small size means they don't require a vast amount of space to roam. However, they do need daily exercise to stay healthy and happy. Regular walks and playtime in a secure area are essential.
Temperature Considerations
While Maltipoos have a fairly adaptable nature, their long, curly or wavy coat makes them sensitive to extreme temperatures. In hot weather, they can be prone to overheating, so it's crucial to provide shade and water during hot days. In cold weather, they may need a sweater or coat to keep warm.
Settling into Your Home Environment
Maltipoos are adaptable and can settle well into various living environments. Their sociable nature makes them great companions for individuals, couples, or families. However, they thrive on human interaction, so they are best suited to homes where they won't be left alone for extended periods.
Training and Socialization
Trainability
Maltipoos are highly trainable thanks to their intelligence and eagerness to please. They respond well to positive reinforcement methods, including praise and treats. Consistent training from an early age is important to ensure good behavior and manners.
Importance of Socialization
Proper socialization is vital for Maltipoos to grow into well-adjusted and confident dogs. Exposing them to various people, animals, environments, and experiences helps prevent shyness or fearfulness. Early socialization lays the foundation for a friendly and outgoing temperament.
In conclusion, Maltipoos are a delightful breed known for their affectionate nature, adaptability to various living environments, and trainability. They make wonderful family pets, provided they receive the love, attention, and exercise they need. Their unique combination of traits inherited from their Maltese and Poodle ancestors makes them an endearing and sought-after breed. In the next section, we'll discuss the essential care requirements for Maltipoos, including grooming, exercise, and nutrition.
Health Considerations and Care
Ensuring the health and well-being of your Maltipoo is of utmost importance. In this section, we'll delve into common health issues associated with the breed, their lifespan, dietary needs, exercise requirements, and grooming practices to keep your Maltipoo in optimal condition.
Common Health Issues
Maltipoos are generally healthy dogs, but like all breeds, they can be prone to certain health issues. Being aware of these potential problems and taking preventive measures is key to keeping your Maltipoo in good health. Common health issues in Maltipoos include:
Patellar Luxation: This condition involves the dislocation of the kneecap and can cause lameness. Regular exercise and maintaining a healthy weight can help prevent this issue.
Dental Problems: Small breeds like Maltipoos are often prone to dental issues, including gum disease and tooth decay. Regular dental care, including brushing their teeth, is essential.
Ear Infections: Maltipoos with floppy ears can be susceptible to ear infections. Regular cleaning and proper drying after baths or swimming can help prevent these infections.
Eye Problems: Tear staining and eye infections can occur in Maltipoos, often due to their facial structure. Keeping the area around their eyes clean and dry is important.
Allergies: Maltipoos may develop allergies to certain foods or environmental factors. If you notice signs of allergies like itching or skin problems, consult your vet for appropriate management.
Hip Dysplasia: While less common in Maltipoos compared to larger breeds, hip dysplasia can still occur. Maintaining a healthy weight and providing joint supplements can help prevent this condition.
Hypoglycemia: This can affect small breed puppies, including Maltipoos. Ensuring they have regular meals and monitoring their blood sugar levels can help prevent hypoglycemic episodes.
Regular veterinary check-ups are crucial to detect and address these health issues early. Your veterinarian can provide guidance on preventive measures, vaccinations, and a healthcare schedule tailored to your Maltipoo's needs.
Lifespan and Longevity
Maltipoos have a relatively long lifespan for a small breed, typically ranging from 12 to 15 years or even longer with proper care. To promote a longer and healthier life for your Maltipoo:
Ensure they receive regular veterinary check-ups and vaccinations.
Maintain a balanced diet to prevent obesity and associated health problems.
Provide daily exercise and mental stimulation to keep them physically and mentally fit.
Keep their environment clean and safe, minimizing potential hazards.
Attend to their grooming needs to prevent skin issues and infections.
By following these guidelines and providing a loving and nurturing environment, you can maximize your Maltipoo's longevity and quality of life.
Diet and Nutrition
A well-balanced diet is essential to keep your Maltipoo healthy and energetic. Here are some dietary considerations for this breed:
Dietary Needs
Maltipoos require a high-quality dog food that meets their nutritional needs. Look for options that include:
Protein: Opt for dog foods with real meat as the primary protein source.
Fats: Healthy fats are essential for coat health and overall well-being.
Carbohydrates: Ensure they have a source of complex carbohydrates for energy.
Vitamins and Minerals: A balanced diet should provide all necessary nutrients.
Portion Control
Maltipoos are a small breed, and it's crucial to monitor their portion sizes to prevent obesity. Follow the feeding guidelines on the dog food packaging and adjust the amount based on your Maltipoo's age, activity level, and individual needs.
Feeding Schedule
Establish a regular feeding schedule to maintain consistency. Most Maltipoos do well with two meals a day. Avoid free-feeding to prevent overeating.
Special Dietary Needs
Some Maltipoos may have specific dietary requirements or allergies. If you notice any adverse reactions to food or suspect allergies, consult your veterinarian for guidance on suitable dietary changes.
Exercise and Activity
Maltipoos are a playful and energetic breed, and they require daily exercise and mental stimulation to stay happy and healthy. Here are some tips for meeting their exercise needs:
Daily Walks: Take your Maltipoo for daily walks to provide physical exercise and mental stimulation. A couple of short walks a day can suffice.
Playtime: Engage in interactive play sessions, such as fetch or tug-of-war, to keep them mentally engaged.
Socialization: Regularly expose your Maltipoo to new people, animals, and environments to ensure they are well-socialized and confident.
Puzzle Toys: Use puzzle toys and treat-dispensing toys to challenge their intelligence and keep them occupied.
Training: Incorporate training exercises into their daily routine to stimulate their minds and reinforce good behavior.
Remember that while Maltipoos are energetic, their small size means they don't require intense exercise like some larger breeds. Be mindful of their energy levels and adjust their activities accordingly.
Grooming and Maintenance
Maltipoos have a coat that requires regular care to keep it healthy and free from matting. Here's a breakdown of their grooming needs:
Coat Care
Brush their coat regularly to prevent tangles and mats. Aim for daily or at least a few times a week, depending on the length of their fur.
Schedule professional grooming sessions every 6 to 8 weeks to trim their coat and keep it in good condition.
Ear and Eye Cleaning
Check their ears regularly for signs of dirt or infection. Clean their ears as needed to prevent issues.
Wipe around their eyes to remove tear stains and prevent eye infections. Use a damp cloth or a specialized tear stain remover.
Dental Care
Brush their teeth regularly to prevent dental problems. Use a dog-specific toothbrush and toothpaste recommended by your vet.
Shedding
Maltipoos are considered low-shedding dogs, but regular grooming is essential to prevent matting and keep their coat in top condition.
In conclusion, caring for a Maltipoo involves attention to their health, dietary needs, exercise, and grooming requirements. By being proactive and providing the necessary care, you can ensure that your Maltipoo remains healthy, happy, and a cherished member of your family for years to come.
Choosing and Adopting a Maltipoo Dog Breed
Adopting a Maltipoo can be a rewarding experience, but it's essential to approach the process with care and consideration. In this section, we'll explore the reasons for adopting a Maltipoo, provide guidance on research and preparation, explain the adoption process, and touch on breeding and ethical considerations.
Reasons for Adoption
Benefits of Adopting a Maltipoo
Adopting a Maltipoo from a rescue or shelter offers numerous benefits, not only for you as a prospective owner but also for the dog in need of a loving home. Here are some compelling reasons to consider adoption:
Rescue a Dog in Need: By adopting, you provide a second chance at life to a dog that may have faced hardship or abandonment. Your decision to adopt directly saves a life and offers a loving home to a deserving companion.
Companionship: Maltipoos are known for their affectionate and loyal nature. By adopting one, you gain a devoted companion who will bring joy and love to your life.
Support Rescue Organizations: Supporting rescue organizations and shelters through adoption helps them continue their vital work. These organizations often rely on adoption fees and donations to care for and rescue more dogs.
Health and Behavior Evaluation: Many rescue dogs undergo health assessments and behavioral evaluations before adoption. This information can help you make an informed choice about the dog that best suits your lifestyle.
Reduce Overpopulation: Adopting from a shelter or rescue helps reduce the overpopulation of dogs. It's a responsible choice that contributes to a solution to this ongoing issue.
Research and Preparation
Understanding Maltipoo Breed-Specific Needs
Before adopting a Maltipoo, it's crucial to research the breed-specific needs and characteristics. Consider the following:
Exercise Requirements: Maltipoos are energetic and require regular exercise. Ensure you can provide daily walks and playtime.
Grooming Commitment: Their coat requires regular grooming, including brushing and occasional professional grooming sessions.
Allergies: While Maltipoos are considered hypoallergenic, it's essential to verify that no family members are allergic to dogs.
Space: Assess your living situation and ensure you have the space and environment suitable for a small breed.
Financial Responsibilities
Owning a dog comes with financial responsibilities. Beyond the initial adoption fee, consider ongoing costs such as:
Food and Treats: High-quality dog food and treats are essential for your Maltipoo's health.
Grooming: Budget for grooming supplies and occasional professional grooming.
Veterinary Care: Regular check-ups, vaccinations, and potential medical expenses.
Training: If needed, consider the cost of obedience classes or training sessions.
Toys and Accessories: Provide toys, a comfortable bed, and other accessories.
Being financially prepared ensures that you can provide the best care for your Maltipoo throughout their lifetime.
Adoption Process
Steps to Adopting a Maltipoo
The adoption process typically involves several steps when adopting from reputable rescues or breed-specific organizations:
Research Rescues: Begin by researching and identifying reputable rescues or organizations that specialize in Maltipoos. Look for organizations with a good reputation for ethical practices and proper care of their dogs.
Submit an Application: Most rescues require prospective adopters to complete an adoption application. This application helps them assess your suitability as a dog owner.
Home Visit: Some rescues may conduct a home visit to ensure that your living environment is safe and suitable for a Maltipoo.
Meet the Dogs: Once your application is approved, you'll have the opportunity to meet available dogs. Spend time with them to see if there's a connection.
Adoption Fee: Expect to pay an adoption fee, which usually covers vaccinations, spaying/neutering, and other necessary medical care.
Complete Adoption Contract: You'll be asked to sign an adoption contract, which outlines your responsibilities as a dog owner and the rescue's expectations.
Transition Period: Be prepared for a transition period as your new Maltipoo settles into their new home. Patience and consistent care are essential during this time.
Breeding and Ethical Considerations
Responsible Breeding Practices
While adoption is a wonderful choice, it's essential to promote responsible breeding practices when considering a Maltipoo from a breeder. Here are some ethical considerations:
Health Screening: Responsible breeders prioritize the health of their dogs. Ensure that the breeder conducts health screenings for common breed-specific issues.
Genetic Diversity: Ethical breeders work to maintain genetic diversity to prevent hereditary health problems that can result from excessive inbreeding.
Socialization: Puppies from responsible breeders are often well-socialized, making them adaptable and well-behaved companions.
Reputation: Research the breeder's reputation and ask for references from previous puppy buyers.
Avoid Puppy Mills: Avoid supporting puppy mills, which prioritize profit over the welfare of dogs. These facilities often produce dogs in poor conditions.
Ask Questions: Don't hesitate to ask the breeder questions about their breeding practices, the puppy's parents, and the puppy's health.
Remember that responsible breeders prioritize the health and well-being of their dogs and work to improve the breed while maintaining ethical standards.
In conclusion, adopting a Maltipoo is a wonderful choice that offers both you and a rescue dog a chance for happiness and companionship. However, if you choose to acquire a Maltipoo from a breeder, it's essential to promote ethical breeding practices and prioritize the health and well-being of the dog. Whichever path you choose, providing a loving and caring home for your Maltipoo is the most important consideration.
Popularity and Recognition
Current Popularity
The Maltipoo, with its irresistible charm and endearing personality, has seen a surge in popularity over the years. As of the present day, it continues to be a sought-after breed among dog lovers, both in the United States and around the world. Here's a look at the current popularity of the Maltipoo breed and some of the trends in ownership:
Rising Popularity
Maltipoos have steadily risen in popularity, and they often rank among the top choices for families and individuals seeking a companionable and low-shedding dog. Several factors contribute to their ongoing appeal:
Hypoallergenic Qualities: Maltipoos are often chosen by individuals with allergies due to their hypoallergenic coat, making them an attractive option for families with allergy sufferers.
Size: Their small size makes them well-suited to apartment living and families with limited space.
Affectionate Nature: The Maltipoo's loving and loyal disposition continues to win hearts, as they are known for forming strong bonds with their owners.
Adaptability: Their adaptability to various living environments, including both urban and suburban settings, appeals to a wide range of prospective owners.
Social Media Presence: The breed has gained visibility on social media platforms, where Maltipoo owners share adorable photos and videos of their furry companions, further fueling interest in the breed.
Celebrity Endorsement
The Maltipoo's popularity has also been boosted by the adoption of this breed by various celebrities and influencers. When well-known figures showcase their Maltipoos on social media and in public, it often generates increased interest and enthusiasm among their followers.
Breed Recognition
Kennel Clubs and Breed Organizations
While the Maltipoo is not recognized as a distinct breed by major kennel clubs like the American Kennel Club (AKC) or the United Kennel Club (UKC) due to its hybrid status, it is acknowledged by smaller breed-specific organizations and clubs that cater to designer and mixed-breed dogs. These organizations may provide guidelines and standards for breeders and promote responsible ownership.
Hybrid and Designer Breed Status
The Maltipoo's hybrid status as a crossbreed between the Maltese and Poodle has led to differing opinions within the dog breeding community. Some argue that crossbreeding can introduce genetic diversity and reduce the risk of hereditary health issues, while others stress the importance of preserving purebred lines. As a result, the Maltipoo remains a unique and beloved breed among enthusiasts, even without official recognition by major kennel clubs.
Notable Breed Varieties
Distinct Varieties of Maltipoo Breed
While the Maltipoo is primarily a crossbreed between the Maltese and Poodle, there can be variations within the breed based on factors such as the generation of the cross, the size of the Poodle parent, and other contributing factors. Here are a few notable Maltipoo varieties:
F1 Maltipoo: This is a first-generation Maltipoo, resulting from the direct cross between a purebred Maltese and a purebred Poodle. F1 Maltipoos may exhibit a blend of traits from both parent breeds.
F2 Maltipoo: These are second-generation Maltipoos, which result from breeding two F1 Maltipoos. While they can inherit traits from their F1 parents, there may be increased variability in their appearance and characteristics.
Mini Maltipoo: Miniature or toy Poodles are often used in breeding Maltipoos to produce smaller-sized dogs. Mini Maltipoos are especially well-suited for individuals seeking a compact companion.
Teacup Maltipoo: Teacup Maltipoos are even smaller than their miniature counterparts, often weighing between 2 to 4 pounds. Their tiny size makes them extremely portable and adorable.
Multicolor Maltipoo: While Maltipoos can come in various coat colors and patterns, some individuals may have more diverse or unique coat combinations, making them stand out even more.
It's important to note that regardless of the Maltipoo variety, their overall temperament, intelligence, and hypoallergenic qualities are consistent with the breed's reputation.
In conclusion, the Maltipoo's popularity remains on the rise, thanks to its irresistible charm, hypoallergenic coat, and adaptability. While it may not be officially recognized by major kennel clubs due to its hybrid status, the breed continues to captivate dog lovers worldwide. The variety within the Maltipoo breed offers options for different preferences, ensuring that there's a perfect Maltipoo companion for every type of owner.
Exercise and Activity Recommendations for Maltipoos
Ensuring that your Maltipoo receives adequate exercise and mental stimulation is essential to keep them happy and healthy. In this section, we'll provide a detailed exercise plan tailored to Maltipoos, addressing their specific needs and preferences.
Exercise Plan
Types of Exercise
Maltipoos are a lively and playful breed that enjoys a variety of physical activities. Here are some types of exercise that are well-suited to their needs:
Playtime: Engage your Maltipoo in interactive play sessions with toys like balls, tug ropes, and puzzle toys. Playing fetch or hide-and-seek can be particularly enjoyable for them.
Walks: Daily walks provide both exercise and mental stimulation. Aim for at least two short walks a day, allowing them to explore and interact with their environment.
Agility Training: Maltipoos are intelligent and agile, making them great candidates for agility training. Set up an agility course in your backyard or attend agility classes if available in your area.
Socialization: Arrange playdates with other dogs to encourage socialization and provide opportunities for exercise through play.
Swimming: Some Maltipoos enjoy swimming, especially during warm weather. If your Maltipoo shows an interest in water, consider letting them paddle in a safe and supervised environment.
Duration and Frequency
The exercise needs of Maltipoos can vary based on their age, energy level, and individual preferences. Here's a general guideline:
Playtime: 20-30 minutes of interactive play a few times a day.
Walks: At least 30 minutes to an hour of walking each day, divided into multiple shorter walks.
Agility Training: 15-20 minutes of agility training sessions a few times a week.
Socialization: Arrange regular playdates with other dogs to maintain social skills.
Swimming: If your Maltipoo enjoys swimming, 15-30 minutes of swimming can be a great workout.
Always pay attention to your Maltipoo's cues. If they appear tired or disinterested, it's essential to respect their limits and give them a break.
Nutrition and Feeding Guidelines
Proper nutrition is vital for the overall well-being of your Maltipoo. Here are some specific dietary recommendations to ensure they receive the right nutrition:
Dietary Recommendations
High-Quality Dog Food: Choose a high-quality commercial dog food that lists real meat as the primary ingredient. Look for options designed for small breeds.
Protein: Ensure that the dog food provides adequate protein, as it is essential for your Maltipoo's muscle development and overall health.
Fat: Opt for a dog food that contains healthy fats, such as those from sources like chicken fat or fish oil. These fats support skin and coat health.
Carbohydrates: Look for carbohydrates like brown rice or sweet potatoes, which provide a source of energy.
Fruits and Vegetables: Some Maltipoos enjoy fruits and vegetables as treats. Offer small amounts of safe options like apple slices or carrots.
Portion Control: Be mindful of portion sizes to prevent overfeeding. The amount your Maltipoo needs can vary based on age, activity level, and individual metabolism. Consult with your veterinarian to determine the appropriate daily portion.
Dietary Restrictions or Allergies
Maltipoos are generally not known for specific dietary restrictions or allergies. However, it's essential to monitor your dog for any signs of food sensitivities or allergies, such as itching, digestive issues, or skin problems. If you suspect your Maltipoo has food allergies, consult with your veterinarian to identify and manage them.
Feeding Schedule
Establishing a regular feeding schedule can help maintain consistency and prevent overeating. Most Maltipoos do well with two meals a day:
Morning Meal: Offer breakfast in the morning to provide energy for the day ahead.
Evening Meal: Serve dinner in the early evening, allowing enough time for digestion before bedtime.
Avoid free-feeding, which can lead to weight gain. Measure out the appropriate portion of food for each meal based on your Maltipoo's specific needs.
In conclusion, a well-balanced exercise plan and proper nutrition are key components of ensuring your Maltipoo's health and happiness. Regular exercise, playtime, and mental stimulation cater to their active nature, while a high-quality diet tailored to their size and activity level keeps them in optimal condition. Remember that individual Maltipoos may have unique preferences and dietary needs, so be attentive to their cues and consult with your veterinarian for personalized guidance.
Socialization and Training Tips for Maltipoos
Maltipoos are known for their friendly and affectionate nature, but like all dogs, they benefit from proper training and socialization to become well-rounded companions. In this section, we'll provide breed-specific training tips and offer guidance on socializing your Maltipoo with other dogs and people.
Training Tips
Understanding Their Temperament
Maltipoos are intelligent and eager to please, which makes them generally responsive to training. However, they can also have a bit of a stubborn streak, so a patient and consistent approach is key. Here are some breed-specific training tips:
Positive Reinforcement: Use positive reinforcement techniques such as treats, praise, and toys to reward good behavior. Maltipoos thrive on positive feedback.
Short Sessions: Keep training sessions short and engaging. Maltipoos may become bored with lengthy lessons, so aim for 10-15 minutes at a time.
Consistency: Be consistent with your commands and expectations. Use the same words for specific actions, so your Maltipoo can quickly learn and respond.
Social Training: Maltipoos are sociable dogs, so early socialization is crucial. Expose them to various people, dogs, and environments to ensure they are well-adjusted and confident.
Potty Training: Maltipoos can be a bit finicky when it comes to potty training. Establish a routine and take them out frequently, especially after meals and waking up. Use positive reinforcement when they go outside.
Crate Training: Many Maltipoos adapt well to crate training, which can be useful for housetraining and providing a safe space for them.
Obedience Classes: Consider enrolling your Maltipoo in obedience classes or working with a professional dog trainer, especially if you encounter behavioral challenges.
Socialization with Dogs and People
Meeting Other Dogs
Maltipoos generally have a friendly disposition, but early socialization is essential to ensure they are comfortable and well-behaved around other dogs. Here are some tips for socializing your Maltipoo with other canines:
Start with controlled and supervised playdates with known, well-behaved dogs.
Gradually introduce them to various dogs of different sizes and temperaments to build confidence and good social skills.
Use positive reinforcement when they interact positively with other dogs.
Pay attention to their body language. If they appear stressed or anxious, give them space and reassurance.
Meeting People
Maltipoos tend to be affectionate and welcoming towards people, but it's still essential to ensure they are well-socialized with a variety of individuals. Here's how to socialize your Maltipoo with people effectively:
Begin with familiar friends and family members to build trust and confidence.
Progress to meeting new people in controlled environments, such as on walks or in puppy training classes.
Encourage friendly interactions by offering treats and praise when they greet people politely.
Always supervise interactions with children to ensure that both the child and the dog are comfortable and safe.
If your Maltipoo displays any signs of fear or aggression towards people, seek guidance from a professional dog trainer or behaviorist.
Common Behavioral Traits of Maltipoos
Maltipoos have a range of behavioral traits that make them endearing companions. Understanding these traits, both positive and challenging, is essential for effective training and care.
Positive Traits
Affectionate: Maltipoos are known for their affectionate nature. They often form strong bonds with their owners and enjoy cuddling and companionship.
Intelligent: These dogs are intelligent and quick learners, which makes them responsive to training commands and new tricks.
Friendly: Maltipoos are generally friendly and sociable, making them great family dogs. They often get along well with children and other pets.
Alertness: While they are not known as aggressive watchdogs, Maltipoos are alert and will bark to alert you to anything unusual.
Adaptable: They can adapt to different living environments, whether in an apartment or a house with a yard, as long as they receive sufficient exercise and attention.
Challenging Traits
Separation Anxiety: Maltipoos are prone to separation anxiety and may become distressed when left alone for extended periods. Crate training and gradual departures can help manage this.
Barking Tendency: They have a tendency to bark, especially if they are not properly trained or socialized. Early training can help address excessive barking.
Stubbornness: Maltipoos can be a bit stubborn at times, so patience and consistency in training are essential.
Grooming Needs: While their coat is low-shedding, it requires regular grooming to prevent matting and keep it in good condition.
Sensitivity: Some Maltipoos can be sensitive to changes in their routine or environment, which may lead to anxiety or behavioral issues.
Addressing Behavioral Issues
To address any behavioral issues or challenges with your Maltipoo, consider the following:
Positive Reinforcement: Use positive reinforcement techniques to encourage desired behaviors and discourage undesirable ones.
Consistent Training: Be consistent in your training and expectations to avoid confusion.
Professional Help: If behavioral issues persist, seek guidance from a professional dog trainer or behaviorist who specializes in positive reinforcement methods.
Exercise and Mental Stimulation: Ensure your Maltipoo receives adequate exercise and mental stimulation to prevent boredom and anxiety-related behaviors.
Routine and Stability: Maintain a stable routine and environment to help alleviate sensitivity and anxiety.
In conclusion, Maltipoos are delightful companions with a range of positive traits, but they may also present some challenges in terms of behavior. With patient and consistent training, proper socialization, and a loving environment, you can help your Maltipoo become a well-behaved and happy member of your family. If you encounter persistent behavioral issues, don't hesitate to seek professional guidance for effective solutions.
Personal Stories and Testimonials: Insights into Maltipoo Ownership
Real-life stories and testimonials from Maltipoo owners offer invaluable insights into what it's like to share your life with this charming breed. In this section, we'll feature personal anecdotes that highlight the experiences, challenges, joys, and costs associated with owning a Maltipoo. Additionally, we'll delve into the pros and cons of having a Maltipoo as a pet.
Cost of Owning a Maltipoo: Expenses on Grooming and Care
Grooming Expenses
One aspect of Maltipoo ownership that many owners can attest to is the grooming requirements of this breed. Their distinctive, low-shedding coat demands regular maintenance to keep it healthy and mat-free. Sarah, a Maltipoo owner, shares her experience:
Sarah's Story:
"Owning a Maltipoo has been a delightful journey, but one thing I didn't fully anticipate was the grooming commitment. My Maltipoo, Teddy, has a beautiful, soft, and wavy coat that needs regular attention. I found myself at the groomer's every 6-8 weeks for a trim and bath. While Teddy's coat is manageable, I've heard from other owners with curlier coats that they require even more frequent grooming. So, it's essential to budget for grooming expenses, which can add up over time."
Veterinary Care
Like all dogs, Maltipoos require routine veterinary care to ensure their health and well-being. Annual check-ups, vaccinations, and potential medical expenses are part of responsible ownership. John, another Maltipoo owner, shares his perspective:
John's Testimonial:
"I've had my Maltipoo, Bella, for four years now, and I can't imagine life without her. However, it's crucial to be prepared for veterinary expenses. While Maltipoos are generally healthy dogs, they can be prone to certain health issues like dental problems. Bella had some dental issues that required a veterinary dentist's attention, which added to our annual costs. Pet insurance can be a wise investment to help manage unexpected medical bills."
Pros and Cons of Having a Maltipoo as a Pet
Pros of Maltipoo Ownership
Affectionate Companionship: Maltipoos are known for their loving and loyal nature. They form strong bonds with their owners and provide unwavering companionship.
Hypoallergenic Qualities: Their low-shedding coat makes them a great choice for individuals with allergies or those who prefer a cleaner living environment.
Adaptability: Maltipoos adapt well to various living environments, including apartments and houses with yards. They are versatile and can thrive in different settings.
Intelligence: Their intelligence and trainability make them excellent candidates for obedience training and learning new tricks.
Good with Children and Other Pets: Maltipoos are generally good with children and other pets, making them a suitable choice for families.
Low Exercise Requirements: While they enjoy playtime and walks, Maltipoos do not have extremely high exercise needs, making them a manageable choice for owners with varied schedules.
Cons of Maltipoo Ownership
Grooming Commitment: Their coat requires regular grooming to prevent matting and maintain its appearance. This can be time-consuming and costly.
Potential for Separation Anxiety: Maltipoos can be prone to separation anxiety, which means they may not do well if left alone for extended periods.
Barking Tendency: Some Maltipoos have a tendency to bark, especially if not properly trained or socialized. This can be a challenge for owners in shared living spaces.
Health Concerns: While generally healthy, Maltipoos can be prone to certain health issues, including dental problems, hip dysplasia, and patellar luxation.
Expense: Owning a Maltipoo comes with various expenses, including grooming, veterinary care, and quality dog food. Budgeting for these costs is essential.
Puppy Mills and Unethical Breeders: Due to their popularity, Maltipoos can be bred by unscrupulous breeders. It's crucial to research and choose a responsible breeder or consider adoption.
Grace's Experience:
"Having a Maltipoo like Max has been a joy, but it's not without its challenges. Max is prone to separation anxiety, and I've had to make adjustments to my work schedule to ensure he's not alone for long periods. The barking tendency can also be a challenge, especially in apartment living. However, his affectionate nature and adaptability make it all worthwhile. I wouldn't trade our bond for anything."
In conclusion, owning a Maltipoo can be a rewarding experience, but it's essential to be prepared for the responsibilities and costs associated with their care. While they have numerous positive traits, such as affection, adaptability, and intelligence, it's crucial to consider potential challenges like grooming needs, separation anxiety, and barking tendencies. Personal stories and testimonials from Maltipoo owners offer valuable insights into the joys and realities of having this delightful breed as a companion.
Breed-Specific Accessories and Care Products for Maltipoos
Taking care of your Maltipoo involves more than just love and attention; it also requires the right accessories and care products to keep them healthy, happy, and well-groomed. In this section, we'll recommend specific accessories and products tailored to the unique needs of Maltipoos, from grooming tools to toys and more.
Grooming Tools
1. Slicker Brush
Maltipoos have soft, wavy, and often long coats that can be prone to matting and tangling. A slicker brush is an excellent grooming tool for daily brushing, as it helps remove tangles, prevents mat formation, and keeps their coat looking its best.
2. Comb with Rotating Teeth
A comb with rotating teeth is ideal for gently detangling your Maltipoo's coat. The rotating teeth minimize tugging, making the grooming process more comfortable for your furry friend.
3. Pet Shampoo and Conditioner
Opt for a high-quality pet shampoo and conditioner designed for dogs with sensitive skin. Maltipoos can have delicate skin, so selecting a gentle product is essential to maintain their coat's health and shine.
4. Grooming Scissors
Invest in a pair of grooming scissors specifically designed for dogs. These scissors are handy for trimming around your Maltipoo's ears, paws, and face. Regular trimming keeps them looking tidy and prevents hair from obstructing their vision.
5. Nail Clippers
Regular nail maintenance is crucial for your Maltipoo's comfort and health. Choose a pair of dog nail clippers that are suitable for their size and nails. If you're not comfortable doing it yourself, consider seeking professional grooming for nail trims.
Harnesses and Collars
6. Step-In Harness
A step-in harness is an excellent choice for Maltipoos, as it's comfortable and easy to put on. It provides better control during walks and reduces the risk of neck strain, which can be a concern for smaller breeds.
7. Adjustable Collar
While harnesses are great for walks, an adjustable collar is essential for attaching identification tags and ensuring your Maltipoo is easily identifiable if they ever get lost. Ensure the collar is comfortable and properly fitted.
Toys and Enrichment
8. Interactive Puzzle Toys
Maltipoos are intelligent dogs that benefit from mental stimulation. Interactive puzzle toys challenge their problem-solving skills and keep them engaged.
9. Plush Toys
Plush toys provide comfort and companionship. Look for durable plush toys designed for small breeds that can withstand your Maltipoo's playful nature.
10. Chew Toys
Chew toys help with dental health and prevent boredom. Choose appropriate-sized chew toys that are safe for your Maltipoo to gnaw on.
11. Treat Dispensers
Treat-dispensing toys are fantastic for keeping your Maltipoo occupied and mentally stimulated. These toys reward them with treats as they play.
Feeding Accessories
12. Slow Feeder Bowl
Slow feeder bowls are essential if your Maltipoo tends to eat too quickly. They encourage slower eating, reducing the risk of digestive issues like bloat.
13. Stainless Steel Bowls
Invest in high-quality stainless steel food and water bowls. They are easy to clean, durable, and resistant to bacteria, ensuring your Maltipoo's meals are served in hygienic conditions.
Health and Safety
14. Flea and Tick Prevention
Ensure your Maltipoo is protected from parasites with a veterinarian-recommended flea and tick prevention product. Consult your vet for the most suitable option based on your dog's needs.
15. Dental Care Products
To maintain your Maltipoo's dental health, consider dental care products such as toothbrushes, toothpaste, and dental chews. Regular dental care can prevent dental problems down the road.
16. Pet First Aid Kit
A pet first aid kit is a must-have for any dog owner. It should include essential items like bandages, antiseptic wipes, tweezers, and a guide on how to administer basic first aid.
Comfort and Rest
17. Dog Bed
Invest in a comfortable dog bed that provides proper support for your Maltipoo's joints. Look for one that suits their size and sleeping habits.
18. Blankets and Crate Mats
Soft blankets and crate mats add extra comfort and warmth. They are particularly useful if your Maltipoo sleeps in a crate or enjoys nesting.
Travel Accessories
19. Pet Carrier
For travel or trips to the vet, a secure and well-ventilated pet carrier ensures your Maltipoo travels safely and comfortably.
20. Car Seat or Booster Seat
A car seat or booster seat designed for dogs is essential for safe travel in the car. It keeps your Maltipoo secure and prevents them from roaming while you're driving.
Marie's Recommendation:
"As a proud Maltipoo owner, I can't stress the importance of grooming tools enough. Teddy's beautiful coat requires regular brushing and maintenance to keep it looking its best. The slicker brush and comb with rotating teeth have been lifesavers in preventing matting and keeping him comfortable. Additionally, puzzle toys have been a fantastic way to stimulate his clever mind and keep him entertained when I'm busy."
In conclusion, choosing the right accessories and care products for your Maltipoo is essential for their well-being and happiness. These specialized items cater to their grooming needs, exercise requirements, mental stimulation, and overall comfort. By investing in these breed-specific products, you'll ensure that your Maltipoo receives the best care possible, enhancing their quality of life as a beloved member of your family.
Frequently Asked Questions (FAQs) About Maltipoos
Maltipoos are a unique and beloved breed, but they often raise questions for both prospective and current owners. In this section, we'll address ten common questions about Maltipoos, providing informative answers to help you better understand and care for these delightful dogs.
1. What Is a Maltipoo, and What Are Their Origins?
A Maltipoo is a crossbreed dog resulting from the combination of a Maltese and a Poodle. This crossbreed was developed to create a dog with the desirable traits of both breeds, including the Maltese's affectionate nature and the Poodle's intelligence and low-shedding coat. Maltipoos are considered a designer breed, and their popularity has risen steadily over the years.
2. Are Maltipoos Hypoallergenic?
Yes, Maltipoos are often considered hypoallergenic. Their low-shedding, wavy coat produces fewer allergenic proteins, making them a suitable choice for people with allergies. However, no dog is entirely hypoallergenic, so it's essential to spend time with a Maltipoo to see if you have any allergic reactions before bringing one home.
3. How Big Do Maltipoos Get?
Maltipoos come in various sizes depending on the size of the Poodle parent (toy, miniature, or standard) and the Maltese parent. On average, they typically weigh between 5 to 20 pounds (2 to 9 kilograms) and stand around 8 to 14 inches (20 to 36 centimeters) tall at the shoulder.
4. Are Maltipoos Good with Children and Other Pets?
Maltipoos are generally known for their friendly and gentle nature, which often makes them good with children and other pets. However, as with any dog breed, early socialization and proper training are crucial to ensure they get along well with both kids and other animals.
5. Do Maltipoos Bark a Lot?
Maltipoos can be prone to barking, especially if not properly trained or if they become anxious or bored. Early socialization and consistent training can help manage their barking tendencies. Providing mental stimulation and exercise can also reduce excessive barking.
6. How Often Do Maltipoos Need Grooming?
Maltipoos require regular grooming due to their unique coat. Grooming frequency depends on the length and texture of their fur. In general, plan for a visit to the groomer every 6 to 8 weeks. Daily brushing at home helps prevent matting and keeps their coat in good condition.
7. Are Maltipoos Prone to Any Health Issues?
Maltipoos are generally healthy dogs, but they can be prone to certain health issues common in their parent breeds. These may include dental problems, hip dysplasia, patellar luxation, and eye conditions. Regular veterinary check-ups, a balanced diet, and a healthy lifestyle can help prevent and manage these issues.
8. Do Maltipoos Need a Lot of Exercise?
Maltipoos are moderately active dogs and do not require excessive exercise. Daily walks, playtime, and mental stimulation are usually sufficient to keep them happy and healthy. They adapt well to apartment living as long as their exercise needs are met.
9. What Is the Lifespan of a Maltipoo?
The average lifespan of a Maltipoo is around 12 to 15 years. Providing proper care, a balanced diet, regular exercise, and routine veterinary check-ups can help extend their lifespan and ensure a long, healthy life.
10. Where Can I Find a Maltipoo to Adopt or Purchase?
You can find Maltipoos through various channels:
Rescue Organizations: Consider adopting a Maltipoo from a rescue organization or shelter. Many dogs in need of loving homes are waiting for adoption.
Reputable Breeders: If you choose to purchase from a breeder, do thorough research to find a responsible breeder who prioritizes the health and well-being of the dogs. Ask for references and visit the breeder's facility if possible.
Adoption Events: Check local pet adoption events or websites where Maltipoos might be available for adoption.
Online Platforms: Be cautious when using online platforms to find a Maltipoo. Ensure that you verify the credibility of the seller or rescue organization before making any commitments.
In conclusion, Maltipoos are charming and unique companions with a combination of desirable traits from both the Maltese and Poodle breeds. They make wonderful family pets, but it's essential to be informed about their characteristics, care needs, and where to find them. By addressing these frequently asked questions, we hope to provide valuable insights into Maltipoo ownership and help you make informed decisions about welcoming one into your home.
Conclusion: Embracing Maltipoos as Loving Companions
In this comprehensive guide, we've embarked on a journey through the world of Maltipoos, exploring their unique characteristics, care requirements, and the joys of sharing your life with these delightful dogs. As we conclude, let's summarize the key points, underscore the significance of responsible ownership, and advocate for the adoption of these wonderful companions.
Recap of Key Points
Maltipoo Characteristics
Breed Origins: Maltipoos are a crossbreed of Maltese and Poodle, renowned for their affectionate nature and intelligence.
Size: They vary in size, with an average weight of 5 to 20 pounds and a height of 8 to 14 inches.
Hypoallergenic Qualities: Maltipoos are considered hypoallergenic due to their low-shedding coat.
Temperament: They are friendly, affectionate, and often good with children and other pets.
Grooming Needs: Regular grooming is essential to maintain their coat's health and appearance.
Health Considerations: While generally healthy, they can be prone to specific health issues, including dental problems and hip dysplasia.
Responsible Ownership
Socialization and Training: Proper socialization and training are essential to ensure a well-behaved and happy Maltipoo.
Healthcare: Regular veterinary check-ups, vaccinations, and dental care contribute to their overall well-being.
Exercise and Mental Stimulation: Maltipoos benefit from daily exercise and mental challenges to stay physically and mentally fit.
Grooming Commitment: Be prepared for the grooming commitment, including brushing, trimming, and coat care.
Diet and Nutrition: Provide a balanced diet suitable for their size, age, and activity level.
The Importance of Responsible Pet Ownership
Owning a Maltipoo, or any dog, is a significant responsibility and commitment. These furry companions rely on us for love, care, and a fulfilling life. Responsible pet ownership entails:
Training: Invest time and effort in training your Maltipoo, using positive reinforcement techniques. A well-trained dog is a joy to be around and ensures their safety and that of others.
Socialization: Early and ongoing socialization helps your Maltipoo become confident and well-adjusted around people and other animals.
Healthcare: Regular vet visits, vaccinations, and preventive care are essential for maintaining your dog's health.
Exercise: Meet their exercise needs to keep them physically and mentally stimulated. Regular exercise also helps prevent obesity.
Grooming: Stay committed to grooming tasks to keep their coat in excellent condition and prevent matting and discomfort.
Respect: Respect your Maltipoo's individual needs and boundaries. Be patient and understanding as they adapt to new environments and situations.
Encouraging Adoption
While purchasing a Maltipoo from a responsible breeder is an option, we strongly encourage you to explore adoption opportunities. Countless Maltipoos are in need of loving homes, waiting in rescue organizations and shelters. By adopting, you not only provide a second chance to a deserving dog but also contribute to reducing the demand for puppy mills and unethical breeding practices.
Resources for Adoption:
Local Shelters and Rescues: Check your local animal shelters and rescue organizations for Maltipoos in need of adoption.
Breed-Specific Rescues: Some rescue groups specialize in Maltipoos and other mixed breeds. They often have dedicated volunteers who can provide valuable information and assistance.
Online Adoption Platforms: Websites like Petfinder and Adopt-a-Pet offer extensive listings of adoptable dogs, including Maltipoos.
Social Media: Explore social media platforms and groups dedicated to pet adoption. Many foster homes post updates and photos of dogs in need of loving families.
In Closing
Maltipoos are more than just a breed; they are loving companions who bring joy, laughter, and endless affection into our lives. With their unique blend of Maltese charm and Poodle intelligence, they have a special place in the hearts of many dog enthusiasts.
As you embark on your journey with a Maltipoo or consider adopting one, remember the importance of responsible ownership. By providing love, care, and a nurturing environment, you create a fulfilling life for your furry friend, and in return, they become a cherished member of your family.
Whether you choose to purchase from a reputable breeder or open your heart to adoption, your decision will impact not only your life but also the life of a Maltipoo waiting for their forever home. Embrace the love, the laughter, and the unwavering companionship of a Maltipoo, and you'll find that your life is brighter with them by your side.