Did you know that tomatoes are one of the most versatile and beloved foods in the world? From sauces to salads, pizzas to sandwiches, these vibrant red orbs have found their way into countless dishes and our hearts. But have you ever wondered if your furry friend can enjoy this seemingly healthy treat as well?As responsible pet owners, it's our duty to ensure our dogs stay happy and healthy. Understanding what they can and cannot eat is a fundamental part of caring for our four-legged companions. So, let's dive into the intriguing world of dogs and tomatoes.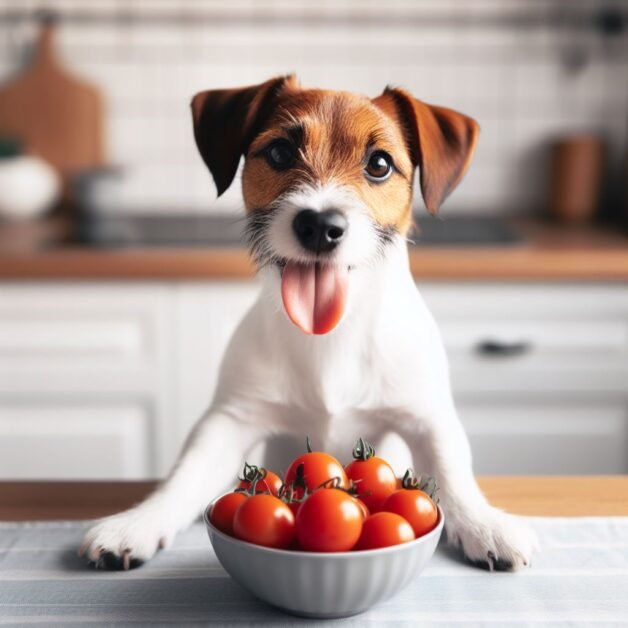 The Curious Case of Canine Culinary Choices
Dogs have a remarkable ability to charm us with their unconditional love and loyalty. They also have a knack for charming their way into our kitchens, especially when we're preparing delicious meals. Those soulful eyes gazing up at you as you slice a juicy tomato can make even the toughest-hearted owner consider sharing a bite.
But before you toss that tomato slice to your eager pup, it's important to recognize that dogs have specific dietary needs and tolerances that differ from ours. The canine digestive system is not the same as that of humans, and some foods that are perfectly safe for us can be harmful to them. This is where the importance of understanding what your dog can and cannot eat comes into play.
Table of Contents
The Allure of Tomatoes
Tomatoes are not only flavorful but also packed with essential nutrients. They are rich in vitamins like A, C, and K, as well as potassium and folate. Moreover, they are a good source of antioxidants like lycopene, which has been associated with various health benefits in humans. Given these nutritional qualities, it's natural to wonder if they can offer similar advantages to our canine companions.As pet owners, we often seek to enrich our dogs' diets with wholesome foods, and it's tempting to think that sharing a bit of tomato won't hurt. But before we delve into the potential benefits and drawbacks of feeding tomatoes to dogs, it's crucial to acknowledge a pressing question:
Can Dogs Eat Tomatoes Safely?
The short answer is yes, but with several caveats. While tomatoes themselves aren't inherently toxic to dogs, there are certain parts of the tomato plant that can be harmful to them. The main culprit here is tomatine, a naturally occurring chemical found in the stems and leaves of tomato plants. Tomatine can be harmful to dogs if ingested in large quantities.To make things a bit more complex, the ripeness of the tomato also matters. Ripe, red tomatoes contain lower levels of tomatine compared to unripe, green tomatoes. This means that if you decide to share a bit of tomato with your dog, it's best to go for the fully ripe ones and remove any stems and leaves.
The Pros of Including Tomatoes in Your Dog's Diet
Now that we know dogs can eat tomatoes in moderation, let's explore some potential benefits of adding this juicy fruit to your furry friend's diet:
1. Nutrient Boost:
Tomatoes provide a range of essential vitamins and minerals that can contribute to your dog's overall health. Vitamin C, for example, supports the immune system, while vitamin A promotes good vision.
2. Hydration:
Tomatoes have a high water content, which can help keep your dog hydrated, especially on hot days. Proper hydration is crucial for maintaining healthy bodily functions.
3. Antioxidant Power:
Lycopene, the antioxidant responsible for the vibrant red color of tomatoes, may have antioxidant properties that can help combat harmful free radicals in your dog's body.
4. Low in Calories:
For pet owners concerned about their dog's weight, tomatoes are a low-calorie treat option. They can add variety to your dog's diet without a significant increase in calorie intake.
The Cons: Potential Risks of Feeding Tomatoes to Dogs
While there are potential benefits to giving your dog tomatoes, there are also risks and considerations you should be aware of:
1. Tomatine Content:
As mentioned earlier, tomatine in the stems and leaves of tomato plants can be toxic to dogs if consumed in excess. It's crucial to remove these parts and only offer ripe, red tomato flesh.
2. Digestive Upset:
Tomatoes are acidic, and consuming them in large quantities could lead to digestive upset in some dogs. This might manifest as vomiting, diarrhea, or abdominal discomfort.
3. Allergies:
Just like humans, dogs can have allergies or sensitivities to certain foods. While tomatoes are not a common allergen for dogs, it's possible for individual dogs to have adverse reactions.
4. Obesity:
While tomatoes are low in calories, excessive consumption of any food can contribute to weight gain in dogs. Portion control is crucial.
What to Do If Your Dog Eats an Unsafe Part of a Tomato
Accidents happen, and if your dog happens to munch on a part of the tomato plant that's not safe, it's important to know what to do. If your dog ingests a substantial amount of tomato stems or leaves, you should contact your veterinarian immediately. They can provide guidance on any necessary treatment.
In cases of mild tomato ingestion, monitor your dog for any signs of distress, such as vomiting or diarrhea. If symptoms persist or worsen, consult your vet promptly.
In the following sections of this article, we will delve deeper into the specifics of feeding tomatoes to dogs, including portion sizes and preparation methods to ensure their safety and well-being. We'll also address common concerns, such as whether it's safe to give your dog tomato sauce or canned tomatoes.
Stay tuned as we explore the fascinating world of dogs and tomatoes, uncovering the dos and don'ts of including this juicy delight in your dog's diet. Let's ensure that your beloved pet enjoys the goodness of tomatoes without any harm.
Tomatoes, in their ripe, red, and delicious form, are generally not toxic or dangerous to dogs. In fact, some dogs may even enjoy the tangy-sweet taste of this juicy fruit (yes, tomatoes are technically fruits). However, it's essential to understand the nutritional aspects of tomatoes for dogs to make informed choices about including them in their diet.
Let's begin by examining the nutritional profile of tomatoes:
Nutrition Facts for Tomatoes
| Nutrient | Amount |
| --- | --- |
| Calories | 18 |
| Water | 95% |
| Protein | 0.9 g |
| Carbs | 3.9 g |
| Sugar | 2.6 g |
| Fiber | 1.2 g |
| Fat | 0.2 g |
| Vitamin C | 12.7 mg |
| Potassium | 237 mg |
| Vitamin K | 42 mcg |
| Folate | 15 mcg |
Drawbacks of Feeding Tomatoes to Dogs
1. Tomatine Content:
Tomatoes contain a natural chemical called tomatine, primarily found in the stems and leaves of the tomato plant. While ripe, red tomatoes have significantly lower levels of tomatine, it's essential to be cautious. Excessive consumption of tomatine can cause gastrointestinal upset, drooling, and, in severe cases, more serious health issues in dogs.
2. Acidity:
Tomatoes are naturally acidic, which can pose a problem for some dogs, particularly those with sensitive stomachs. The acidity may lead to digestive issues, such as upset stomach, vomiting, or diarrhea, if consumed in large quantities.
3. Allergies or Sensitivities:
As with any food, dogs can develop allergies or sensitivities to tomatoes. While tomato allergies are not common in dogs, it's still possible for some individuals to experience adverse reactions, including itching, hives, or digestive discomfort.
4. Weight Management:
While tomatoes are relatively low in calories, feeding them excessively can contribute to weight gain in dogs. It's crucial to consider portion control, especially if your dog is on a calorie-restricted diet or has weight management concerns.
5. Additional Ingredients:
Tomatoes are often used in various recipes, such as sauces or soups, which may contain additional ingredients like onions or garlic. These ingredients can be highly toxic to dogs and should be avoided entirely. Always check the ingredients before sharing any tomato-based dishes with your dog.
Tomatoes as a Dietary Complement
Given the potential benefits and drawbacks of feeding tomatoes to dogs, it's important to approach this treat with moderation and caution. Tomatoes should complement, not replace, a dog's primary diet. While they can provide some valuable nutrients, they should be viewed as an occasional addition rather than a staple food.
If you decide to introduce tomatoes into your dog's diet, here are some guidelines to follow:
1. Choose Ripe, Red Tomatoes:
Opt for fully ripe tomatoes, as they contain lower levels of tomatine and are less likely to cause digestive issues.
2. Remove Stems and Leaves:
Before sharing a tomato with your dog, ensure that you've removed all stems and leaves, as these parts contain higher concentrations of tomatine.
3. Watch for Allergic Reactions:
Monitor your dog closely after introducing tomatoes. If you notice any signs of an allergic reaction, such as itching, swelling, or gastrointestinal discomfort, discontinue tomato consumption immediately.
4. Portion Control:
Limit the amount of tomato you offer to your dog. Small, bite-sized pieces or a spoonful of tomato should suffice as an occasional treat.
5. Avoid Seasonings and Additives:
Do not add salt, spices, or other seasonings to the tomatoes when sharing them with your dog. Plain, fresh tomatoes are the safest option.
In the next sections, we will explore various forms of tomatoes and their safety for dogs. Can your furry friend enjoy tomato sauce or canned tomatoes? Is it safe to share tomatoes from your garden, or should you stick to store-bought varieties? We'll answer these questions to ensure that you can make the best choices for your pet's well-being.
How much Tomatoes can a Dog Eat?
When it comes to feeding tomatoes to your dog, the golden rule is moderation. Treats, including tomatoes, should not make up more than 10% of your dog's daily calorie intake. It's crucial to maintain a balanced diet for your furry friend, and while tomatoes can be a tasty addition, they should not become a dietary staple.
Here are some guidelines to keep in mind when determining how much tomatoes your dog can safely consume:
Start Small and Observe
Before offering a substantial serving of tomatoes to your dog, it's wise to start small. Begin with a tiny piece and observe how your dog reacts to it. Some dogs may have sensitive stomachs and might not tolerate tomatoes well, even in small amounts.
Prepare Tomatoes Carefully
How you prepare tomatoes matters when offering them to your dog. While it's not necessary to transform them into a gourmet meal, there are certain precautions you can take to make them safer for your furry companion:
Peel the Skin

: Tomato skin can be tough and difficult for dogs to digest. Peeling the tomatoes before sharing them with your dog can make them easier to handle.

Chop into Small Pieces

: Cutting tomatoes into small, manageable pieces can help prevent choking hazards and make it easier for your dog to eat.

Cooking

: Some pet owners choose to lightly cook or blanch tomatoes before offering them to their dogs. Cooking can help break down some of the compounds that might be harder to digest.
Consider Your Dog's Size and Breed
The size and breed of your dog play a role in how much tomatoes they can safely tolerate. Larger dogs generally have more robust digestive systems and can handle larger portions than smaller breeds. Additionally, some breeds may have specific dietary sensitivities, so it's essential to be aware of your dog's unique needs.
Appropriate Serving Sizes
Determining an appropriate serving size of tomatoes for your dog depends on their weight. Here's a general guideline:
Small Dogs (up to 20 pounds)

: Offer no more than 1-2 small cherry tomatoes or 1-2 small slices of a regular-sized tomato a few times a week.

Medium Dogs (20-50 pounds)

: Provide 1-2 regular-sized tomato slices or 2-3 cherry tomatoes a few times a week.

Large Dogs (50+ pounds)

: Large dogs can generally handle slightly more. Offer 2-4 regular-sized tomato slices or a small handful of cherry tomatoes a few times a week.
Signs of Tomato Intolerance
While many dogs can enjoy tomatoes without issue, some may experience intolerance or sensitivity. Signs of tomato intolerance can include:
Vomiting
Diarrhea
Upset stomach
Excessive drooling
Lethargy
Allergic reactions (itching, hives, swelling)
If you notice any of these symptoms after giving your dog tomatoes, discontinue the treat immediately and consult your veterinarian. It's possible that tomatoes do not agree with your dog's digestive system, and it's best to err on the side of caution.
What are the Risks of Feeding Tomatoes to Dogs?
While tomatoes can be a tasty and nutritious treat for many dogs, it's essential to be aware of the potential risks and hazards associated with feeding them to your furry friend. Dogs, like humans, can experience food allergies and intolerances, and some components of tomatoes can pose specific risks. Let's explore these risks in detail:
Food Allergies and Intolerance
Just as humans can have food allergies, dogs can develop sensitivities or allergies to certain foods, including tomatoes. Food allergies in dogs occur when their immune system identifies specific proteins in the food as harmful invaders. While tomato allergies are relatively rare, they can still occur.
Short-Term Signs of Food Intolerance
Food intolerance differs from a food allergy in that it doesn't involve the immune system. Instead, it's a digestive issue where the dog's system struggles to process a particular food. Short-term signs of food intolerance can include:
Vomiting
Diarrhea
Gas
Bloating
Abdominal discomfort
If you notice any of these signs after your dog consumes tomatoes, it's essential to discontinue tomato treats and monitor their condition. In many cases, the symptoms will resolve on their own once the offending food is removed from their diet.
Specific Hazards in Tomatoes
While ripe, red tomatoes are generally safe for dogs in moderation, there are specific hazards related to certain components of tomatoes:
Tomatine

: As mentioned earlier, tomatine is a natural chemical found in the stems and leaves of tomato plants. While ripe tomatoes have lower levels of tomatine,

green, unripe tomatoes can contain higher amounts of this compound

. Ingesting tomatine in significant quantities can lead to gastrointestinal distress in dogs.

Solanine

: Green tomatoes may also contain another potentially harmful substance called solanine. Solanine is a natural toxin that can cause symptoms such as nausea, vomiting, and diarrhea in dogs.
Signs and Symptoms of Adverse Reactions
It's crucial to be vigilant for signs of adverse reactions in your dog after consuming tomatoes. These can include:
Vomiting

: Frequent vomiting or severe vomiting shortly after eating tomatoes could indicate an adverse reaction.

Diarrhea

: Loose or watery stools that persist can be a sign of digestive distress.

Excessive Drooling

: If your dog suddenly starts drooling excessively, it may indicate discomfort.
Lethargy

: Unusual tiredness or lack of energy can be a sign that something is amiss.

Allergic Reactions

: In rare cases, dogs may experience allergic reactions to tomatoes. These can include itching, hives, swelling (especially of the face and paws), and difficulty breathing. Allergic reactions can be life-threatening and require immediate veterinary attention.
What to Do if Your Dog Shows Signs of an Adverse Reaction
If you suspect that your dog is experiencing an adverse reaction to tomatoes or any other food, take the following steps:
Remove the Food

: Stop giving your dog tomatoes or any food you suspect may be causing the problem.

Monitor Your Dog

: Keep a close eye on your dog's condition. If the symptoms are mild and improve within a short time, it may not be cause for alarm. However, if the symptoms persist, worsen, or include signs of an allergic reaction, seek immediate veterinary care.

Consult Your Veterinarian

: If you're unsure about your dog's condition or if the symptoms are severe or persistent, don't hesitate to contact your veterinarian. They can provide guidance and may recommend tests or treatment.

Allergen Testing: In cases of suspected food allergies, your veterinarian may recommend allergen testing to identify the specific allergen causing the reaction.
How to Feed Tomatoes to Your Dog and Make It Enjoyable
Now that we've explored the nuances of feeding tomatoes to dogs and the potential risks involved, let's dive into how you can incorporate this juicy delight into your dog's diet in a safe and enjoyable way. Tomatoes can be offered to your furry friend in various forms, ranging from fresh treats to homemade snacks. Let's explore some creative and tasty options:
1. Fresh or Frozen Tomato Treats
Fresh Tomato Slices:
The simplest way to share tomatoes with your dog is by peeling and cutting them into small, bite-sized pieces. These can be offered as a healthy snack or a reward during training sessions. Ensure that you've removed the skin and any stem or leaves for easier digestion.
Frozen Tomato Treats:
For a refreshing and cooling treat on hot days, consider freezing small tomato slices. Your dog will love munching on these icy delights. It's a great way to keep them hydrated while offering a tasty treat.
2. Tomato as a Food Topper or Mixer
Tomatoes can be used as a flavorful food topper or mixer to enhance your dog's regular meals. Here's how:
Tomato Topping:
Add a few tomato slices or small chunks on top of your dog's kibble or wet food. This not only adds extra flavor but also provides moisture to their meal, making it more appealing. Ensure the tomato pieces are appropriately sized for your dog's comfort.
Tomato Puree:
You can create a tomato puree by blending ripe tomatoes into a smooth consistency. Drizzle a small amount of the puree over your dog's food to give it a tasty twist. Remember to keep portions moderate and monitor your dog's reaction.
3. Homemade Tomato Treats and Snacks
Get creative and make homemade treats or snacks for your dog using tomatoes. Here are some fun ideas:
Tomato Popsicles:
Create delicious and refreshing tomato popsicles for your dog. Here's a simple recipe to get you started:
Blend ripe tomatoes with a splash of water until you have a smooth puree.
Pour the puree into ice cube trays or silicone molds.
Freeze until solid, and you have tomato popsicles ready for your pup's enjoyment on a hot day.
Tomato Smoothies:
Whip up a nutritious tomato smoothie for your dog with this recipe:
Blend ripe tomatoes with some carrot, a pinch of turmeric, water, and ice cubes.
Pour the smoothie into your dog's bowl, and watch them lap up the delightful blend of flavors and nutrients.
Tomato Muffins:
Indulge your dog's taste buds with homemade tomato muffins. Here's a recipe idea:
Mix oat flour, rolled oats, unsweetened applesauce, an egg, a drizzle of honey, and some orange zest (for a citrusy twist).
Spoon the mixture into muffin tins.
Bake until golden brown, and voilà – you have savory tomato muffins your dog will adore.
Conclusion
In conclusion, we've explored the topic of whether dogs can eat tomatoes, and here's what you need to remember: Tomatoes can be safely consumed by dogs in small amounts as an occasional treat. However, caution is essential. It's crucial to be aware of the potential risks associated with tomatoes and to limit your dog's intake accordingly. Remember, tomatoes are not essential for your dog's health and may cause more harm than good if fed excessively or improperly.As responsible pet owners, it's our duty to prioritize our furry friends' well-being. If you choose to share tomatoes with your dog, make sure they are ripe and free from stems, leaves, or green parts. Monitor your dog for any adverse reactions and be especially cautious with dogs that have known food allergies or sensitivities.