Introduction
Dogs, our faithful companions, share our homes, our lives, and occasionally, our meals. But amidst the culinary indulgences of our own diets, questions about what is safe for our furry friends often arise. One intriguing inquiry that has gained traction in recent times is, "Can dogs eat tangerines?" The world of canine cuisine is vast, filled with both delectable delights and potential dangers. In this comprehensive exploration, we delve deep into the vibrant world of tangerines, peeling back the layers to understand whether this citrus marvel can find a place on your dog's menu.
Table of Contents
The Curious Case of Canine Curiosity
Dogs are curious creatures by nature, their keen noses and inquisitive eyes often landing them in situations where they explore the boundaries of their world – and that includes our dining tables. Picture this: you're enjoying the succulent sweetness of a tangerine, its tangy aroma filling the air. Your furry friend, ever watchful, gazes at you with those soulful eyes, a silent question hanging between you. Can they partake in this citrusy delight too? It's a question that tugs at the heartstrings of every dog owner who wants to share a moment of culinary joy with their beloved pet.
Unraveling the Nutritional Tapestry of Tangerines
A crucial aspect of understanding whether tangerines are suitable for dogs lies in dissecting their nutritional composition. Tangerines are renowned for being a treasure trove of vitamin C, a vitamin vital for humans in promoting healthy skin, wound healing, and immune function. Additionally, these citrus wonders contain dietary fiber, a component essential for digestive health, aiding in the smooth passage of food through the digestive tract. Furthermore, tangerines are teeming with antioxidants, combatants of free radicals that can wreak havoc in the human body. But does this impressive nutrient profile translate seamlessly into the canine world?
Canine Digestion: The Delicate Balance
Dogs, our lovable companions, boast digestive systems that are both robust and delicate. While they can devour a variety of foods, some human delights don't sit as well with their stomachs. Citrus fruits, including tangerines, harbor compounds such as limonene and citric acid, which might trigger gastrointestinal distress in our canine friends. The very components that make tangerines a nutritional marvel for humans could spell trouble for dogs, causing discomfort, upset stomach, vomiting, or diarrhea if ingested in excess.
Navigating the Hazards: Tangerines Beyond the Pulp
The risks associated with tangerines extend beyond their juicy, flavorful pulp. The seeds and peel of tangerines present additional hazards. Seeds, small and hard, pose a choking risk, and if ingested, they could cause blockages in the digestive tract, leading to emergency veterinary interventions. The peel, often discarded without a second thought, is coated with essential oils that might not agree with a dog's digestive system, potentially leading to similar distressing symptoms.
The Safe Haven of Tangerines: A Nutritional Breakdown
Tangerines, in their natural state, are not toxic or inherently dangerous for dogs. Some dogs may even enjoy the zesty taste of this citrus fruit, making it a tempting treat for our canine friends. To truly understand the nutritional value of tangerines, let's delve into their composition: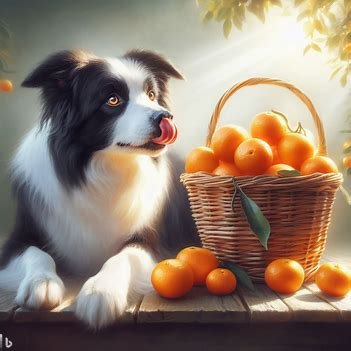 Nutrition Facts of Tangerines (Per 100g)
| Nutrient | Amount per 1 medium tangerine (88 g) | % Daily Value |
| --- | --- | --- |
| Calories | 47 | – |
| Fat | 0.3 g | – |
| Carbs | 12 g | – |
| Fiber | 2 g | 7% |
| Sugar | 9.3 g | – |
| Protein | 0.7 g | – |
| Vitamin C | 23.5 mg | 40% |
| Vitamin A | 29.9 mcg | 4% |
Note: Nutrient values may vary based on the specific type of tangerine.
Tangerines are packed with essential nutrients that can benefit dogs. They are a significant source of vitamin C, an antioxidant that supports the immune system and promotes healthy skin and coat. Additionally, tangerines contain dietary fiber, which aids in digestion, and various minerals, including calcium and iron, which contribute to overall canine health.
Navigating the Nutritional Landscape: Tangerines and Dogs
While tangerines offer a spectrum of nutrients, it's essential to be mindful of potential drawbacks. Despite their nutritional benefits, tangerines also come with their share of concerns. The high sugar content, while natural, can be problematic for dogs, especially those with diabetes or weight issues. Excessive sugar intake can lead to obesity and dental problems, so moderation is key.
Furthermore, tangerines contain citric acid, a component that can cause gastrointestinal upset in some dogs. Dogs with sensitive stomachs might experience discomfort, manifested through symptoms like upset stomach, vomiting, or diarrhea. The seeds and peel of tangerines, as previously mentioned, pose choking and digestive hazards, making it crucial to remove them entirely before sharing this fruit with your dog.
The Balance of Treats: Incorporating Tangerines Responsibly
In the realm of canine nutrition, variety is the spice of life. Tangerines can be a delightful occasional treat for your dog, provided they are prepared and served with caution. It's imperative to offer tangerines in small, manageable portions, ensuring that they complement your dog's primary diet rather than replacing it. Before introducing tangerines into your dog's menu, consult with your veterinarian, especially if your furry friend has underlying health conditions or dietary restrictions.
Conclusion: A Flavorful Treat, A Responsible Choice
In the grand tapestry of canine culinary delights, tangerines can find a modest corner, reserved for special moments of indulgence. With their tantalizing taste and moderate nutritional benefits, tangerines can indeed be a part of your dog's culinary adventures. However, the key lies in responsible pet ownership – understanding the risks, moderating the portions, and always prioritizing your dog's well-being.
As you savor the citrusy goodness of tangerines, consider sharing a tiny morsel with your furry companion. In the world of treats, a balanced approach ensures not only the happiness of your dog but also their long-term health. So, let your dog enjoy the occasional zest of tangerines, embracing the joy of sharing moments and flavors, all while keeping their well-being at the heart of your choices.
Moderation is Key: How Much Tangerine Can Your Dog Safely Enjoy?
In the delightful world of canine treats, moderation stands as the golden rule, and tangerines are no exception. While the occasional indulgence in this tangy fruit might seem harmless, it's crucial to be mindful of the quantity you offer to your furry friend. Here's a breakdown of how much tangerine is safe for your dog and how to approach their introduction to this citrusy delight.
The Rule of Moderation: Treats and Caloric Intake
Treats, including fruits like tangerines, should account for only a small fraction of your dog's daily caloric intake. As a general guideline, treats should not exceed 10% of your dog's total daily calories. When integrating tangerines into your dog's diet, it's essential to consider their overall calorie consumption. Treats, while tasty, should not replace the nutritionally balanced meals specially designed for your dog's dietary needs.
Start Small, Observe, and Adapt
Every dog is unique, and their tolerance to new foods, including tangerines, can vary significantly. To gauge your dog's reaction, start with a small piece of tangerine. Monitor how your dog responds to this new addition to their diet. Watch for any signs of discomfort, upset stomach, or allergies. If your dog shows no adverse reactions, you can gradually increase the portion size, always ensuring it remains within the recommended limit of their daily treat allowance.
Preparing Tangerines for Canine Consumption
Before offering your dog a taste of tangerine, it's essential to prepare the fruit properly. Begin by washing the tangerine thoroughly to remove any pesticides or residues. Peel the tangerine and remove all seeds and the white pith. Both seeds and pith can pose choking hazards and may be challenging for your dog's digestive system. Offer only the fleshy, juicy segments of the fruit, ensuring they are cut into small, manageable pieces to prevent choking.
Size Matters: Adjusting Portions for Your Dog's Breed and Weight
The appropriate serving size of tangerine for your dog depends on their weight and breed. Larger dogs generally have a higher tolerance for treats, including tangerines, compared to smaller breeds. As a rough guideline, a small dog, such as a Chihuahua or a Dachshund, should have no more than a few small segments of tangerine, equivalent to a teaspoon or less. Medium-sized dogs, like Beagles or Bulldogs, can have slightly larger portions, around a tablespoon. Larger breeds, such as Labradors or Golden Retrievers, can handle a bit more, up to two tablespoons, but always err on the side of caution, especially if it's their first encounter with tangerines.
Consult Your Veterinarian for Personalized Guidance
While these general guidelines provide a foundation, every dog is an individual, and their dietary needs and tolerances can vary. Therefore, it's highly advisable to consult your veterinarian before introducing tangerines or any new food into your dog's diet. Your vet can offer personalized advice based on your dog's specific health conditions, age, and breed, ensuring that you make informed decisions about your pet's nutrition.
Understanding the Risks: Tangerines and Canine Health
While the allure of sharing a slice of tangerine with your dog is undoubtedly tempting, it's essential to recognize the potential risks associated with this citrus fruit. Just like humans, dogs can have individual sensitivities and allergies to certain foods. When it comes to tangerines, there are specific risks that every pet owner should be aware of to safeguard their furry companion's well-being.
The Intricacies of Food Allergies
Food allergies are not exclusive to humans; dogs can develop them as well. When a dog has a food allergy, their immune system reacts negatively to specific proteins present in the food. While tangerines might not be a common allergen, it's essential to observe your dog for any signs of allergic reactions when introducing this fruit into their diet. Allergic reactions can vary widely, but common symptoms include itching, hives, swelling, and in severe cases, difficulty breathing.
Short-Term Signs of Food Intolerance
Even if a dog is not allergic to tangerines, they can still experience food intolerance, which manifests as short-term gastrointestinal distress. The high acidity of tangerines can irritate a dog's stomach lining, leading to symptoms such as upset stomach, vomiting, or diarrhea. These signs of discomfort can occur shortly after consuming tangerines and are indicative of a food intolerance reaction.
Specific Hazards Within Tangerines
Within the seemingly innocent exterior of a tangerine lie specific components that can pose hazards to dogs. Citrus fruits, including tangerines, contain compounds like limonene and citric acid. While these compounds are what give tangerines their characteristic aroma and taste, they can be harsh on a dog's digestive system. Ingesting excessive amounts of these compounds can lead to gastrointestinal distress, exacerbating symptoms like vomiting and diarrhea.
Additionally, the essential oils present in the peel of tangerines can be particularly problematic for dogs. These oils can cause irritation in a dog's mouth and throat, leading to excessive drooling, coughing, or retching. Ingesting the peel can also lead to blockages in the digestive tract, which can be life-threatening and necessitate immediate veterinary intervention.
Watchful Eyes, Caring Hearts: Signs of Adverse Reactions
As responsible pet owners, it's our duty to be vigilant and attentive to our dog's well-being, especially when introducing new foods like tangerines. Watch out for any signs of adverse reactions, which may include:
Upset Stomach: Look for signs of discomfort, such as excessive salivation, lip-smacking, or licking their lips.
Vomiting: If your dog vomits shortly after consuming tangerines, it's a clear sign of digestive distress.
Diarrhea: Loose stools or increased frequency of bowel movements can indicate a negative reaction to the fruit.
Behavioral Changes: Notice any unusual behavior, lethargy, or restlessness in your dog after consuming tangerines.
If you observe any of these signs, it's crucial to cease feeding tangerines immediately and consult your veterinarian. Your vet can provide guidance tailored to your dog's specific needs, ensuring their safety and well-being.
In the complex landscape of canine nutrition, knowledge is power. Armed with an understanding of the potential risks associated with feeding tangerines to dogs, you can make informed decisions about your pet's diet. Remember, while the bond between you and your furry friend is undoubtedly precious, their health and happiness are paramount. By being mindful of their dietary choices, you're not just a pet owner; you're a guardian, ensuring a long, healthy, and joyful life for your beloved canine companion.
Enhancing Your Dog's Delight: Creative Ways to Feed Tangerines
While tangerines might not be a staple in your dog's diet, there are creative and safe ways to incorporate this citrusy delight into their culinary adventures. By exploring various methods of preparation and combining tangerines with other dog-friendly ingredients, you can transform this tangy fruit into a flavorful treat or snack that your furry friend can enjoy responsibly.
1. Fresh and Frozen Treats: A Cool Citrus Delight
One of the simplest ways to introduce tangerines to your dog is by offering them fresh or frozen. Slice the tangerines into small, manageable pieces and freeze them. The chilly sensation can provide a refreshing experience, especially on hot days. Remember, moderation is key; offer these treats sparingly to prevent excessive sugar intake.
2. Food Topper or Mixer: Elevating Mealtime Excitement
Enhance your dog's regular meals by incorporating tangerines as a food topper or mixer. Finely chop or puree a small amount of tangerine and mix it with their usual dog food. This method adds a burst of flavor and nutrition to their meal, making it a delightful experience for your canine companion. However, always monitor their reaction and ensure it agrees with their stomach.
3. Homemade Treats and Snacks: A Touch of Culinary Creativity
Get creative in the kitchen by preparing homemade dog treats infused with the essence of tangerines. Here's a simple recipe to get you started:
Tangerine Dog Biscuits:
Ingredients:
1 cup whole wheat flour
1/2 cup oats
1/4 cup tangerine juice (freshly squeezed, no added sugar)
1/4 cup unsweetened applesauce
1 egg
1/2 teaspoon cinnamon (optional)
Instructions:
Preheat your oven to 350°F (175°C) and line a baking sheet with parchment paper.
In a mixing bowl, combine the whole wheat flour and oats.
Add the tangerine juice, unsweetened applesauce, egg, and cinnamon (if using). Mix until a dough forms.
Roll out the dough on a floured surface to your desired thickness andcut it into shapes using cookie cutters.
Place the shaped biscuits on the prepared baking sheet and bake for 20-25 minutes or until they turn golden brown.
Let the biscuits cool completely before serving them to your dog.
These homemade treats offer the delightful essence of tangerines while ensuring you have control over the ingredients. Remember, always check the recipe for any ingredients that might be harmful to dogs, and consult your veterinarian if you have any doubts.
4. Exploring Flavorful Combinations: Tailoring Tangerines to Your Dog's Taste
Experiment with combining tangerines with other dog-friendly ingredients to create a variety of flavorful meals. For instance, consider blending tangerines with plain yogurt and freezing the mixture into small portions. This creates tangerine-flavored frozen yogurt bites, offering a blend of sweetness and creaminess that many dogs find irresistible.
Additionally, you can mix tangerine pieces with dog-safe fruits like blueberries or strawberries for a colorful and nutritious fruit salad. Always ensure that the fruits you combine with tangerines are safe for dogs and avoid ingredientslike grapes or raisins, which can be harmful.
5. Dining Experience Enhancement: The Importance of Presentation
Believe it or not, presentation matters to dogs too! When serving tangerines or tangerine-infused treats, consider using interactive feeding toys or puzzle feeders. These not only make mealtime more engaging but also prolong the dining experience, providing mental stimulation for your furry friend.
In conclusion, feeding tangerines to your dog can be a delightful experience when approached with caution and creativity. By exploring various methods of preparation, incorporating tangerines into homemade treats, and tailoring their dining experience, you can add a touch of citrusy joy to your dog's culinary journey. Remember, the key is to observe your dog's reactions, ensure moderation, and prioritize their well-being. With a sprinkle of creativity and a dash of care, tangerines can become a special, occasional treat, enriching your bond with your four-legged companion.
Frequently Asked Questions: Canine Conundrums with Tangerines
In the realm of canine culinary curiosity, the question of whether dogs can indulge in tangerines often leads to a plethora of queries. Here, we unravel the mysteries surrounding tangerines and canine companions, addressing the most frequently asked questions to ensure that you have all the information needed for your furry friend's well-being.
1. Can All Dogs Eat Tangerines?
Not all dogs are the same, and their tolerance for different foods can vary. While some dogs might handle tangerines without issue, others may experience digestive distress. It's crucial to introduce tangerines in small quantities and monitor your dog's reaction closely.
2. What Parts of the Tangerine Are Safe for Dogs?
When offering tangerines to your dog, ensure you remove the seeds and peel. The seeds pose a choking hazard, and the essential oils in the peel can irritate your dog's digestive system. Stick to the fleshy segments, but always in moderation.
3. Are Tangerines a Good Source of Vitamins for Dogs?
Tangerines are indeed rich in vitamin C, which supports the immune system. However, dogs can produce their own vitamin C, so they don't necessarily need it from external sources. A balanced dog food diet usually provides all the essential nutrients they require.
4. Can Tangerines Cause Allergic Reactions in Dogs?
While tangerines are not common allergens for dogs, allergic reactions are always a possibility. Keep an eye out for signs like itching, swelling, or gastrointestinal distress. If any of these symptoms occur, it's best to avoid giving your dog tangerines.
5. Can Tangerines Improve a Dog's Breath?
The citrusy nature of tangerines might give the impression that they could freshen your dog's breath, but this is not a reliable solution. Dental care specific for dogs, like brushing and dental chews, is more effective for maintaining good oral hygiene.
6. Can Dogs Eat Tangerine Peels if They Are Organic?
Even if the tangerines are organic, it's advisableto refrain from feeding your dog the peels. The essential oils and fibers in the peel can still cause irritation and potential digestive issues.
7. How Can I Tell If My Dog Is Allergic to Tangerines?
Allergic reactions in dogs can manifest in various ways, including itching, swelling, rashes, vomiting, or diarrhea. If you suspect your dog might be allergic to tangerines, consult your veterinarian for proper diagnosis and guidance.
8. Can Tangerines Help Prevent Illnesses in Dogs?
While vitamin C in tangerines supports the immune system, it's not a magical solution to prevent illnesses in dogs. A balanced diet, regular exercise, and timely vaccinations are more effective in maintaining your dog's overall health.
9. Can Puppies Eat Tangerines?
Puppies have delicate digestive systems that are still developing. Introducing new foods, especially those like tangerines that can be harsh on the stomach, should be avoided until your puppy is older and their system is more robust. Always consult your vet before introducing any new food to your puppy's diet.
10. Can Tangerines Be Given to Dogs With Certain Health Conditions?
Dogs with certain health conditions, like diabetes, should avoid high-sugar fruits like tangerines. Additionally, dogs with gastrointestinal issues should steer clear of tangerines due to their acidity, which can exacerbate digestive problems.
In summary, while tangerines might seem like a tempting treat for your furry friend, it's essential to approach their consumption with caution and knowledge. Every dog is unique, and what suits one might not suit another. By understanding their specific needs, monitoring their reactions, and consulting your veterinarian when in doubt, you can ensure that your dog's culinary adventures remain both safe and enjoyable. Remember, your pet's health is the ultimate priority, and informed decisions lead to a happy and healthy canine companion.

Conclusion: Navigating Canine Nutrition with Care
In the intricate landscape of canine nutrition, it's evident that while dogs can indulge in tangerines occasionally, it's a practice that demands vigilance and moderation. As highlighted, tangerines offer a burst of vitamin C and some essential nutrients, but their acidity and the potential for allergic reactions make them a risky choice. Feeding tangerines should always be a well-informed decision, made with your dog's health and happiness in mind.
For a safer snack alternative, consider fruits like blueberries, strawberries, or apple slices. These treats are not only lower in sugar and acidity but also packed with vitamins and antioxidants beneficial for your dog's well-being. Always remove seeds and cores before offering them.
Our canine companions rely on us for their nutrition and safety. If you have any questions or experiences to share regarding feeding citrus fruits to your dogs, we'd love to hear from you. Drop your thoughts in the comment section below, or connect with us on our social media platforms. Your shared knowledge could help fellow pet parents make the best choices for their furry friends. Let's continue this important conversation about canine nutrition together!
Dr. Rachel Davis is a passionate veterinarian, having completed her studies in veterinary medicine at the University of California. Alongside her professional commitments, she remains dedicated to her beloved dog and has a profound love for all animals. In her spare time, she indulges in her passion for writing, often focusing on topics related to veterinary care and animal welfare.