Introduction
Every pet owner understands the joy of sharing food with their furry companions. It's a bonding experience, a way to express love, and sometimes just an irresistible urge to see those puppy eyes light up with delight. However, amidst the plethora of human foods, there are some that can turn a moment of happiness into a pet owner's worst nightmare. Raisins, those innocent-looking dried grapes often found in various dishes and snacks, fall precisely into this category. They are a staple in many households, but can our dogs enjoy this seemingly harmless treat too?
In this exploration of canine nutrition and safety, we aim to unravel the mystery shrouding raisins and their compatibility with our canine friends' digestive systems. The question that lingers in every pet parent's mind is, "Can dogs eat raisins?" This query isn't just a casual musing; it's a matter of the utmost importance. The implications of feeding raisins to dogs go far beyond a momentary indulgence – they could lead to dire consequences.
Table of Contents
The Curiosity Around Raisins and Canine Diets
Humans have consumed raisins for centuries. These little treats have found their way into our cereals, baked goods, and even salads. Yet, when it comes to our pets, especially dogs, the landscape of what's safe and what's harmful can be perplexing. As responsible pet owners, it's our duty to sift through the vast sea of information and misinformation, ensuring our pets are shielded from harm.
But why the fuss about raisins specifically? The answer lies in the inherent toxicity that raisins possess for our canine companions. Despite their sweet and innocent appearance, raisins harbor a secret – a compound or substance that can spell disaster for dogs. Understanding this enigma is not just a matter of curiosity; it's a crucial component of responsible pet ownership.
Navigating the Risks: A Deep Dive into Raisin Toxicity
When we delve into the world of canine health, it becomes apparent that not all human foods are created equal for our pets. Raisins,unfortunately, fall into the category of foods that can wreak havoc on a dog's internal system. The exact element in raisins responsible for this toxicity remains elusive, which only adds to the complexity of the situation. It's this mystery that underscores the urgency for a clear answer to the question, "Why are raisins dangerous for dogs?"
The Silent Threat: Understanding Raisin-Induced Complications
Raisin toxicity in dogs is not merely a matter of an upset stomach. It's a silent threat that can escalate into a life-threatening situation within hours of ingestion. The effects are profound, impacting crucial organs such as the kidneys. As guardians of our pets' well-being, it's essential to grasp the intricacies of these complications, from their initial symptoms to their potentially fatal outcomes. Without this knowledge, we might inadvertently be putting our beloved companions in harm's way.
Can Dogs Eat Raisins? The Controversy Unraveled
Raisins, those tiny, wrinkled gems derived from grapes, have long been a staple in human diets. Their sweet and chewy nature makes them a favorite snack for many. Naturally, as dog owners, we often wonder if our pets can indulge in the same treats we enjoy. It's a common query: Can dogs eat raisins? The answer, however, is far from straightforward. Unlike some human foods that are unequivocally safe for dogs, raisins are mired in controversy.
Nutritional Profile of Raisins: A Deeper Insight
Understanding the nutritional composition of raisins is pivotal in deciphering their potential impact on our canine companions. Let's delve into the specifics:
Exploring Nutritional Facts and Considerations
| Nutrient | Amount per 1/4 cup (40 g) |
| --- | --- |
| Calories | 120 kcal |
| Total Carbohydrate | 32 g |
| Dietary Fiber | 1 g |
| Sugars | 28 g |
| Protein | 1 g |
| Potassium | 315 mg |
| Iron | 0.7 mg |
| Calcium | 20 mg |
| Vitamin C | 1.2 mg |
It's evident that raisins, in moderation, can offer certain nutritional benefits to dogs. They contain essential vitamins such as Vitamin C and K, along with minerals like potassium, iron, calcium, and magnesium. However, despite these nutrients, the potential risks overshadow the benefits.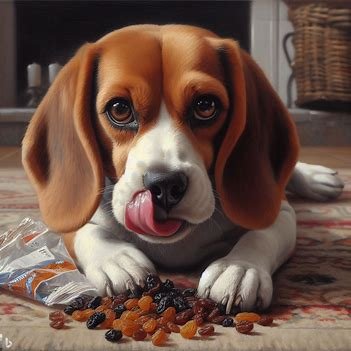 The Dark Side of Raisins: Risks and Warnings
While raisins do contain nutrients beneficial to dogs, these advantages are vastly outweighed by the potential hazards. Raisins have been associated with severe health issues in dogs, as highlighted in our earlier discussions. Even a small quantity can trigger a toxic reaction, leading to symptoms ranging from vomiting and diarrhea to kidney failure, and in extreme cases, death.
Understanding Raisin Portions for Dogs: Moderation is Key
Now that we've established the dangers associated with raisin consumption in dogs, the natural question that arises is: How much raisins can a dog eat? The answer, however, is not a straightforward numerical value, but rather a nuanced understanding of moderation, observation, and consideration of your dog's individual characteristics.
Moderation: The Golden Rule
The cardinal rule when it comes to treating your dog with raisins, or any human food for that matter, is moderation. Treats should never constitute more than a certain percentage of your dog's daily calorie intake. It's easy to be swayed by those pleading eyes, but a responsible pet owner ensures that treats remain just that – occasional indulgences.
Start Small: Observe and Adjust
Before diving into a new treat, especially one with a contentious reputation like raisins, it's wise to start small. Offer your dog a tiny piece and observe how they react. Dogs, like humans, can have individual sensitivities. Some might handle raisins without any apparent issues, while others could display adverse reactions even to a small amount. Observation is your best tool to gauge your pet's tolerance.
The Right Preparation: Ensuring Safety
If you do decide to give your dog raisins, preparation is key. Raisins, in their natural dried form, might be too dense for a dog's digestive system. Consider rehydrating them by soaking in water to soften the texture. However, it's important to note that even with this preparation, the risks remain, and caution should always prevail.
Consider Your Dog's Size and Breed
A vital factor in determining how much raisins your dog can tolerate is their size and breed. Larger dogs, owing to their more robust physiology, might be able to handle a slightly larger quantity compared to smaller breeds. However, this does not mean large dogs are immune to raisin toxicity. It simply implies that their tolerance levels might be different.
For instance, a medium-sized Labrador might handle raisins differently from a tiny Chihuahua. However, this difference does not justify taking unnecessary risks. The golden rule of moderation applies universally, regardless of your dog's size.
Appropriate Serving Sizes: Tailoring to Weight
As a general guideline, if you are considering giving your dog raisins, it's crucial to base the serving size on their weight. Here's a rough breakdown to offer a clearer perspective:
Small Dogs (up to 20 pounds): It's advisable to avoid raisins entirely due to their higher susceptibility to toxicity even in small quantities.
Medium Dogs (20-50 pounds): If you still wish to proceed despite the risks, limit the serving to a fraction of a raisin, closely monitoring your pet's response.
Large Dogs (50+ pounds): While larger dogs might handle raisins marginally better, this does not mean they are entirely safe. If you choose to offer raisins, still limit the serving size significantly and pay acute attention to any changes in behavior or health.
In essence, the mantra remains the same: always err on the side of caution. The potential risks associated with raisins far outweigh any momentary pleasure they might bring to your pet. As a responsible pet parent, your duty is to ensure your furry friend leads a life free from unnecessary health hazards. So, when it comes to raisins, the answer should always be a firm and unwavering "No." Your dog's health and happiness depend on your informed decisions and unwavering commitment to their well-being.
Understanding the Risks: Potential Dangers of Feeding Raisins to Dogs
While we have established that raisins are unequivocally harmful to dogs, it's crucial to delve deeper into the specific risks associated with feeding these dried grapes to our furry companions. The dangers extend beyond the well-known kidney toxicity, touching upon various aspects of a dog's health.
Food Allergies and Intolerance
One significant risk of feeding raisins to dogs lies in the realm of food allergies. Just like humans, dogs can develop allergies to certain foods, and raisins are no exception. Allergic reactions can manifest in various ways, from mild discomfort to severe distress. When dogs consume raisins, they might experience short-term signs of food intolerance, including gastrointestinal distress. Vomiting, diarrhea, and abdominal pain are common symptoms that could be caused by consuming raisins, indicatingan adverse reaction to this toxic treat.
Raisins consist of several components, each with its own set of potential hazards. One such element is grape-derived compounds, which are present in high concentrations in raisins and grapes. These compounds can trigger adverse reactions, especially in susceptible individuals. Dogs might exhibit signs of allergic reactions such as itchiness, redness, or swelling, indicating an intolerance to the components of raisins.
Additionally, mycotoxins, toxic substances produced by certain molds found on grapes, can be present in raisins. These mycotoxins are harmful to both humans and animals, leading to a range of health issues. Ingesting raisins contaminated with mycotoxins can pose significant dangers to a dog's well-being.
Specific Issues Caused by Raisin Consumption
Beyond the immediate symptoms of food intolerance, raisin consumption can lead to specific health issues in dogs. Dehydration is a common concern, especially if a dog experiences vomiting or diarrhea after ingesting raisins. Excessive fluid loss can quickly lead to dehydration, a condition that requires prompt medical attention.
Furthermore, raisins can also cause pancreatitis, an inflammation of the pancreas. Pancreatitis in dogs can result in severe abdominal pain, vomiting, loss of appetite, and, in severe cases, organ failure. The ingestion of raisins can trigger this condition, amplifying the dangers associated with this seemingly harmless snack.
Recognizing Adverse Reactions: Signs and Symptoms
It's vital for pet owners to be vigilant and watch out for any signs of adverse reactions in their dogs. Symptoms can vary based on the dog's size, age, and overall health, but common signs include vomiting, diarrhea, excessive drooling, lethargy, loss of appetite, and abdominal pain. These indicators, even if mild initially, should never be ignored. If you suspect your dog has ingested raisins and is exhibiting any of these signs, immediate veterinary care is imperative.
In conclusion, the risks associated with feeding raisins to dogs are not limited to kidney failure alone. The hidden hazards within these seemingly innocent dried grapes can trigger allergies, gastrointestinal distress,dehydration, and even pancreatitis. Recognizing the signs and symptoms of adverse reactions is crucial for every pet owner. Understanding the multifaceted dangers of raisin consumption empowers us to make informed decisions, ensuring our dogs are safeguarded from harm. Always err on the side of caution, and remember, when it comes to raisins and your furry friend's health, it's better to be safe than sorry.
Making Raisins Safe and Enjoyable for Your Furry Friend
Understanding the dangers of raisin consumption in dogs, it might be surprising to learn that there are creative and safe ways to incorporate raisins into your pet's diet. While the golden rule remains absolute—raisins should never be given to dogs directly—it's possible to create enjoyable experiences for your canine companion using this ingredient, as long as extreme caution is exercised.
1. Fresh or Frozen Treats
Raisins, when properly prepared, can be incorporated into fresh or frozen treats for your dog. For instance, you can mix raisins with dog-friendly fruits like apples or bananas, blend them into a smooth paste, and freeze the mixture into small cubes. These icy delights can serve as a refreshing treat during hot days, adding a burst of flavor while keeping your dog cool.
2. Food Topper or Mixer
Another way to introduce raisins into your dog's diet is by using them as a food topper or mixer. A small amount of finely chopped raisins sprinkled on top of your dog's regular meal can add a touch of excitement to their dining experience. However, this method requires extreme moderation; a pinch is more than enough to infuse the flavor without risking their health.
3. Homemade Treats and Snacks
If you are a creative chef, you can experiment with using raisins in homemade treats or snacks for your dog. There are several dog-friendly recipes available that incorporate raisins, ensuring the ingredient is evenly distributed throughout the batch. For example, you can make oat and raisin cookies using dog-safe ingredients like oats, peanut butter, and raisins. Always remember to exclude any harmful additives like chocolate and prioritize raisin quantities at an absolute minimum.
4. Enhancing Meals with Raisins
Adding raisins as an ingredient to your dog's regular meals can be approached with great caution. However, if you are determined to experiment, you can use raisins as a tiny component within a larger recipe. For instance, you might prepare a homemade dog stew with meats, vegetables, and a small pinch of raisins. This way, the raisins are not the focal point but serve as a subtle element in the overall flavor palette.
5. Safe Alternatives to Raisins
Considering the risks associated with raisins, it's always a safer choice to opt for dog-friendly alternatives that offer similar tastes and textures. Blueberries, strawberries, or pieces of watermelon can provide the sweet and juicy sensations that dogs often enjoy without posing any harm. These fruits can be frozen for a delightful crunch or included in homemade treats to enhance their appeal.
In conclusion, while there are creative ways to incorporate raisins into your dog's treats or meals, it's crucial to emphasize that these methods should be pursued with an abundance of caution. The health and well-being of your beloved pet should always be the top priority. Remember, even in the most carefully prepared treats, raisins should never constitute more than a minuscule fraction. Understanding the gravity of raisin toxicity ensures that any experimentation is done with the utmost care, guaranteeing a delightful and safe culinary experience for your furry friend.
FAQs About Dogs Eating Raisins: Unraveling the Myths and Facts
As responsible pet owners, it's natural to have a multitude of questions about the safety of our canine companions, especially when it comes to potentially harmful foods like raisins. Here, we address ten frequently asked questions about dogs eating raisins, debunking myths and providing clear, science-based answers to ensure the well-being of your furry friend.
1. Can One Raisin Harm My Dog?
Answer: Yes, even a single raisin can pose a serious risk to your dog. Raisin toxicity is not dose-dependent; meaning, there is no safe threshold. Therefore, it's vital to keep raisins and foods containing raisins far out of your dog's reach.
2. Can Cooking or Baking Raisins Make Them Safe?
Answer: No, cooking or baking raisins does not neutralize their toxicity. Regardless of the form – raw, cooked, baked, or in a recipe – raisins maintain their harmful properties for dogs. All preparations should be avoided.
3. What Happens If My Dog Accidentally Eats Raisins?
Answer: If you suspect your dog has ingested raisins, even in a small quantity, seek immediate veterinary care. Time is of the essence. Veterinarians might induce vomiting and administer activated charcoal to limit absorption, but prompt action is crucial.
4. Why Are Some Dogs More Susceptible to Raisin Toxicity Than Others?
Answer: The reasons behind individual dogs' varying susceptibility to raisin toxicity are not fully understood. Dogs of all breeds, sizes, and ages can be affected. It's best not to rely on breed differences and assume all dogs are equally vulnerable.
5. Can Raisin Toxicity Be Reversed If Treated Early?
Answer: Early treatment significantly improves the prognosis, but it doesn't guarantee a complete reversal. Kidney damage can be severe, leading to lifelong health complications. Immediate veterinary care increases the chances of a better outcome.
6. Are Golden Raisins Safer Than Dark Raisins?
Answer: No, the color of the raisin doesn't determine its toxicity. Both golden and dark raisins can be equally harmful to dogs. The toxic substance appears to be present in all types of raisins.
7. Can Raisins Cause Allergic Reactions in Dogs?
Answer: Yes, raisins can trigger allergic reactions in some dogs. Allergic responses may include itching, swelling, or gastrointestinal distress. If your dog shows any signs of allergies after consuming raisins, consult a veterinarian.
8. Can I Train My Dog to Avoid Raisins?
Answer: Training your dog to avoid raisins is a good practice, but it's not foolproof. Dogs are naturally curious, and accidents can happen. The best prevention is strict vigilance and keeping all raisin-containing foods securely stored.
9. Is There an Antidote for Raisin Poisoning?
Answer: There is no specific antidote for raisin poisoning. Treatment focuses on supportive care, including inducing vomiting, administering activated charcoal, intravenous fluids, and medications to manage symptoms. Time is the most critical factor.
10. Can I Use Raisins in Dog Toys or Treat-Dispensing Devices?
Answer: Absolutely not. Raisins should never be used in any dog-related products, including toys or treat-dispensing devices. Even if the intention is to create an interactive toy, the risk of accidental ingestion is far too high.
Conclusion: Prioritizing Your Dog's Well-being
In conclusion, the question of whether dogs can eat raisins must be answered with a resolute no. The risks associated with raisin consumption far outweigh any potential benefits. Even in minute quantities, raisins can lead to severe complications, ranging from kidney failure to fatal outcomes. Understanding the gravity of this threat is paramount for all pet owners.
To ensure your dog's well-being, it's crucial to educate yourself and those around you about the dangers of raisins. Instead of this risky snack, there are plenty of safe and healthy alternatives to treat your furry friend. Fruits like blueberries, strawberries, and apples, when given in moderation and without seeds, can provide delightful and nutritious alternatives. These foods are not only lower in sugar and acidity than raisins but also offer a plethora of essential vitamins and minerals beneficial to your dog's health.
We encourage you to share this knowledge with fellow dog owners, creating a community that prioritizes the safety and health of our beloved pets. Have any questions or experiences to share? We're here to help. Feel free to drop your comments below or join the conversation on our social media platforms. Together, let's ensure our dogs live their happiest and healthiest lives, free from the risks of harmful treats like raisins.
Dr. Rachel Davis is a passionate veterinarian, having completed her studies in veterinary medicine at the University of California. Alongside her professional commitments, she remains dedicated to her beloved dog and has a profound love for all animals. In her spare time, she indulges in her passion for writing, often focusing on topics related to veterinary care and animal welfare.