Introduction
Have you ever wondered if your furry companion can enjoy the wholesome goodness of peas, just like you do? Peas, with their vibrant green hue and delightful taste, are a staple in many households. But can they find a place in your dog's bowl? In the intricate landscape of canine nutrition, this question often takes center stage. Our loyal four-legged friends, sharing our homes and hearts, also share a parallel need for balanced nutrition. Yet, the world of pet-friendly foods is not always a mirror image of our own.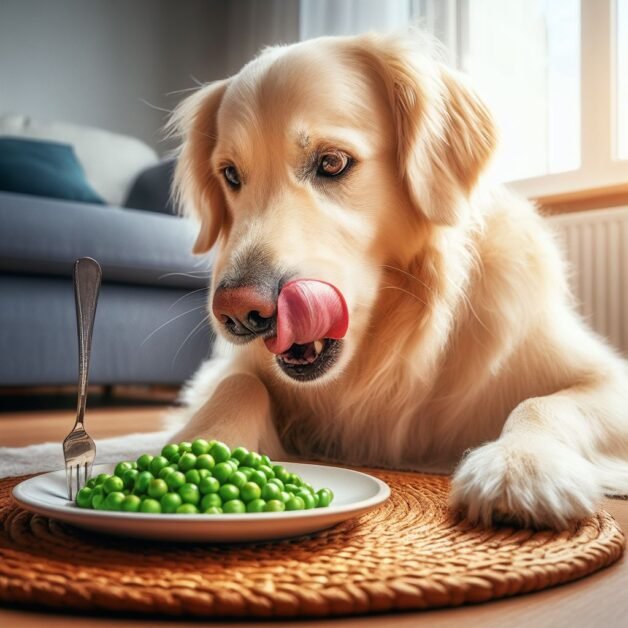 In this comprehensive guide, we embark on a journey to unravel the mystery surrounding peas in a dog's diet. Beyond their visual appeal and delectable taste, we explore the nutritional aspects, benefits, potential risks, and the safe methods of incorporating peas into your dog's meals. Understanding what constitutes a healthy diet for your dog is not just a matter of choice but a responsibility that nurtures their overall well-being.
Table of Contents
---
Understanding Canine Nutrition
Nutritional Needs of Dogs
Much like us, our dogs thrive on a balanced diet that encompasses proteins, carbohydrates, fats, vitamins, and minerals. Proteins, the building blocks of life, aid in muscle development. Carbohydrates provide the necessary energy, while fats support cell structure and overall bodily functions. Essential vitamins and minerals play a crucial role in ensuring the proper functioning of various bodily systems.
Peas: A Nutritional Breakdown
Peas, those tiny green spheres, pack a punch when it comes to nutrients. They are a rich source of vitamins A, B, and K, contributing significantly to vision health, energy metabolism, and proper blood clotting. Additionally, peas offer essential minerals such as iron, zinc, and potassium, which are vital for maintaining a robust immune system and overall well-being. Not to forget their fibercontent, promoting optimal digestion and creating a sense of satiety.
---
Can Dogs Safely Consume Peas?
Benefits of Peas for Dogs
1. Rich in Fiber
Fiber, often underestimated, plays a pivotal role in a dog's digestive system. Peas, with their fiber-rich composition, aid in regulating bowel movements. This not only prevents constipation but also fosters overall gastrointestinal health, ensuring your pet's tummy is as happy as their heart.
2. Low in Calories
For our canine friends on a weight management plan, peas emerge as a valuable addition to their diet. They provide essential nutrients without burdening your pet with excessive calories. These little green wonders serve as a guilt-free, healthy treat option, ensuring your dog stays fit and fabulous.
3. Source of Antioxidants
Peas boast antioxidants, the microscopic superheroes that combat free radicals within your dog's body. By doing so, they reduce the risk of chronic diseases and bolster your pet's immune system, ensuring they stay active and playful throughout their lives.
Potential Risks and Considerations
1. Allergies
While rare, some dogs might develop allergies to peas. It's crucial for vigilant pet parents to observe their furry companions closely after introducing peas into their diet. Watch out for signs like itching, swelling, or gastrointestinal distress, as these could indicate an allergic reaction that requires immediate attention.
2. Portion Control
As with any treat, moderation is key. The fiber content in peas, while beneficial, can cause an upset stomach if consumed excessively. It's essential to provide peas as an occasional treat rather than a regular meal replacement, ensuring your dog's digestive system remains harmonious.
---
Incorporating Peas into Your Dog's Diet
Healthy Pea Treat Recipes for Dogs
1. Frozen Pea Treats
Why not transform peas into a refreshing delight for your canine companion? Blend peas into a puree, freeze them in molds, and voila – you have created a cool, healthy treat perfect for hot weather. These frozen pea treats not only keep your dog hydrated but also provide a burst of nutrition in every icy bite.
2. Pea and Chicken Bites
Looking to add a protein punch to your dog's treat repertoire? Mix cooked peas with shredded chicken, creating delightful bite-sized balls. Bake them to perfection, and there you have it – pea and chicken bites that are not only delicious but also packed with essential nutrients. These crunchy delights are ideal for rewarding good behavior or simply pampering your pooch.
---
Can Dogs Eat Peas? Exploring the Nutritional Marvels
Can dogs eat peas? This common question often circulates among pet owners, wondering if this green delight can find a place in their furry friend's bowl. The answer is not just a simple yes or no; it's a nuanced exploration of the nutritional intricacies of peas and how they align with your dog's dietary needs. Peas, with their vibrant color and enticing texture, might appeal to your dog's senses, but can they truly savor this green treat? Let's delve into the nutritional wonders of peas to understand if they are a safe and beneficial addition to your dog's diet.
Peas: The Nutritional Powerhouse
Peas, while seemingly small, are packed with essential nutrients that can offer various health benefits to your canine companion. Let's break down the nutritional content of peas in detail:
Nutrition Facts of Peas:
| Nutrient | Amount per (100g) |
| --- | --- |
| Calories | 62 kcal |
| Protein | 4.1 g |
| Carbohydrates | 11 g |
| Fiber | 3.6 g |
| Sugar | 3.5 g |
| Fat | 0.2 g |
| Vitamin C | 23% of the Daily Value (DV) |
| Vitamin K | 21% of the DV |
| Vitamin A | 8% of the DV |
| Folate | 12% of the DV |
| Iron | 6% of the DV |
| Zinc | 5% of the DV |
Benefits and Drawbacks
Benefits of Peas for Dogs
Peas offer several advantages when included in your dog's diet:
Rich in Fiber:

The high fiber content in peas aids in regulating bowel movements, preventing constipation, and promoting overall gastrointestinal health. This ensures your dog's digestive system functions smoothly.

Low in Calories:

For dogs on a weight management plan, peas can be a valuable addition. They provide essential nutrients without excessive calories, making them a healthy treat option, especially for dogs prone to weight gain.

Source of Antioxidants:

Peas contain antioxidants that combat free radicals in your dog's body, reducing the risk of chronic diseases and supporting a robust immune system. This natural defense mechanism keeps your pet active and playful.
Drawbacks and Considerations
While peas offer remarkable nutritional benefits, it's essential to consider potential drawbacks:
Allergies:

Although rare, some dogs might develop allergies to peas. Pet owners should closely observe their furry companions for signs of itching, swelling, or gastrointestinal distress after introducing peas into their diet.

Moderation is Key:

As with any treat, moderation is crucial. Excessive consumption of peas, particularly due to their fiber content, can lead to an upset stomach. It's vital to provide peas as an occasional treat rather than a regular meal replacement.
Now that we've established that dogs can enjoy the goodness of peas, it's essential to address a crucial aspect: portion control. Just like any treat, moderation is key when it comes to incorporating peas into your dog's diet. Treats should ideally make up only a small percentage of your dog's daily calorie intake. So, how much peas can your dog safely consume?
Start Small and Observe
When introducing peas to your dog's diet, it's best to start small. Offer a tiny piece and observe how your dog reacts to it. Some dogs might take an instant liking to peas, while others might need a bit of time to adjust to the new taste and texture. By starting with a small portion, you can gauge your dog's tolerance and preference before incorporating more peas into their meals.
Proper Preparation is Key
Before offering peas to your dog, it's crucial to prepare them appropriately. Fresh peas should be thoroughly washed and, if necessary, shelled to remove any outer husks. Cooking peas until they are soft is advisable, as this makes them easier to digest. Avoid seasoning the peas with spices, salt, or other additives, as these can be harmful to your dog's health. Simple, plain peas are the way to go when it comes to treating your furry friend.
Consider Your Dog's Size and Breed
The amount of peas your dog can tolerate may vary based on their size and breed. Larger dogs, owing to their higher calorie requirements, may be able to consume more peas than smaller breeds without any issues. However, even large dogs should not indulge excessively. Small dogs, on the other hand, should have even smaller portions due to their lower caloric needs. It's important to tailor the serving size to your dog's specific requirements, ensuring they enjoy the treat without overindulging.
Appropriate Serving Sizes Based on Weight
To provide a general guideline, consider the following serving sizes based on your dog's weight:
Small Dogs (up to 20 lbs):

Start with 1-2 teaspoons of cooked peas, gradually increasing to a maximum of 1-2 tablespoons per day, divided into smaller portions.

Medium Dogs (20-50 lbs):

Begin with 1-2 tablespoons of cooked peas, gradually increasing to 2-4 tablespoons per day, divided into smaller portions.

Large Dogs (50+ lbs):

Begin with 2-4 tablespoons of cooked peas, gradually increasing to 1/4 to 1/2 cup per day, divided into smaller portions.
Remember, these are general guidelines, and your dog's individual needs and reactions should always be taken into account. Regular observation of your dog's behavior, stool quality, and overall health is crucial when introducing any new food, including peas, into their diet.
Finding the Right Balance
In essence, the key to feeding your dog peas lies in finding the right balance. While peas offer nutritional benefits, they should complement your dog's primary diet, not replace it entirely. Regular dog food is specially formulated to meet your pet's specific dietary requirements. Treats, including peas, should be regarded as occasional indulgences, enriching your dog's culinary experience without compromising their overall nutrition.
By starting with small portions, understanding your dog's preferences, and tailoring the serving size to their weight and breed, you can ensure that your canine companion enjoys the goodness of peas without any adverse effects. Moderation, careful observation, and responsible feeding practices are the pillars of a healthy and happy diet for your beloved pet. So, go ahead and treat your furry friend to a pea or two, knowing you're striking the perfect balance between indulgence and nutrition.
Understanding the Risks: Can Peas Pose a Threat to Your Dog's Health?
While peas offer numerous nutritional benefits for dogs, it's crucial to acknowledge the potential risks associated with their consumption. Being vigilant about these risks ensures your furry companion's well-being. Let's explore the possible hazards and adverse reactions that can arise when dogs consume peas.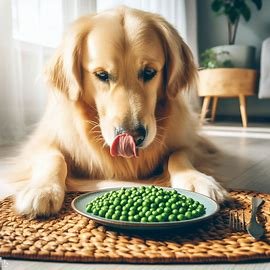 Food Allergies and Intolerance
Food allergies in dogs are rare, but they can occur. Peas, despite their wholesome reputation, can trigger allergic reactions in sensitive individuals. Signs of food intolerance, which might manifest shortly after consuming peas, include gastrointestinal distress such as vomiting, diarrhea, or excessive gas. It's imperative to recognize these symptoms and connect them to pea consumption, especially if you've recently introduced peas into your dog's diet.
Watch Out for Allergic Reactions
Allergic reactions to peas might stem from specific components within the vegetable. For instance, some dogs might be allergic to proteins present in peas. Signs of an allergic reaction can include itching, swelling, hives, or difficulty breathing. If you notice any of these symptoms after your dog has consumed peas, it's vital to seek veterinary attention promptly.
Potential Hazards in Peas (H3)
Apart from allergies, certain components in peas can pose hazards to dogs. For instance, pea pods, while safe for humans, can be challenging for dogs to digest. Ingesting large quantities of pea pods might lead to gastrointestinal blockages, causing discomfort and potential harm to your dog's digestive system.
Additionally, some dogs might have difficulty digesting the fiber content in peas, leading to bloating or flatulence. While these symptoms might not indicate a severe issue, they can cause discomfort for your pet.
Signs and Symptoms of Adverse Reactions
It's crucial for pet owners to be aware of the signs and symptoms of adverse reactions in dogs from consuming peas. These can include:
Gastrointestinal Distress:Watch for signs like vomiting, diarrhea, or excessive gas, indicating potential food intolerance.
Itching and Swelling:

Allergic reactions often manifest as itching, swelling around the face, paws, or other body parts, and hives.

Difficulty Breathing:

In severe cases of allergies, dogs might experience difficulty breathing, which requires immediate veterinary attention.

Gastrointestinal Blockages: If your dog has ingested pea pods or large quantities of peas, symptoms such as lethargy, loss of appetite, and abdominal pain might indicate a gastrointestinal blockage.
Now that we understand the nutritional benefits and potential risks associated with feeding peas to our furry companions, let's explore the exciting realm of making peas enjoyable for dogs. There are numerous creative and delicious ways to incorporate peas into your dog's diet, ensuring they not only receive the health benefits but also relish their meals to the fullest.
Versatile Ways to Serve Peas
Peas can be served to your dog in various forms, allowing you to cater to your pet's preferences and dietary needs. One simple method is to offer fresh or frozen peas as a refreshing treat, especially during hot weather. Dogs often enjoy the crunchy texture of frozen peas, making them a delightful snack option.
Another approach is to use peas as a food topper or mixer. Adding a handful of cooked and mashed peas to your dog's regular meals not only enhances the flavor but also introduces an extra layer of nutrition. The vibrant green color of peas can add visual appeal to your dog's food, making mealtime a visually stimulating experience.
Homemade Treats and Snacks
The versatility of peas extends to homemade treats and snacks. Get creative in the kitchen and whip up delicious delights that your dog will adore. Here are a few recipe ideas to consider:
1. Pea and Carrot Dog Biscuits: Blend cooked peas and carrots into a puree, mix with whole wheat flour, and bake into crunchy biscuits. These treats are not only tasty but also provide a nutritional boost.
2. Frozen Pea Popsicles: Blend peas with a bit of water and freeze the mixture in ice cube trays. These frozen pea popsicles serve as a cooling and enjoyable treat, especially on warm days.
3. Pea and Chicken Meatballs: Mix cooked peas with shredded chicken, oats, and an egg. Roll the mixture into bite-sized meatballs and bake until golden brown. These protein-packed delights make for excellent training rewards.
Enhancing Your Dog's Dining Experience
Enhancing your dog's meals with peas involves more than just incorporating them into treats. You can also add peas as a part of their regular meals, ensuring they receive the nutritional benefits while enjoying their everyday food. Consider creating homemade dog food recipes that include peas as a primary ingredient. For instance, a balanced meal of peas, chicken, brown rice, and carrots provides a wholesome and flavorful dining experience for your canine friend.
Additionally, you can explore commercial dog food options that feature peas as a prominent component. Many high-quality dog foods now incorporate peas into their formulations, offering a convenient way to provide your dog with essential nutrients.

Frequently Asked Questions
As the topic of feeding peas to dogs garners curiosity, it's natural for pet owners to have numerous questions. Here, we address ten frequently asked questions about dogs eating peas, providing comprehensive and insightful answers to guide you through the intriguing world of canine nutrition.
1. Can all dogs eat peas?
Yes, most dogs can eat peas without any issues. However, it's important to monitor your dog for any adverse reactions, especially during the first introduction. Some dogs might have allergies or sensitivities, so always start with a small quantity and observe their response before incorporating peas into their regular diet.
2. Are frozen peas better than canned peas for dogs?
Frozen peas are generally a better option than canned peas for dogs. Canned peas often contain added sodium, which can be harmful to dogs in large amounts. Frozen peas, on the other hand, retain their natural nutrients without any added preservatives or salt. Just make sure to thaw frozen peas before offering them to your dog.
3. Can puppies eat peas?
Puppies can eat peas, but it's crucial to cook or mash them to ensure they are easily digestible. Puppies have delicate digestive systems, and providing peas in a softened form helps them consume the nutritious vegetable without any difficulty.
4. How many peas can I give my dog daily?
The quantity of peas you can give your dog depends on their size, age, and overall diet. As a general rule, peas should only constitute a small portion of your dog's daily caloric intake. For small dogs, a tablespoon or two of peas per day is sufficient, while larger dogs may have a bit more, always in moderation.
5. Can dogs eat pea pods?
While peas themselves are safe for dogs, pea pods can be difficult for them to digest. Dogs might struggle with breaking down the fibrous material of pea pods, potentially leading to digestive discomfort or blockages. It's advisable to remove the peas from the pods before offering them to your furry friend.
6. Can peas cause allergies in dogs?
Peas, like any other food, can trigger allergies in some dogs. Allergic reactions might include itching, swelling, hives, or gastrointestinal distress. If you notice any of these symptoms after your dog consumes peas, consult your veterinarian for guidance.
7. Can I mix peas with my dog's regular food?
Yes, you can mix peas with your dog's regular food as a topper or mixer. Adding a small portion of cooked peas to their meals can enhance the flavor and provide additional nutrients. However, ensure that peas do not constitute the majority of their diet, maintaining a balanced approach.
8. Are there any dog breeds that should avoid peas?
There are no specific dog breeds that should avoid peas entirely. However, individual dogs within any breed may have sensitivities or allergies. Always observe your dog's reactions when introducing new foods, including peas, regardless of their breed.
9. Can dogs with sensitive stomachs eat peas?
Dogs with sensitive stomachs can eat peas, but it's essential to introduce them gradually. Start with a smallamount to assess their tolerance. Cooked and mashed peas are often easier to digest for dogs with sensitive stomachs, ensuring they receive the nutritional benefits without gastrointestinal discomfort.
10. Can I prepare homemade dog food with peas?
Absolutely! Peas can be a valuable ingredient in homemade dog food recipes. When preparing homemade meals, ensure a balanced combination of proteins, carbohydrates, and vegetables, with peas being a nutritious addition. You can create various recipes incorporating peas, such as pea and chicken stew or pea and rice bowls, offering your dog a wholesome and delicious homemade dining experience.
Conclusion:
In conclusion, understanding what foods are safe and nutritious for your dog is crucial for their overall well-being. As demonstrated, dogs can indeed enjoy peas in small amounts, considering they are introduced cautiously and in moderation. However, it's imperative to remain vigilant about potential risks, ensuring their intake aligns with their dietary requirements.
When it comes to alternative snacks, there are several healthy options to explore. Consider incorporating blueberries, apple slices, or carrots into your dog's diet. These treats not only provide essential vitamins and minerals but also offer a satisfying crunch that dogs often love. Always remove seeds or cores to prevent any choking hazards.
We encourage you to share your experiences and questions with our community. Have you tried introducing peas or other fruits to your dog's diet? How did your furry friend respond? Your insights can be invaluable for fellow pet owners. Feel free to drop your thoughts in the comments section below. Let's continue this conversation and ensure our beloved pets enjoy a balanced and delightful diet that enhances their quality of life. Thank you for being a responsible and caring pet parent!