Introduction
Picture this: a juicy, ripe pear, its sweetness tempting your taste buds. As a pet owner, it's only natural to wonder if your furry companion can indulge in this delightful treat too. The question, "Can dogs eat pears?" has echoed through the halls of pet forums and living rooms for generations. It's more than just a culinary curiosity; it's a query rooted in the deep-seated desire to provide the best for our four-legged friends.
In the intricate world of pet nutrition, every morsel matters. Our canine companions rely on us to make the right choices, especially when it comes to their diet. Pears, with their succulent taste and myriad health benefits for humans, beckon us to explore whether they can be a part of a dog's balanced diet. In this comprehensive guide, we embark on a journey to unravel the complexities surrounding dogs and pears.
Table of Contents
The Intriguing Pear-Pup Connection
Dogs, our loyal friends, share our lives, our homes, and sometimes, even our meals. But amidst the camaraderie, there's a line that should never be blurred – the line that separates what's delicious for us from what's safe for them. As responsible pet parents, understanding this boundary is not just important; it's crucial. It's about safeguarding their health, ensuring their vitality, and enriching their lives in ways that are not just enjoyable but also beneficial.
So, fellow pet enthusiast, let's embark on this enlightening expedition. Our destination? A realm where the canine diet meets the pear question, and knowledge becomes the beacon guiding our beloved pets to a healthier, happier tomorrow.
Demystifying the Canine-Pear Connection
The idea of sharing a succulent pear with our furry companions might seem endearing. Fortunately, pears are not toxic to dogs, making them a potentially delightful treat. However, like all indulgences, moderation and understanding the nutritional content are essential. Let's break down the nutritional profile of pears to comprehend why they hold a place in the canine culinary spectrum.
Nutrition Facts: Pears at a Glance
Let's take a closer look at the nutritional bounty that pears offer. In the realm of vitamins, pears boast a significant amount of Vitamin C, an antioxidant powerhouse essential for bolstering the immune system. This vitamin, found abundantly in these fruits, aids dogs in warding off diseases and infections, much like it does for humans.
Additionally, pears contribute tocanine health by providing dietary fiber, a component crucial for digestive well-being. Fiber promotes regular bowel movements, preventing constipation and ensuring a healthy gut. Furthermore, pears contain Vitamin K, vital for proper blood clotting, and potassium, a mineral essential for maintaining a healthy heart.
| Nutrient | Amount per medium pear (178 g) | % Daily Value |
| --- | --- | --- |
| Calories | 101 | – |
| Fat | 0.3 g | – |
| Sodium | 1.8 mg | – |
| Carbohydrates | 27 g | – |
| Fiber | 5.5 g | 22% |
| Sugars | 17 g | – |
| Protein | 0.6 g | – |
| Vitamin C | 8 mg | 9% |
| Vitamin K | 7.8 mcg | 7% |
| Potassium | 206 mg | 4% |
| Copper | 0.2 mg | 16% |
Note: The values mentioned above are approximate and can vary based on the variety of pears.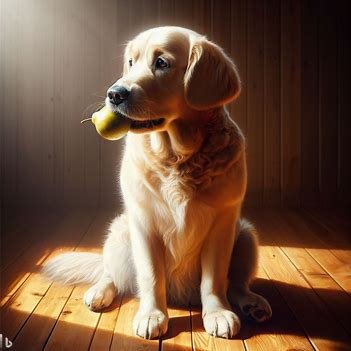 The Pros and Cons: Weighing the Nutritional Value
While the nutritional content of pears is undoubtedly impressive, it's vital to acknowledge the potential drawbacks. Pears, like many fruits, contain natural sugars. For dogs predisposed to weight gain or diabetes, excessive sugar intake can lead to obesity and dental issues. Therefore, while the vitamins and minerals in pears are beneficial, their high sugar content demands careful consideration.
Moreover, pears should never replace a dog's primary diet. Dogs require a balanced diet tailored to their specific needs. Pears can be a delightful addition, providing supplementary nutrients, but they should not overshadow the core elements of a canine diet.
In our quest for a healthier, happier canine companion, pears can be a valuable asset when incorporated responsibly. By understanding the balance between their nutritional benefits and potential drawbacks, we can ensure that our beloved pets enjoy the best of both worlds.
Embracing Pear Wisdom
In the labyrinth of canine nutrition, pears stand as a testament to the delicate balance we must strike as pet parents. Yes, dogs can eat pears, relishing their sweetness and benefiting from the array of vitamins and minerals they offer. However, this indulgence demands mindfulness. By appreciating the nutritional marvels of pears and acknowledging their limitations, we can integrate them into our dogs' diets responsibly.
Remember, the key lies in moderation and awareness. A few carefully prepared pear slices can be a delightful, healthy addition to your dog's menu. By understanding the nutritional intricacies of pears, we can navigate the canine pear conundrum with wisdom and ensure our pets thrive on a well-rounded diet. As responsible stewards of our pets' health and happiness, let's embrace the knowledge about dogs and pears, enriching their lives one delicious bite at a time.
How Much Pears Can a Dog Eat? Navigating Portion Control
Moderation: The Golden Rule
When it comes to sharing pears with your canine companion, the golden rule is moderation. While these fruits boast numerous health benefits, treats, including pears, should only constitute a small fraction of your dog's daily caloric intake. A good rule of thumb is that treats should never make up more than 10% of your dog's daily diet. This cautious approach ensures that your dog enjoys the perks without compromising their overall nutrition.
Starting Small: Introducing Pears Safely
Before you serve a feast of pears to your four-legged friend, start small. Offer a tiny piece and observe your dog's reaction. Some dogs might love the taste of pears,
Understanding the Risks: Navigating Allergies and Adverse Reactions (H2)
Food Allergies in Dogs: A Real Concern
While the prospect of sharing a juicy pear slice with your dog is heartwarming, it's crucial to acknowledge the specter of food allergies. Just like humans, dogs can develop allergies to certain foods, including pears. An allergic reaction occurs when a dog's immune system overreacts to specific proteins in the fruit.
Short-Term Signs of Food Intolerance
Food intolerance in dogs, especially to new and unfamiliar foods like pears, can manifest as gastrointestinal distress. Vomiting, diarrhea, or stomach cramps might occur, indicating that the canine digestive system is struggling to process the new food item. These signs, if noticed shortly
null
FAQs About Dogs Eating Pears: Unraveling the Peculiar Relationship Between Dogs and Pears
Dogs, our beloved four-legged companions, have a way of surprising us with their peculiar tastes. One such curious habit that many pet owners have noticed is their penchant for pears. If you've ever wondered about this intriguing dietary choice, you're not alone. In this section, we'll dive into the frequently asked questions surrounding dogs and their love for pears, shedding light on this often misunderstood aspect of canine behavior.
1. Why do dogs eat pears?
Dogs are naturally curious creatures, and their exploration often includes sniffing and tasting various objects, including fruits like pears. While the exact reasons behind their attraction to pears aren't fully understood, it's likely due to the fruit's enticing aroma and sweet taste.
2. Is it safe for dogs to eat pears?
Yes, in moderation, pears are generally safe for dogs to consume. However, it's essential to remove the seeds and core, as they contain cyanide compounds, which can be harmful in large quantities. Additionally, some dogs might have sensitive stomachs, so introducing any new food should be done cautiously to avoid digestive issues.
3. Can dogs eat all types of pears?
Most varieties of pears are safe for dogs, but it's best to offer them ripe, soft, and thoroughly washed pears. Avoid giving them canned pears, as they often contain added sugars and preservatives, which can be harmful to your furry friend.
4. Are there any health benefits to dogs eating pears?
Pears are packed with essential nutrients like fiber, vitamin C, and antioxidants, which can benefit dogs in various ways. The fiber aids in digestion, while vitamin C boosts the immune system. However, while pears offer nutritional value, they should only be a small part of your dog's balanced diet.
5. How should I prepare pears for my dog?
When sharing pears with your dog, it's crucial to remove the seeds, core, and stem, as they contain substances that can be toxic in large amounts. Cut the pear into bite-sized, manageable pieces to prevent choking hazards, and always wash the fruit thoroughly to remove any pesticides or residues.
6. Can dogs be allergic to pears?
While rare, some dogs might have allergies to certain fruits, including pears. Signs of an allergic reaction can include itching, swelling, or gastrointestinal issues. If you notice any adverse reactions after giving your dog pears, it's best to consult your veterinarian.
7. How much pear can I give my dog?
Moderation is key when it comes to feeding your dog pears. Too much fruit, including pears, can upset your dog's stomach due to the natural sugars and fiber content. As a general guideline, treats and fruits should make up no more than 10% of your dog's daily caloric intake.
8. Can pears be used as a training treat for dogs?
Yes, pears can be used as a training treat for dogs, but it's important to use them sparingly. Cut the pear into small pieces and use them as occasional rewards during training sessions. Remember that positive reinforcement and consistency are crucial for effective training, regardless of the treat used.
9. What are the signs of pear poisoning in dogs?
Pear poisoning in dogs is rare, but it's essential to be aware of the symptoms. Signs of cyanide poisoning, which can result from ingesting pear seeds, include difficulty breathing, dilated pupils, bright red gums, and seizures. If you suspect your dog has consumed pear seeds and is exhibiting these symptoms, seek immediate veterinary attention.
10. Can puppies eat pears?
Puppies can eat pears, but it's crucial to introduce new foods gradually into their diets. Start with small amounts of ripe, peeled, and deseeded pears, monitoring for any adverse reactions. Puppies have sensitive digestive systems, so it's important to be cautious and consult your veterinarian if you have any concerns.
Alternative Treats for Your Canine Companion
If you're looking for other safe and healthy treats for your dog, consider options like blueberries, apple slices without seeds, or carrot sticks. These alternatives are not only low in sugar and acidity but also offer a plethora of health benefits. Blueberries, packed with antioxidants, promote heart health, while carrots aid in dental hygiene and digestion. Remember to tailor the treats according to your dog's size and dietary requirements.
Engage With Us!
Do you have any questions or anecdotes about your dog's love for fruits? We'd love to hear from you! Share your thoughts in the comment section below or reach out to us on our social media platforms. Your experiences and inquiries not only enrich our community but also help fellow pet owners navigate the delightful, sometimes puzzling world of canine preferences. Let's continue this conversation and ensure our beloved pets lead happy, healthy lives, one treat at a time!Conclusion: Balancing Pears and Your Pooch's Palate
In conclusion, the intrigue of dogs munching on pears is a testament to their diverse tastes. As we've explored in this article, while dogs can safely enjoy pears in moderation, it's crucial to tread carefully. Dogs are not fruit connoisseurs like us, and their digestive systems may react differently to certain foods.
As you can see, dogs can eat pears in small amounts as an occasional treat. However, you should be aware of the potential risks and limit their intake accordingly. Pears are not essential for your dog's health and may cause more harm than good if fed excessively or improperly.
If you're looking for alternative treats that are safe and healthy for your furry friend, consider options like apples (minus the seeds), blueberries, or slices of carrot. These alternatives offer similar nutritional benefits while reducing the risk of any adverse reactions. Remember always to supervise your dog when introducing new foods into their diet and consult your veterinarian if you have any concerns.
Do you have any questions or comments about feeding pears to your dog? Have you ever shared this fruit with your canine companion? Share your experiences and insights in the comment section below or on our social media pages. Your experiences can help other pet owners navigate the sometimes surprising world of dogs and their culinary curiosities.
Dr. Rachel Davis is a passionate veterinarian, having completed her studies in veterinary medicine at the University of California. Alongside her professional commitments, she remains dedicated to her beloved dog and has a profound love for all animals. In her spare time, she indulges in her passion for writing, often focusing on topics related to veterinary care and animal welfare.