Are you aware that figs, those succulent, sweet fruits enjoyed by many, have a lot to offer? They are renowned for their delightful taste and a range of health benefits, but the question remains: Can dogs eat figs? In this article, we'll delve into this intriguing query and explore the intricate world of figs, shedding light on their potential role in your canine companion's diet.Dogs are an integral part of our lives, cherished members of the family, and their well-being is paramount. While we want to share everything, including the occasional treat, with our four-legged friends, it's crucial to be discerning about what goes into their diet. Dogs, like humans, have specific dietary requirements, and not all foods designed for our consumption are safe for them.
This is where our journey into the realm of figs begins.This article will serve as your guide to understanding the implications of feeding figs to dogs. We will answer the fundamental question—can dogs eat figs? Beyond a simple yes or no, we will unravel the intricacies surrounding this delectable fruit. We will explore the potential benefits figs can provide to your dog and any potential risks to be mindful of. So, fasten your seatbelts as we embark on this flavorful and informative adventure. Discover the world of figs, their nutritional profile, and the considerations to keep in mind when offering figs to your furry friend. By the end of this article, you'll be equipped with the knowledge needed to make informed decisions about incorporating figs into your dog's diet. Let's dive into the heart of this sweet matter.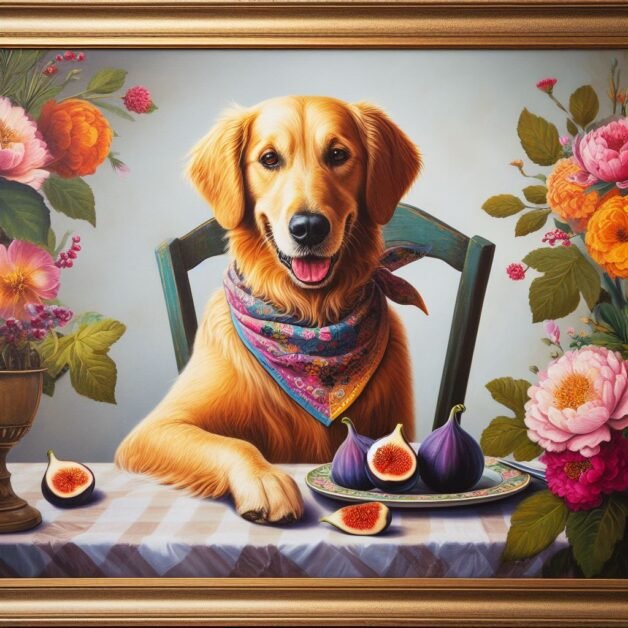 Table of Contents
Are Figs Toxic to Dogs?
One of the most pressing concerns when introducing any new food into your dog's diet is its safety. Fortunately, figs are not inherently toxic to dogs. In moderation, they can be enjoyed by many canines without causing harm. However, like any other food, figs should be offered in limited quantities and with some essential caveats.
Nutrition Facts of Figs
To better understand the potential benefits and drawbacks of feeding figs to dogs, let's take a closer look at their nutritional profile. Below is a table highlighting the key nutrients found in figs.
| Nutrient | Amount per 100g (Fresh Figs) |
| --- | --- |
| Calories | 74 |
| Protein | 0.8g |
| Carbohydrates | 19.2g |
| Dietary Fiber | 2.9g |
| Sugars | 16.3g |
| Fat | 0.4g |
| Vitamins and Minerals | |
| Vitamin A | 142IU |
| Vitamin K | 3.9µg |
| Vitamin B6 | 0.106mg |
| Folate | 3µg |
| Potassium | 232mg |
| Calcium | 35mg |
| Magnesium | 17mg |
| Iron | 0.37mg |
| Phosphorus | 8mg |
| Copper | 0.07mg |
| Manganese | 0.128mg |
The table above outlines the nutritional components found in fresh figs. They are relatively low in calories and fats but are a significant source of carbohydrates, primarily natural sugars. Figs are also a good source of dietary fiber, which can be beneficial for your dog's digestive health.In addition, figs contain essential vitamins and minerals, such as vitamin K, vitamin B6, and potassium. Vitamin K plays a crucial role in blood clotting, while vitamin B6 is involved in various metabolic processes. Potassium is essential for maintaining proper muscle function and overall health.
Nutritional Benefits of Figs for Dogs
While figs contain several nutrients that can be beneficial for dogs, it's important to highlight these potential advantages:
Dietary Fiber

: Figs are rich in dietary fiber, which can aid in digestion and help prevent constipation. Fiber is also known to support colon health.

Vitamins

: Figs provide essential vitamins, including vitamin K, which is important for blood clotting, and vitamin B6, which is involved in various enzymatic reactions.

Minerals

: Figs offer essential minerals like potassium, which plays a crucial role in maintaining proper muscle function and overall health.
Antioxidants

: Figs contain antioxidants, such as polyphenols, which can help combat oxidative stress and inflammation.

Taste and Texture

: Many dogs find the taste and texture of figs appealing, making them a flavorful treat.
Drawbacks of Figs for Dogs
As we explore the suitability of figs for dogs, it's crucial to be aware of the potential negative effects:
High Sugar Content

: Figs are naturally high in sugar, primarily in the form of fructose. Excessive sugar consumption can lead to weight gain and dental issues in dogs.

Caloric Density

: While figs are not particularly calorie-dense, excessive consumption can contribute to weight gain if not factored into your dog's overall diet.

Diarrhea and Gastrointestinal Issues

: The high sugar and fiber content in figs can lead to gastrointestinal upset, including diarrhea, if consumed in large quantities.
The Role of Figs in a Dog's Diet
It's essential to remember that figs should complement your dog's primary diet rather than replace it. While they offer some nutritional benefits, they should be considered an occasional treat rather than a staple food. Proper portion control and monitoring your dog's reaction to figs are essential.
In the following sections, we will delve deeper into how much fig is appropriate for your dog, potential risks, and the best ways to feed figs to your furry friend while keeping them safe and healthy.
How Much Figs Can a Dog Eat?
When it comes to introducing figs into your dog's diet, the golden rule is moderation. While figs offer some nutritional benefits, it's essential to strike a balance to ensure they remain a safe and healthy addition to your dog's menu. Here's what you need to consider:
1. Moderation is Key: Treats, including figs, should make up only a small portion of your dog's daily calorie intake. The majority of their nutrition should come from a well-balanced commercial dog food designed to meet their specific dietary needs. Remember that dogs are primarily carnivorous animals, and their dietary requirements differ from those of humans.
2. Start Small: Before offering figs to your dog, begin with a small piece. This allows you to observe how your dog reacts to this new food. Some dogs may be more sensitive to dietary changes than others. Monitoring your dog's response is crucial, as it can help you identify any adverse reactions.
3. Preparation is Key: While figs can be a delightful and nutritious treat, they should be prepared with care. Make sure to wash figs thoroughly to remove any pesticides or contaminants that may be present on the skin. You should also remove the stem and any hard or inedible parts of the fig before offering it to your dog. The goal is to provide your furry friend with the safest and most enjoyable fig-eating experience.
4. Consider Your Dog's Size and Breed: The size and breed of your dog can affect how much fig they can tolerate. Larger dogs may be able to consume more figs than smaller breeds without any problems. Keep this in mind when determining the appropriate serving size for your specific canine companion.
5. Appropriate Serving Sizes: To offer a general guideline, the appropriate serving size of figs for dogs should be based on their weight. Here's a rough estimate:
Small Dog (up to 10 lbs): 1 to 2 small pieces of fig.
Medium Dog (10 to 50 lbs): 2 to 4 small pieces of fig.
Large Dog (50+ lbs): 4 to 6 small pieces of fig.
However, these are approximate serving sizes, and it's essential to adjust them based on your dog's individual needs and any observed reactions.
Keep in mind that dogs have diverse tolerances and dietary requirements. Some may relish figs and experience no adverse effects, while others may exhibit sensitivity to this fruit. The key is to pay close attention to how your dog responds to figs and make informed decisions about their diet based on these observations. In the next section, we will delve into potential risks and what to watch out for when feeding figs to your furry friend.

What Are the Risks of Feeding Figs to Dogs?
Feeding figs to your dog can offer a delightful and nutritious experience, but it's essential to be aware of the potential risks associated with this fruit. While many dogs can enjoy figs without any issues, there are certain risks to consider:
1. Food Allergies: Just like humans, dogs can develop food allergies. While figs are not among the most common allergens for dogs, it's still possible for a dog to be allergic to them. Allergic reactions can vary in severity and may include symptoms like itching, skin rashes, hives, digestive upset, or even difficulty breathing. If your dog shows any signs of an allergic reaction after consuming figs, it's crucial to discontinue this treat immediately and consult your veterinarian.
2. Short-term Signs of Food Intolerance: Food intolerance is different from food allergies and generally less severe. If your dog is intolerant to figs, they may experience short-term digestive distress, such as upset stomach, diarrhea, or vomiting. This could be due to their inability to digest the fruit properly. In such cases, it's advisable to avoid feeding figs to your dog.
3. Potential Hazards in Figs: Figs contain certain components that can pose risks to dogs. Here's what you need to be cautious about:
Seeds:

Figs typically contain tiny seeds. While these seeds are not toxic to dogs, they can be a choking hazard, especially for small or toy breeds. It's wise to remove these seeds before offering figs to your furry friend.

High Sugar Content:

Figs are naturally sweet due to their high sugar content. Excessive sugar intake can lead to weight gain and dental issues in dogs. It's important to limit the amount of figs you feed your dog to prevent these problems. If your dog has diabetes or is prone to weight gain, it may be best to avoid figs altogether.

Oxalates:

Figs also contain oxalates, which are compounds that can contribute to the formation of kidney stones in some dogs. If your dog has a history of kidney issues or urinary stones, it's advisable to avoid feeding them figs. Oxalates can bind with calcium, leading to the development of stones in the urinary tract.
4. Signs and Symptoms of Adverse Reactions: It's crucial for dog owners to be vigilant and monitor their pets for any adverse reactions to figs. The signs and symptoms of adverse reactions can vary and may include:
Gastrointestinal distress such as vomiting, diarrhea, or constipation.
Lethargy or unusual behavior.
Itchy or irritated skin, rashes, or hives.
Swelling, especially around the face, throat, or eyes.
Difficulty breathing or coughing.
Changes in urination habits or signs of pain when urinating.
If you notice any of these symptoms in your dog after feeding them figs, seek immediate veterinary care. Your veterinarian can assess your dog's condition and provide appropriate guidance or treatment.
By being aware of these potential risks and carefully monitoring your dog's response to figs, you can make informed decisions about incorporating this fruit into their diet. In the next section, we will explore how to feed figs to your dog in a safe and enjoyable manner, including creative methods and recipes for homemade treats.
How to Feed Figs to Your Dog and Make It More Enjoyable for Them
Now that we've explored the potential benefits and risks of feeding figs to dogs, let's dive into the fun part—how to feed figs to your furry friend in a way that's both safe and enjoyable. Fig consumption can be a delightful addition to your dog's diet when done correctly. Here's how to make it an enriching experience:
1. Fresh and Ripe Figs: When offering figs to your dog, it's crucial to ensure that you provide fresh, ripe figs. Ripe figs are sweeter and easier to digest. They are also less likely to cause stomach upset or digestive issues. Inspect the figs for any signs of mold or spoilage and wash them thoroughly to remove any dirt or pesticides that may be present on the skin.
2. Serving Methods:
Sliced Figs: One of the simplest ways to serve figs to your dog is by slicing them into small, bite-sized pieces. This makes it easier for your dog to eat and minimizes the risk of choking.
Mashed Figs: Some dogs may find mashed figs more palatable. You can mash the figs with a fork or a food processor and mix them with their regular food.
3. Homemade Treats and Snacks: Figs can be incorporated into homemade dog treats or snacks. Making your own treats allows you to control the ingredients and ensure that the figs are presented in a way that your dog enjoys. Here are some creative ideas:
Frozen Fig Cubes:

Create frozen fig cubes by pureeing ripe figs and mixing them with water. Pour the mixture into ice cube trays and freeze. These icy treats can be refreshing on a hot day and are easy to serve.

Fig and Peanut Butter Cookies: Make homemade dog cookies by combining mashed figs with dog-friendly ingredients like peanut butter and oat flour. Shape the mixture into cookies and bake until they are firm.
Yogurt and Fig Parfait:

Layer plain yogurt with diced figs for a delightful and nutritious parfait. This is a great way to add probiotics from yogurt to your dog's diet while incorporating figs.
4. Serving Portion: Remember that moderation is key when it comes to feeding figs to your dog. The amount of figs you can offer will depend on your dog's size, breed, and individual tolerance. Start with a small piece and observe how your dog reacts to it. If there are no adverse effects, you can gradually offer more in future servings.
FAQs
1. Can Dogs Eat Figs Every Day?
It's generally not recommended to feed your dog figs every day. While figs can offer some nutritional benefits, they should be considered an occasional treat rather than a daily staple. Feeding figs too frequently may lead to digestive issues or an upset stomach due to their high fiber content.
2. Are There Different Varieties of Figs?
Yes, there are various fig varieties, including Black Mission, Calimyrna, Brown Turkey, and Kadota figs. In general, the variety of fig you choose for your dog doesn't matter as much as ensuring they are fresh and ripe. Be sure to remove any stems before serving.
3. Can Dogs Eat Fig Leaves or Stems?
No, dogs should not consume fig leaves, stems, or other parts of the fig tree. These components contain a milky latex sap that can be irritating to a dog's skin and mucous membranes if ingested.
4. What Are the Potential Allergic Reactions to Figs in Dogs?
While fig allergies in dogs are relatively rare, it's essential to be observant. Allergic reactions may manifest as itching, hives, or gastrointestinal distress. If your dog exhibits any of these symptoms after eating figs, consult your veterinarian.
5. Can Puppies Eat Figs?
Puppies have more sensitive digestive systems than adult dogs. Introducing figs into a puppy's diet should be done with caution, and it's advisable to wait until they are at least six months old before offering small, well-mashed portions.
6. Can I Feed My Senior Dog Figs?
Senior dogs can enjoy figs in moderation. However, it's crucial to consider their dietary requirements, which may change as they age. Consult your veterinarian to ensure figs align with your senior dog's specific needs.
7. Can Fig Seeds Be Harmful to Dogs?
Figs contain tiny seeds, which are generally safe for dogs to eat. The seeds provide additional fiber and nutrients. However, always ensure that the figs are ripe and that you're feeding them in moderation to prevent any potential digestive discomfort.
8. Can Figs Cause Diarrhea in Dogs?
The high fiber content in figs can indeed lead to diarrhea in dogs, especially if fed in excessive quantities. To prevent this, provide small portions and monitor your dog's response.
9. How Can I Tell If My Dog Likes Figs?
Dogs, like humans, have individual tastes. You'll know your dog enjoys figs if they eagerly eat the fruit, show excitement when offered figs, and don't experience any negative reactions.
10. Are There Other Fruits That Dogs Can Enjoy?
Yes, there are many other fruits that dogs can safely enjoy. Some popular options include apples, bananas, blueberries, and strawberries. Always remember to remove seeds or pits from these fruits before offering them to your dog.
Conclusion
In conclusion, we've explored the topic of whether dogs can eat figs, delving into their nutritional value, potential risks, and safe ways to incorporate this fruit into your dog's diet. As you can see, dogs can enjoy figs in small amounts as an occasional treat, provided they do not exhibit any allergic reactions or digestive issues. While figs offer vitamins, fiber, and antioxidants, they are not essential for your dog's health and should be treated as an extra indulgence.