Introduction
Dogs, our lovable and loyal companions, bring immeasurable joy and warmth into our lives. As pet owners, we are constantly on the lookout for ways to enhance their well-being, and often, this quest leads us to explore unconventional avenues. One such topic that has piqued the curiosity of many is the incorporation of coconut oil into our furry friends' diets. The intrigue is understandable; after all, coconut oil has enjoyed the spotlight in the health industry for its myriad of benefits. But amidst the hype and buzz, a critical question arises: can dogs eat coconut oil?
Table of Contents
Unraveling the Mystery of Coconut Oil for Dogs
Coconut oil, derived from the flesh of coconuts, has garnered a reputation as a superfood among humans. Bursting with medium-chain fatty acids (MCFAs) such as lauric acid, it is touted for its potential positive effects on health. Yet, the inquiry persists – can these benefits seamlessly extend to our canine companions? This comprehensive guide aims to unravel the mystery surrounding coconut oil for dogs. We delve into the depths of this query, exploring not only the enticing promises of coconut oil but also the crucial nuances that every responsible pet owner must consider.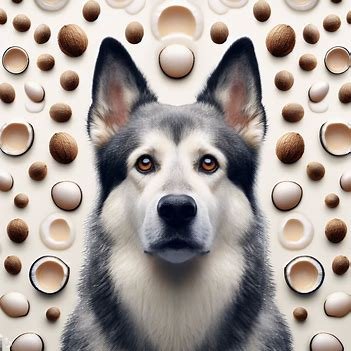 The Allure of Coconut Oil: Benefits Explored
1. Improved Skin and Coat Health: A Gleaming Transformation
One of the most celebrated virtues of coconut oil is its ability to transform lackluster coats into a shiny, luxurious spectacle. The MCFAs nestled within coconut oil possess natural moisturizing properties, a godsend for dogs grappling with dry, flaky, or itchy skin. Regular, controlled consumption can orchestrate a noticeable improvement in the overall condition of your dog's fur, leaving it soft, supple, and undeniably radiant.
2. Digestive Harmony: Nurturing a Balanced Gut
A harmonious digestive system is the cornerstone of a dog's overall health. Coconut oil, when incorporated wisely into your dog's diet, can serve as a digestive aid. The antimicrobial properties of MCFAs help promote a healthy gut environment, mitigating digestive woes and ensuring a balanced digestive system. For dogs troubled by gastrointestinal irregularities, this natural elixir might just be the key to soothing their discomfort.
3. A Robust Immune Shield: Lauric Acid's Magic Wand
At the heart of coconut oil's health benefits lies lauric acid, a remarkable component celebrated for its antimicrobial and antiviral prowess. When dogs partake in the consumption of coconut oil, they are bestowed with a bolstered immune system. Armed with this potent shield, our canine companions are better equipped to fend off infections and illnesses, ensuring a healthier, happier life.
Balancing Act: Risks and Considerations
1. Weight Gain: The Caloric Conundrum
While the allure of coconut oil is undeniable, it comes with a caveat – calorie density. Overindulgence can tip the scales, leading to excessive calorie intake and potential weight gain. As conscientious pet owners, it falls upon us to exercise prudence. Mindful portion sizes are paramount, ensuring that the incorporation of coconut oil aligns seamlessly with your dog's daily caloric needs.
2. Gastrointestinal Sensitivity: Navigating Digestive Terrain
Introducing coconut oil abruptly and in copious quantities can stir the waters of your dog's digestive system. Gastrointestinal upset, manifesting as diarrhea, vomiting, or an upset stomach, might ensue. To preempt this discomfort, start with modest amounts, allowing your dog's system to acclimate. Patience is key; observe their reactions closely before adjusting the dosage.
3. Pancreatitis: A Looming Threat
For dogs predisposed to pancreatitis or those with a history of this condition, caution is paramount. High-fat diets, including coconut oil, can act as triggers, inflaming the pancreas and precipitating severe health complications. In such cases, the allure of coconut oil must yield to the imperative of your dog's well-being.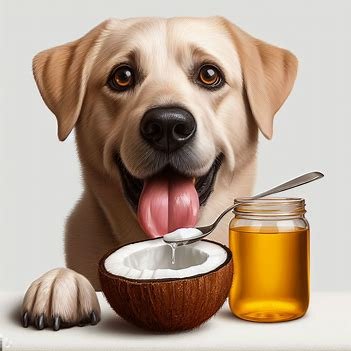 Coconut Oil Nutrition Facts
| Nutrient | Amount per 1 tbsp (15 ml) |
| --- | --- |
| Calories | 121 kcal |
| Fat | 13.5 g |
| Saturated fat | 11.2 g |
| Monounsaturated fat | 0.8 g |
| Polyunsaturated fat | 0.2 g |
| Cholesterol | 0 mg |
| Carbohydrates | 0 g |
| Fiber | 0 g |
| Sugar | 0 g |
| Protein | 0 g |
| Vitamin E | 0.1 mg (1% DV) |
| Vitamin K | 0.1 mcg (0% DV) |
| Iron | 0 mg (0% DV) |
Note: Nutritional values may vary based on the brand and processing methods of the coconut oil.
Nutritional Benefits of Coconut Oil for Dogs
1. Essential Fatty Acids: Supporting Overall Health
Coconut oil is a rich source of essential fatty acids, including omega-6 and omega-3 fatty acids, which play a vital role in a dog's overall health. These fatty acids are crucial for maintaining healthy skin, a shiny coat, and supporting the proper functioning of various bodily systems.
2. Vitamins and Minerals: A Nutrient Boost
Coconut oil contains essential vitamins such as Vitamin E, known for its antioxidant properties, and Vitamin K, which supports blood clotting and bone health. Additionally, minerals like iron and zinc are present in coconut oil, contributing to the overall nutritional value.
3. Medium-Chain Fatty Acids (MCFAs): A Digestive Aid
Medium-chain fatty acids (MCFAs) present in coconut oil have antimicrobial properties, which can promote a healthy gut environment in dogs. This can aid in digestion, alleviate digestive issues, and maintain a balanceddigestive system, making coconut oil a potential digestive aid for your canine companion.
Drawbacks and Considerations
1. Caloric Density: Mindful Portion Control
While coconut oil offers nutritional benefits, it's essential to be mindful of portion sizes. Coconut oil is calorie-dense, and overfeeding can lead to excessive calorie intake, potentially causing weight gain. Pet owners must incorporate coconut oil into their dog's diet without exceeding the recommended daily caloric intake.
2. Moderation is Key: Avoiding Excessive Consumption
Excessive consumption of coconut oil, especially if introduced suddenly and in large quantities, can cause gastrointestinal upset in some dogs. Symptoms like diarrhea, vomiting, or an upset stomach might occur. To avoid this, start with small amounts and observe how your dog reacts before increasing the dosage.
3. Complementary, Not Replacement: Balancing the Diet
Coconut oil should complement, not replace, a dog's primary diet. While it offers certain nutritional benefits, it should be part of a balanced and varied diet. Dogs require a diverse range of nutrients, and relying solely on coconut oil can lead to nutritional imbalances.
In conclusion, coconut oil can indeed be a nutritious addition to your dog's diet, offering essential fatty acids, vitamins, and minerals. However, responsible pet ownership involves understanding the balance – appreciating the benefits while being aware of the potential drawbacks. By practicing mindful portion control, introducing coconut oil gradually, and ensuring it supplements a well-rounded diet, you can harness the advantages of this natural oil while safeguarding your beloved pet's health and well-being. Remember, consulting with your veterinarian is always a prudent step to ensure that your dog's diet aligns perfectly with their unique needs.
How Much Coconut Oil Can a Dog Eat?
Now that we've established that coconut oil can be a beneficial addition to your dog's diet, the next crucial aspect to consider is the quantity. As with any dietary supplement, moderation is the key to reaping the benefits without jeopardizing your dog's well-being. Treats, including coconut oil, should ideally not exceed a certain percentage of your dog's daily calorie intake. A good rule of thumb is that treats should make up no more than 10% of your dog's total caloric intake, ensuring that their primary diet remains balanced and nutritionally sound.
Starting Small: Observing Your Dog's Reaction
When introducing coconut oil into your dog's diet, it's wise to start with a small amount. This cautious approach allows you to observe how your dog reacts to the new addition. Some dogs may take to coconut oil instantly, while others might need time to adjust. Starting small also minimizes the risk of gastrointestinal upset, allowing your dog's system to acclimate gradually.
Preparation and Administration: The Right Way
Before offering coconut oil to your dog, it's essential to prepare it in a suitable manner. Opt for organic, virgin coconut oil without any additives or preservatives. Avoid refined or processed varieties, as they may lack the natural benefits found in pure, unadulterated coconut oil.
To administer coconut oil, you can either offer it directly as a treat or mix it with your dog's food. If you choose the direct method, you can provide a small, solid piece of coconut oil, especially if the oil is solidified at room temperature. Alternatively, you can melt the coconut oil and drizzle it over your dog's food, allowing them to enjoy it along with their regular meals.
Tailoring Serving Sizes: Understanding Your Dog's Needs
The appropriate serving size of coconut oil depends on your dog's weight, size, and breed. Larger dogs can generally tolerate slightly larger servings compared to their smaller counterparts. As a general guideline:
Small Dogs (up to 20 lbs): Start with 1/4 teaspoon per day and observe their reaction before increasing.
Medium Dogs (21-50 lbs): Begin with 1/2 teaspoon per day and monitor their response.
Large Dogs (51-100 lbs): Introduce with 1 teaspoon per day and assess how they handle it.
Extra-Large Dogs (over 100 lbs): Start with 1-2 teaspoons per day, observing any changes in their behavior or health.
Breed Sensitivity: Tailoring the Approach
It's essential to note that different dog breeds might have varying levels of tolerance to coconut oil. While one breed might thrive with a particular amount, another might exhibit sensitivity even with a smaller quantity. Factors such as metabolism, age, and overall health condition also play a role in determining your dog's response to coconut oil. Therefore, it's crucial to pay attention to your dog's individual needs and consult your veterinarian if you're uncertain about the appropriate serving size.
In essence, the amount of coconut oil your dog can consume should be a well-informed decision. By starting small, observing your dog's reactions, and tailoring the serving size based on their weight and breed, you can ensure that they enjoy the benefits of coconut oil without any adverse effects. Remember, your veterinarian is an invaluable resource in this journey, providing personalized guidance that aligns with your dog's specific requirements. With careful consideration and a watchful eye, you can integrate coconut oil seamlessly into your dog's diet, enhancing their overall health and happiness.
Risks of Feeding Coconut Oil to Dogs: Understanding the Caveats
While coconut oil offers an array of potential benefits for our furry friends, it's crucial to acknowledge the risks and potential drawbacks associated with its consumption. Dogs, like humans, can exhibit food allergies, and coconut oil is not exempt from triggering adverse reactions.
Food Allergies and Intolerance
One of the primary concerns when introducing any new food item, including coconut oil, is the possibility of food allergies. Dogs can indeed be allergic to coconut oil, and these allergies might manifest through various symptoms. Short-term signs of food intolerance can include gastrointestinal distress, such as diarrhea, vomiting, or an upset stomach. If your dog displays these symptoms shortly after consuming coconut oil, it's essential to consider the possibility of an allergic reaction.
Potential Hazards: Components to Watch Out For
Coconut oil consists of several components, and while they offer numerous benefits, they can also pose hazards, particularly if your dog is sensitive to them. Lauric acid, a significant component of coconut oil, can sometimes lead to allergic reactions. It's essential to be vigilant and watch out for signs of allergic responses, such as itching, swelling, or redness, especially around the mouth, face, or paws. If you notice any of these symptoms, discontinue the use of coconut oil and consult your veterinarian promptly.
Moreover, some dogs might experience issues related to their pancreas when consuming coconut oil. For dogs predisposed to pancreatitis or those with a history of this condition, the introduction of high-fat content, including coconut oil, can potentially trigger inflammation of the pancreas. Pancreatitis is a serious condition that requires immediate medical attention, and therefore, pet owners should exercise caution and consult their veterinarian if they have concerns about their dog's pancreatic health.
Signs and Symptoms of Adverse Reactions
It's crucial for pet owners to be aware of the signs and symptoms that indicate adverse reactions in dogs from consuming coconut oil. These signs may include:
Persistent Vomiting or Diarrhea: While some initial stomach upset is common, persistent vomiting or diarrhea is a cause for concern and requires veterinary attention.
Lethargy and Weakness: If your dog appears unusually tired or weak after consuming coconut oil, it could be a sign of an adverse reaction.
Difficulty Breathing or Swelling: Allergic reactions can sometimes lead to difficulty breathing, swelling of the face, or throat constriction. These symptoms are severe and require immediate medical attention.
Loss of Appetite: If your dog loses interest in food after consuming coconut oil, it might indicate gastrointestinal distress.
In the presence of any of these symptoms, it's imperative to stop giving coconut oil to your dog and seek veterinary care promptly. Timely intervention can make a significant difference in managing any adverse reactions and ensuring your dog's well-being.
In essence, while coconut oil can be a valuable addition to your dog's diet, it's essential to be vigilant, observant, and responsive to any signs of adverse reactions. Every dog is unique, and what works well for one might not suit another. By understanding the potential risks, monitoring your dog closely, and seeking professional advice when needed, you can navigate the complexities of coconut oil consumption, ensuring that your beloved pet experiences the benefits without compromising their health.
How to Feed Coconut Oil to Your Dog: Enhancing their Dining Experience
Now that we have explored the benefits and risks associated with incorporating coconut oil into your dog's diet, let's delve into the delightful world of making this nutritious addition enjoyable for your furry companion. There are numerous creative and palatable ways to feed coconut oil to your dog, turning their mealtime into a delightful experience.
1. Fresh or Frozen Treats
One of the simplest and most enjoyable ways to give coconut oil to your dog is by turning it into fresh or frozen treats. You can pour melted coconut oil into silicone molds and freeze them. The result? Coconut oil treats that not only taste great but also provide a refreshing sensation, especially during warmer months. These frozen delights can serve as excellent rewards during training sessions or simply as a tasty snack.
2. Food Topper or Mixer
Coconut oil can be drizzled over your dog's regular meals as a food topper or mixer. Whether your dog enjoys dry kibble or wet food, adding a teaspoon of melted coconut oil can elevate the flavor profile, making mealtime more exciting. The enticing aroma and taste of coconut oil can entice even the pickiest eaters, encouraging them to finish their meals with enthusiasm.
3. Homemade Treats and Snacks
Why not get creative in the kitchen and whip up some homemade treats or snacks infused with the goodness of coconut oil? You can prepare simple dog biscuits using coconut oil as a key ingredient. Combine coconut oil with ingredients like peanut butter, whole wheat flour, and oats to create delectable treats that your dog will adore. These homemade delights not only provide the benefits of coconut oil but also offer a crunchy texture that dogs love.
4. Enhancing Regular Meals
Coconut oil can be incorporated directly into your dog's regular meals to enhance their overall dining experience. For instance, you can mix a small amount of coconut oil with their wet food, adding a layer of flavor and moisture to the meal. Alternatively, if your dog enjoys a homemade diet of cooked meats and vegetables, adding a spoonful of coconut oil can enhance the nutritional value and make the meal more enjoyable.
5. Creative Meal Enhancements
Thinking outside the box can lead to some incredibly creative and tasty meal enhancements for your dog. Try making a coconut oil and banana smoothie for your dog by blending ripe bananas with melted coconut oil. Pour the mixture into molds and freeze for a delightful frozen treat. You can also mix coconut oil with unsalted chicken or beef broth and freeze it in ice cube trays. These coconut-infused broth cubes can be added to water bowls, enriching your dog's hydration experience.
6. Flavorful and Nutritious Homemade Recipes
Here are a couple of recipes to get you started on creating flavorful and nutritious homemade treats for your furry friend:
Coconut Peanut Butter Biscuits:
Ingredients:
1 cup whole wheat flour
1/2 cup coconut oil, melted
1/2 cup natural peanut butter (unsalted, no added sugar)
1 egg
1 teaspoon baking powder
Water (as needed to create a dough)
Instructions:
Preheat the oven to 350°F (175°C) and line a baking sheet with parchment paper.
In a mixing bowl, combine the whole wheat flour, melted coconut oil, peanut butter, egg, and baking powder. Mix well.
Add water gradually until the mixture forms a dough that is easy to handle.
Roll out the dough on a floured surface and use cookie cutters to create shapes.
Place the biscuits on the prepared baking sheet and bake for 15-20 minutes or until golden brown.
Let the biscuits cool completely before serving them to your dog.
Coconut Oil and Banana Smoothie:
Ingredients:
2 ripe bananas
2 tablespoons coconut oil, melted
1 cup plain yogurt (unsweetened, no artificial additives)
1/2 cup water or coconut water
Instructions:
Peel and slice the bananas.
In a blender, combine the banana slices, melted coconut oil, plain yogurt, and water.
Blend until smooth and creamy.
Pour the smoothie into ice cube molds or silicone trays.
Freeze until solid.
Serve the frozen smoothie cubes as a refreshing treat for your dog.
By incorporating coconut oil creatively into your dog's diet, you not only enhance their meals but also provide them with a range of health benefits. From frozen treats to homemade biscuits and flavorful smoothies, these delightful concoctions can turn your dog's dining experience into a culinary adventure. Always be mindful of portion sizes, especially when offering treats, and ensure that the overall coconut oil intake aligns with your dog's dietary needs. With a touch of creativity and a dash of love, you can make every meal a gourmet affair for your beloved canine companion.
FAQs About Dogs Eating Coconut Oil: Unraveling Common Concerns
As the trend of incorporating coconut oil into canine diets gains momentum, it's natural for pet owners to have a plethora of questions. To demystify the mysteries surrounding dogs and coconut oil, here are the answers to the ten most frequently asked questions about this nutritional supplement.
1. Can All Dogs Eat Coconut Oil?
Yes, in general, most dogs can consume coconut oil. However, it's crucial to introduce it gradually, observing your dog for any adverse reactions. Dogs with known allergies to coconuts should avoid coconut oil.
2. Is Coconut Oil Safe for Puppies?
Yes, coconut oil can be safe for puppies, but it should be introduced in moderation. Puppies have sensitive digestive systems, so it's advisable to start with smaller amounts and monitor their response.
3. How Much Coconut Oil Should I Give My Dog?
The ideal dosage varies based on your dog's weight and size. As a general guideline, start with 1/4 teaspoon per day for small dogs and 1 teaspoon for large dogs. Always consult your vet for personalized recommendations.
4. Can Coconut Oil Help with Bad Breath in Dogs?
Yes, coconut oil's antimicrobial properties can aid in reducing bad breath in dogs. Adding a small amount to their diet might improve their oral hygiene over time.
5. Is Coconut Oil Beneficial for Dogs with Skin Allergies?
Coconut oil is renowned for its skin-friendly properties. It can help alleviate dry skin and itching in dogs. Applying a small amount topically or including it in their diet might offer relief.
6. Can Coconut Oil Treat Fleas and Ticks?
While coconut oil has some natural repellent properties, it's not a replacement for conventional flea and tick prevention methods. Use dedicated flea and tick products recommended by your veterinarian.
7. Can Coconut Oil Cure Digestive Issues in Dogs?
Coconut oil's antimicrobial properties can support a healthy gut environment. It might assist in alleviating mild digestive issues, but consult your vet for persistent problems.
8. Is Coconut Oil Effective for Joint Pain in Dogs?
Coconut oil's anti-inflammatory properties can potentially offer relief for dogs with mild joint pain. However, it's not a substitute for proper veterinary care in cases of arthritis or severe joint issues.
9. Can Coconut Oil Help with Weight Loss in Dogs?
Coconut oil is calorie-dense, so it should be given in moderation to prevent weight gain. While it can aid metabolism, it's not a direct weight loss solution. Consult your vet for tailored weight management plans.
10. Are There Any Side Effects of Feeding Coconut Oil to Dogs?
When introduced slowly and in moderation, coconut oil generally causes no side effects. However, some dogs might experience upset stomachs initially. Always monitor your dog for adverse reactions and consult your vet if concerns arise.
Incorporating coconut oil into your dog's diet can offer various health benefits, but it's vital to do so responsibly. By understanding these common concerns and consulting your veterinarian when in doubt, you can ensure that your furry companion enjoys the advantages of coconut oil while maintaining their overall well-being.

Conclusion: Making Informed Choices for Your Canine Companion
In conclusion, while coconut oil can be a beneficial addition to your dog's diet when used mindfully, it's not a necessity. As highlighted, moderation is key. Dogs can enjoy coconut oil as an occasional treat, but pet owners must remain vigilant about portion sizes and potential reactions. Remember, excessive or improper feeding of coconut oil might cause more harm than good.
For those seeking alternative, safe, and healthy treats for their furry friends, consider options like plain, unsalted peanut butter or fresh fruits such as apple slices (minus the seeds), carrots, or blueberries. These treats provide essential nutrients without the risks associated with high-fat foods.
We encourage you to share your experiences and insights with us. Have you explored different treats for your dog? What has your canine friend enjoyed the most? Your feedback can guide other pet owners in making thoughtful choices for their beloved pets. Let's create a community where we can learn from each other, ensuring the best possible care for our four-legged companions. Join the conversation in the comments section below and let us know your thoughts!
Dr. Rachel Davis is a passionate veterinarian, having completed her studies in veterinary medicine at the University of California. Alongside her professional commitments, she remains dedicated to her beloved dog and has a profound love for all animals. In her spare time, she indulges in her passion for writing, often focusing on topics related to veterinary care and animal welfare.