Introduction
Our canine companions are more than just pets; they're cherished members of our families. As responsible pet owners, we strive to provide them with the best care, including a balanced and nutritious diet. Yet, amidst the vast array of foods available to us, there's a cloud of uncertainty surrounding what our dogs can and cannot eat. One question that frequently surfaces in this culinary puzzle is, "Can dogs eat chicken bones?"
In this comprehensive guide, we embark on a journey to demystify this enigma. We'll explore the intricacies of canine digestion, unravel the risks associated with chicken bones, and navigate the realm of safe alternatives and necessary precautions. Our goal? To equip you, the devoted pet parent, with the knowledge and understanding needed to make informed decisions about your dog's diet and, ultimately, ensure your furry friend's well-being.
Table of Contents
Engaging Curiosity: The Canine Culinary Conundrum
Picture this: a cozy evening, your family gathered around the dinner table, indulging in a succulent chicken feast. As you marvel at the delectable dish, a thought crosses your mind. Could your four-legged friend partake in this culinary delight too? It's a question that piques the curiosity of every caring dog owner. After all, our dogs often exhibit a keen interest in what's on our plates.
Unveiling Canine Culinary Complexity
Before we dive into the meat of the matter, let's unravel the fascinating world of canine digestion. Dogs, our beloved pets, are carnivorous animals. Yet, their digestive system, while adept at processing raw meat and bones, isn't a mirror image of our own. Unlike humans, dogs boast powerful stomach acids and a comparatively shorter digestive tract. These physiological distinctions are evolutionary marvels, designed to handle a diet rooted in raw sustenance.
However, this unique digestive setup doesn't grant an open invitation to all types of bones. It's a misconception to assume that all bones are safe for our furry companions. Understanding these nuances is pivotal in ensuring the safety of our pets.
Navigating the Hazards: The Risks of Chicken Bones
Splintering Hazards: A Bone of Contention
One of the foremost concerns when it comes to dogs and chicken bones lies in their propensity to splinter. Cooked chicken bones, when subjected to the force of canine jaws, can shatter into sharp, pointed fragments. These splinters, akin to culinary landmines, have the potential to wreak havoc within a dog's digestive tract. Imagine these sharp shards piercing the delicate lining of the stomach or intestines, leading to grave complications like peritonitis, a condition that poses immediate life-threatening risks.
Choking Hazard: A Silent Menace
Beyond the peril of splintering, chicken bones present another insidious danger: choking. Dogs, in their exuberance, might gulp down bones without adequate chewing. This hasty ingestion can result in blockages within the esophagus or other parts of the digestive system. The consequences are dire, obstructing airflow and creating a harrowing situation demanding swift intervention.
Safe Alternatives and Prudent Precautions
The Quest for Safe Bones
In the quest for canine-friendly bones, the spotlight shifts to raw alternatives. Raw bones, especially those derived from beef or poultry, are generally considered safer. Their softer composition reduces the likelihood of splintering, offering a more secure chewing experience for our furry companions. However, it's crucial to underscore that even with raw bones, supervision remains paramount.
The Watchful Eye: Precautions and Supervision
Imagine a canine connoisseur relishing a bone, blissfully unaware of the potential dangers it conceals. This is where your vigilance as a pet parent becomes the shield against harm. Regardless of the bone's type, size, or origin, meticulous supervision during chewing sessions is non-negotiable. Should the bone fragment into swallowable pieces or if your dog displays any signs of distress, swift action is imperative. Moreover, a conversation with your veterinarian is invaluable; their expertise can guide you in choosing the appropriate bone size and type tailored to your dog's breed and size.
---
Can Dogs Eat Chicken Bones? The Nutritional Odyssey
Ah, the tantalizing aroma of chicken wafts through the air, and your canine companion's nose twitches with anticipation. But can dogs truly indulge in the joy of gnawing on chicken bones? Let's embark on an odyssey through the nutritional landscape of chicken bones to uncover the truths and myths surrounding this intriguing canine treat.
Firstly, it's important to note that chicken bones, while a common household leftover, should be approached with caution. While they are not inherently toxic, they pose significant risks due to their splintering tendencies and potential choking hazards. But let's delve into the nutritional facts to better understand what exactly entices our furry friends.
The Drawbacks: Navigating the Risks
While chicken bones offer a protein-packed delight, they come with their share of negatives. Firstly, the splintering nature of cooked chicken bones can cause severe internal injuries. These shards can puncture the stomach or intestines, leading to dire consequences like peritonitis. Furthermore, the choking hazard is ever-present; the excitement of a tasty treat might lead dogs to gulp down bones without adequate chewing, causing blockages in the esophagus or other parts of the digestive system.
Complementary, Not Complete: Chicken Bones in a Dog's Diet
In the realm of canine nutrition, balance is the key. While chicken bones might appeal to your dog's taste buds, they should never replace a dog's primary diet. Instead, they should be viewed as occasional treats, offered in moderation and with utmost care. Incorporating them as a supplement to your dog's regular meals ensures they receive the necessary nutrients from their staple diet while enjoying the occasional delight of gnawing on a bone.
---
How Much Chicken Bones Can a Dog Safely Consume? Unlocking the Secret of Moderation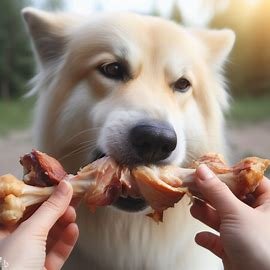 With the tantalizing prospect of treating your beloved canine friend to a savory chicken bone, a crucial question arises: how much is safe? Just as in our own diets, moderation is the linchpin in ensuring your dog's safety and well-being. Let's unravel the intricate guidelines for offering chicken bones, navigating the path of moderation to keep tails wagging and health intact.
Moderation: The Golden Rule
In the world of dog treats, the golden rule is moderation. While the occasional chicken bone can be a delightful surprise, it should never comprise more than a small fraction of your dog's daily calorie intake. Excessive treats, even if they are as enticing as chicken bones, can lead to weight gain and nutritional imbalances, potentially paving the way for health issues in the future.
Start Small, Observe Carefully
When introducing chicken bones to your dog's diet, it's prudent to start small. Offer a small piece and observe how your dog reacts. Some dogs may chew with gusto, while others might be less interested. Monitoring their reaction allows you to gauge their tolerance and preference. If your dog shows signs of discomfort or digestive issues, it's crucial to cease offering chicken bones immediately and consult with your veterinarian.
Preparation: The Key to Safe Consumption
Preparation plays a pivotal role in ensuring the safety of chicken bones. One effective method is to boil the bones thoroughly, softening them and reducing the risk of splintering. Boiling also eliminates any potential bacteria, offering a safer culinary experience for your canine companion. Avoid seasoning or adding spices, as these can be harmful to dogs.
Tailoring to Size and Breed
Size matters, especially in the context of your dog's breed. Large dogs, with their robust physiques, may be able to tolerate slightly larger chicken bones. Conversely, smaller breeds necessitate smaller portions to prevent choking hazards or digestive issues. Tailoring the size of the chicken bones to your dog's breed and weight ensures a safe and enjoyable chewing experience.
Appropriate Serving Sizes: A Guide for Responsible Treats
Understanding the appropriate serving sizes of chicken bones is vital for responsible pet ownership. As a general rule, a small dog (under 20 pounds) can safely consume a bone segment about the size of their muzzle, while larger dogs (over 50 pounds) can handle slightly larger portions. Always err on the side of caution, starting with smaller sizes and adjusting based on your dog's response.
---
Understanding the Risks: Unraveling the Dangers of Feeding Chicken Bones to Dogs
In the enticing world of culinary delights for dogs, chicken bones have long captured the attention of pet owners. However, beneath their savory allure lies a myriad of risks that can pose significant threats to our canine companions. Let's explore these dangers, shedding light on the potential pitfalls that come with feeding chicken bones to dogs.
Food Allergies and Intolerance: A Complex Web
Just as humans can have food allergies, dogs are not exempt from this immune response. Feeding chicken bones to dogs can trigger food allergies, leading to a range of adverse reactions. Short-term signs of food intolerance, particularly gastrointestinal distress, can manifest soon after consumption. These signs may include vomiting, diarrhea, or excessive gas, indicating that the canine digestive system is struggling to process the foreign substance.
Hazardous Components: Identifying the Culprits
Within the seemingly innocuous chicken bone lurk hazardous components that can wreak havoc on a dog's health. One notable concern is the presence of small bone fragments that can splinter off during chewing. These sharp pieces can cause abrasions or punctures in the digestive tract, paving the way for serious complications like peritonitis. Moreover, certain components of chicken bones, such as cartilage and connective tissues, can be difficult for dogs to digest, leading to discomfort and distress.
Allergic Reactions: A Red Flag to Watch For
Allergic reactions in dogs can manifest in various ways. Watch out for signs such as itching, swelling, hives, or difficulty breathing. These symptoms indicate an allergic response that demands immediate attention. Additionally, if your dog exhibits unusual behaviors, such as excessive restlessness or lethargy, it might be a sign of an adverse reaction to the chicken bones.
Specific Issues and Adverse Reactions
Beyond the generalized risks, specific issues can arise from consuming chicken bones. These can range from dental problems, including chipped or fractured teeth, to digestive blockages. Dogs, in their eagerness to devour bones, might swallow large chunks, leading to obstructions in the esophagus or intestines. This can cause severe discomfort, pain, and necessitate emergency medical intervention.
Recognizing the Signs: Adverse Reactions in Dogs
Understanding the signs and symptoms of adverse reactions in dogs is paramount for responsible pet ownership. Keep a vigilant eye for the following warning signs:
Vomiting and Diarrhea: Sudden and persistent episodes of vomiting or diarrhea.
Lethargy: Unusual tiredness or lack of energy.
Excessive Drooling: Drooling beyond the normal range, indicating discomfort.
Abdominal Pain: Signs of discomfort, restlessness, or sensitivity when the abdominal area is touched.
Changes in Behavior: Uncharacteristic behavior, such as aggression, agitation, or withdrawal.
---
Enhancing Your Dog's Culinary Experience: Creative Ways to Offer Chicken Bones
Feeding your dog chicken bones need not be a mundane affair; it can be a delightful and engaging experience that both you and your furry friend can enjoy together. While the risks associated with chicken bones are well-documented, there are creative ways to incorporate them into your dog's diet safely. Let's explore these methods, ensuring that your canine companion's meals are not only nutritious but also exciting and enjoyable.
Different Forms, Same Joy: Varied Ways to Offer Chicken Bones
Chicken bones can be presented to your dog in various forms, each adding a touch of novelty to their dining routine. For instance, fresh or frozen chicken bones can be served as an occasional treat. Freezing the bones not only provides relief to teething puppies but also offers an interactive, cooling experience for dogs of all ages. Additionally, chicken bones can be utilized as food toppers or mixers. Chopped into small, manageable pieces, they can elevate your dog's regular meals, introducing different textures and flavors.
Homemade Delights: Crafting Treats with Chicken Bones
Why not take the culinary creativity a step further by incorporating chicken bones into homemade treats or snacks? With a bit of culinary ingenuity, you can craft delectable delights that tantalize your dog's taste buds. Consider making chicken bone broth, a nutritious elixir that not only hydrates but also offers essential nutrients. Freeze this broth into ice cube trays for refreshing, chewable treats, especially during warm weather.
Recipe: Chicken Bone Broth Ice Cubes
Ingredients:

Chicken bones (raw or boiled) – 2 cups
Water – 4 cups
Optional: Vegetables like carrots or peas for added nutrition

Instructions:
a. Place the chicken bones in a large pot, adding water and optional vegetables.
b. Simmer the mixture on low heat for several hours, allowing the flavors and nutrients to meld.
c. Strain the broth to remove bones and vegetables, leaving a clear liquid.
d. Pour the broth into ice cube trays and freeze until solid.
e. Offer these chicken bone broth ice cubes as a refreshing treat or add them to your dog's water bowl for a flavorful twist.
Enhancing Flavor, Ensuring Safety: The Art of Mixing
Chicken bones can also be utilized to enhance the flavor of your dog's meals. If your dog enjoys kibble, consider adding a splash of chicken bone broth or incorporating small, soft bone pieces into the dry food. The aroma and taste of chicken bones can entice even the fussiest eaters, making mealtime an eagerly anticipated event.
Cautionary Note: Safety First
While creativity knows no bounds, it's vital to exercise caution. Always ensure the bones are thoroughly cooked and free from seasoning or spices. Avoid using cooked chicken bones, as they are prone to splintering. Supervision remains crucial, even during treat time, to prevent any choking hazards or digestive issues.
---
Frequently Asked Questions: Can Dogs Eat Chicken Bones? Unraveling the Mysteries
1. Can dogs eat any type of chicken bones?
Dogs should only consume raw, uncooked bones. Cooked chicken bones, due to their brittle nature, pose a significant risk of splintering and causing harm to a dog's digestive tract. Raw bones, especially from raw poultry like chicken, are softer and less likely to splinter, making them safer options.
2. How can I tell if my dog has swallowed a chicken bone?
If your dog has swallowed a chicken bone whole, you might notice signs such as choking, gagging, or attempting to vomit unsuccessfully. In such cases, it's crucial to contact your veterinarian immediately. An x-ray may be necessary to determine if the bone has lodged anywhere in the digestive system.
3. Can small dogs eat chicken bones?
Small dogs are at a higher risk of choking on bones due to their smaller airways and digestive tracts. If you choose to give your small dog chicken bones, ensure they are appropriately sized and supervise their chewing closely. Even with small, raw bones, it's essential to observe your dog to prevent any accidents.
4. Are there any benefits to feeding chicken bones to dogs?
While chicken bones can provide essential nutrients like calcium and phosphorus, they should never replace a balanced diet. Additionally, the risks associated with chicken bones outweigh their potential benefits. It's advisable to offer these bones as occasional treats, always adhering to safety guidelines.
5. Can puppies eat chicken bones?
Puppies' developing teeth and jaws may find relief in gnawing on softer bones like those from chicken. However, these bones should be large enough to prevent choking and always offered under supervision. Always consult your veterinarian about the appropriateness of bones for your specific puppy's age and breed.
6. How can I make sure my dog doesn't choke on a chicken bone?
Supervision is the key to prevent choking incidents. When offering chicken bones, ensure they are appropriately sized for your dog. Monitoring your pet's chewing habits and removing the bone once it becomes small enough to swallow is essential. Investing in bones specifically designed for dogs can also mitigate choking risks.
7. Can chicken bones cause long-term health issues in dogs?
Aside from immediate dangers like choking and digestive blockages, long-term issues can arise from continuous ingestion of bones. Dental problems, such as fractured teeth, and potential wear on the digestive tract can occur. Regular veterinary check-ups can help identify any underlying health concerns related to diet.
8. What should I do if my dog exhibits symptoms after eating a chicken bone?
If you notice any concerning symptoms like vomiting, diarrhea, abdominal pain, or lethargy after your dog has ingested a chicken bone, contact your veterinarian promptly. These symptoms might indicate an adverse reaction or a potential blockage, both of which require immediate medical attention.
9. Are there alternative treats I can offer instead of chicken bones?
Absolutely. There are numerous safe and enjoyable treats available for dogs. Opt for commercial dog treats made specifically for canine consumption. Additionally, fruits and vegetables like apples, carrots, or even frozen berries can provide a healthy, crunchy alternative.
10. Can I feed my dog boneless chicken instead?
Yes, boneless cooked chicken can be a safer alternative to chicken bones. However, it's crucial to remove all bones before offering the meat to your dog. Cooked chicken should be plain and unseasoned, free from any spices or additives that could be harmful to dogs.
---

Conclusion
In conclusion, the question of whether dogs can eat chicken bones is nuanced and requires careful consideration. While it's true that dogs can consume raw, uncooked chicken bones in small amounts as an occasional treat, the potential risks associated with splintering and choking cannot be ignored. Understanding your dog's size, chewing habits, and overall health is crucial when deciding on suitable treats.
As responsible pet owners, it's essential to prioritize your dog's safety and well-being. Instead of chicken bones, consider offering alternative treats that are both safe and healthy. Fruits like apples and carrots provide a satisfying crunch while offering essential vitamins and minerals. Additionally, specialized dog treats designed for dental health are excellent options, promoting strong teeth and gums.