Introduction
Did you ever wonder if your beloved canine companion can enjoy the same foods you do? Dogs have a curious way of eyeing our meals, their wagging tails and eager eyes hoping for a tasty morsel. As a responsible pet owner, it's crucial to discern which human foods are safe for your furry friend. Among the array of vegetables, cauliflower often finds its way onto our plates. But can our dogs partake in this cruciferous delight as well?
Imagine this: you're savoring a delicious cauliflower dish, and your dog gives you those irresistible puppy eyes, begging for a bite. Before you decide to share, let's uncover the truth about cauliflower and its compatibility with our canine companions. Did you know that cauliflower is one of the most versatile and nutritious foods in the world? From its cancer-fighting properties to being rich in vitamins and minerals, cauliflower boasts an impressive resume in the human diet. But can your furry friend enjoy this cruciferous treat as well?
Understanding what our dogs can and cannot eat is paramount. Dogs, like humans, need a balanced diet to stay healthy and happy. Yet, not all human foods align with their nutritional needs. In fact, some foods can be harmful and even toxic to them. As responsible dog owners, it's our duty to be well-informed about what constitutes a safe and healthy diet for our pets.
Purpose of the Blog Post
In this article, we embark on a journey to unravel the mystery surrounding cauliflower and its canine compatibility. We will delve deep into the question: can dogs eat cauliflower? To provide you with a comprehensive understanding, we will explore the pros and cons of incorporating cauliflower into your dog's diet. From its nutritional benefits to potential hazards, we will navigate the intricate details. Additionally, we will address the vital aspects such as how much cauliflower is too much for your furry friend, and what to do if your dog happens to ingest a part of cauliflower that is not safe for consumption.
Cauliflower, a cruciferous vegetable renowned for its versatility and health benefits in the human diet, often raises the question: can our canine companions indulge in its wholesome goodness too? Fortunately, cauliflower is not toxic or dangerous to dogs, making it a safe option for occasional canine consumption. In fact, some dogs may even relish the mild and slightly nutty taste of this cruciferous delight. It's important, however, to understand both the nutritional benefits and potential drawbacks before sharing this vegetable with your furry friend.
Table of Contents
Nutrition Facts of Cauliflower
Before we explore the nutritional aspects, let's take a glance at the essential components that make up cauliflower. Here's a breakdown of the nutrition facts for cauliflower:
| Nutrient | Amount per 100g |
| --- | --- |
| Calories | 25 kcal |
| Carbohydrates | 5 g |
| Protein | 2 g |
| Dietary Fiber | 2 g |
| Vitamin C | 48.2 mg (80%) |
| Vitamin K | 15.5 mcg (20%) |
| Vitamin B6 | 0.2 mg (10%) |
| Folate | 57 mcg (14%) |
| Calcium | 22 mg (2%) |
| Iron | 0.4 mg (2%) |
| Magnesium | 15 mg (4%) |
Nutritional Benefits of Cauliflower for Dogs
Cauliflower offers several nutritional benefits that can be advantageous for dogs when consumed in moderation. It is a low-calorie vegetable, making it a suitable treat for dogs on a calorie-controlled diet. Additionally, cauliflower is a good source of dietary fiber, aiding in digestive health and promoting regular bowel movements for your furry friend.
Moreover, cauliflower is rich in vitamins and minerals vital for a dog's overall well-being. It contains a substantial amount of Vitamin C, an antioxidant that supports the immune system and helps in collagen formation, contributing to healthy skin and coat. Vitamin K, another nutrient present in cauliflower, plays a crucial role in blood clotting and bone health. Furthermore, Vitamin B6 and folate, both found in cauliflower, contribute to energy metabolism and cell division, ensuring your dog's body functions optimally.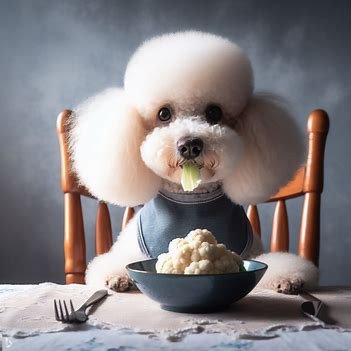 Drawbacks and Caution
While cauliflower provides numerous health benefits, it's essential to be aware of potential drawbacks. One concern is the presence of compounds called purines. Purines, when broken down, can form uric acid, which might lead to health issues in dogs, particularly those prone to kidney stones or related conditions. Therefore, if your dog has a history of such health problems, it's advisable to consult your veterinarian before introducing cauliflower into their diet.
Another consideration is the gas-inducing nature of cruciferous vegetables, including cauliflower. For some dogs, consuming cauliflower might cause bloating and flatulence. If your furry friend tends to have a sensitive stomach, it's wise to introduce cauliflower gradually and observe their reaction. If you notice any signs of discomfort, it's best to avoid feeding cauliflower to your dog.
In summary, cauliflower can be a nutritious and enjoyable addition to your dog's diet if offered in moderation and with caution. Its low-calorie content, coupled with the array of vitamins and minerals, makes it a healthy treat option. However, it's crucial to be mindful of your dog's individual health conditions and dietary sensitivities. As with any new food, introducing cauliflower slowly and observing your dog's response is key. By understanding the nutritional benefits and potential drawbacks, you can make an informed decision about whether cauliflower is a suitable addition to your furry friend's menu. Stay tuned as we delve deeper into the topic, exploring more aspects related to dogs and cauliflower in the upcoming sections.
How Much Cauliflower Can a Dog Eat?
Feeding your furry friend human food, especially vegetables like cauliflower, can be a delightful experience for both you and your canine companion. However, like all good things, moderation is key. When it comes to sharing cauliflower with your dog, it's essential to understand the importance of portion control and how to introduce this cruciferous vegetable to your pet's diet.
Moderation is Key
Treats, including vegetables like cauliflower, should never constitute more than a small percentage of your dog's daily caloric intake. Dogs have specific dietary requirements tailored to their size, age, and breed. Excessive treats, even healthy ones, can upset this delicate balance, leading to potential health issues. As a rule of thumb, treats should only make up around 10% of your dog's daily caloric intake. So, while sharing a piece of cauliflower is fine, it should not become a regular replacement for your dog's balanced dog food.
Start Small and Observe
Before introducing cauliflower into your dog's diet, it's wise to start with a small piece. Dogs, like humans, can have individual reactions to new foods. Some may take to cauliflower immediately, while others might need time to adjust. Begin with a tiny portion and closely observe how your dog reacts. Look for signs of allergies or digestive issues, such as itching, vomiting, or diarrhea. If your dog shows any adverse reactions, it's best to avoid giving them cauliflower in the future.
Preparation Matters
When offering cauliflower to your dog, it's crucial to prepare it in a dog-friendly manner. Raw cauliflower can be difficult for dogs to digest and might cause gastrointestinal distress. To make it easier on your furry friend's stomach, it's advisable to steam or boil the cauliflower before serving. Steaming or boiling softens the vegetable, making it more palatable and digestible for your dog.
Consider Your Dog's Size and Breed
The size and breed of your dog play a significant role in determining how much cauliflower they can tolerate. Larger dogs, due to their higher body weight and metabolism, can generally handle larger quantities of vegetables like cauliflower compared to smaller dogs. However, this isn't a universal truth; individual tolerance levels vary. Even within a specific breed, dogs can have different reactions to certain foods. Therefore, it's essential to pay attention to your dog's reactions and adjust portion sizes accordingly.
Appropriate Serving Sizes Based on Weight
Determining the right serving size of cauliflower for your dog involves considering their weight. As a general guideline:
Small Dogs (up to 20 lbs / 9 kg): A small dog can have about 1-2 small florets of cauliflower as an occasional treat.
Medium Dogs (20-50 lbs / 9-23 kg): A medium-sized dog can enjoy 2-4 small florets of cauliflower occasionally.
Large Dogs (50-75 lbs / 23-34 kg): A large dog can have 4-6 small florets of cauliflower as an occasional treat.
Giant Dogs (75+ lbs / 34+ kg): Giant dog breeds can have 6-8 small florets of cauliflower as a rare treat.
Always remember, these are general guidelines. Each dog is unique, so it's vital to monitor your pet's response and adjust portion sizes as needed. By approaching cauliflower treats with mindfulness and care, you can ensure your furry friend enjoys this vegetable without any adverse effects. Stay tuned as we explore more aspects of canine nutrition and answer essential questions about your dog's diet in the subsequent sections.
What Are the Risks of Feeding Cauliflower to Dogs?
While cauliflower can be a delightful and nutritious addition to your dog's diet when given in moderation, it's crucial to be aware of the potential risks associated with feeding this vegetable to your furry friend. Like humans, dogs can also develop food allergies, and cauliflower is no exception. Let's delve into the possible risks and hazards linked to feeding cauliflower to dogs.
Food Allergies and Intolerance
Just like with any new food, dogs can develop allergies to cauliflower. Common signs of a food allergy in dogs include itching, hives, swelling around the face or mouth, and digestive issues such as vomiting and diarrhea. While food allergies can be more long-term reactions, food intolerance often leads to short-term discomfort, especially in the digestive system. Cauliflower, when not prepared or served appropriately, can cause gastrointestinal distress, leading to symptoms like stomach cramps, gas, and bloating.
Potential Hazards in Cauliflower
Cauliflower contains certain components that might trigger allergic reactions in sensitive dogs. One of these components is purines, which, as mentioned earlier, can be converted into uric acid in the body. For dogs prone to kidney stones or related issues, excessive consumption of cauliflower might exacerbate these conditions. Additionally, cauliflower contains isothiocyanates, which can irritate a dog's digestive system, causing discomfort and potential gastrointestinal distress.
Specific Issues Caused by Consuming Cauliflower
Apart from allergies and digestive issues, there are specific concerns related to cauliflower consumption in dogs. Dogs that consume large quantities of cauliflower might experience symptoms like excessive gas, which can be uncomfortable for both your pet and your household. Moreover, the high fiber content in cauliflower can lead to an upset stomach and diarrhea, especially if your dog is not used to a high-fiber diet. In severe cases, consuming large amounts of cauliflower can cause an obstruction in the digestive tract, leading to serious health complications that require immediate veterinary attention.
Signs and Symptoms of Adverse Reactions
It's crucial to be vigilant and recognize the signs of adverse reactions in your dog if they've consumed cauliflower. Keep an eye out for the following symptoms:
Vomiting: Persistent vomiting after consuming cauliflower can indicate an adverse reaction.
Diarrhea: Loose stools or frequent bowel movements can suggest digestive distress.
Lethargy: Unusual tiredness or lack of energy might indicate discomfort.
Excessive Gas: Increased flatulence can be a sign of gastrointestinal issues.
Swelling: Swelling around the face, mouth, or other body parts could signify an allergic reaction.
Itching and Hives: Scratching, itching, or the appearance of hives on the skin can point towards allergies.
If you observe any of these symptoms in your dog after they've consumed cauliflower, it's essential to contact your veterinarian immediately. Prompt action can prevent the situation from worsening and ensure your dog receives the necessary medical attention.
In conclusion, while cauliflower can be a wholesome treat for dogs when offered in moderation, it's vital to be aware of the potential risks and hazards associated with its consumption. By understanding the signs of adverse reactions and monitoring your dog's response, you can make informed decisions about whether cauliflower is suitable for your furry friend. Stay tuned as we explore further topics related to canine nutrition, ensuring your pet leads a healthy and happy life.
How to Feed Cauliflower to Your Dog and Make It More Enjoyable for Them
Feeding cauliflower to your dog can be a delightful experience for both you and your furry companion, especially when done in creative and enjoyable ways. There are several methods to incorporate cauliflower into your dog's diet, making it not only nutritious but also a tasty treat. Let's explore how you can feed cauliflower to your dog and make it an exciting addition to their meals.
Different Ways to Feed Cauliflower
Cauliflower can be served to your dog in various forms, depending on their preferences and dietary needs. Here are some ways you can offer cauliflower to your furry friend:
Fresh or Frozen Treats: Fresh cauliflower florets, when properly cleaned and cut into manageable pieces, can be a satisfying and crunchy treat for your dog. You can also freeze cauliflower florets for a refreshing and soothing snack, especiallyduring warmer seasons.
Food Topper or Mixer: Cooked cauliflower can be blended or mashed and used as a food topper or mixer for your dog's regular meals. Mixing it with their usual food adds both flavor and nutritional value to their diet.
Homemade Treats or Snacks: Get creative in the kitchen and prepare homemade dog treats using cauliflower as one of the main ingredients. Cauliflower can be baked or dehydrated to create crunchy treats that your dog will love. Incorporate other dog-friendly ingredients like peanut butter, oats, or eggs for added flavor and texture.
Cauliflower-Based Recipes: Explore the world of canine culinary delights by preparing cauliflower-based recipes that your dog will find irresistible. For instance, you can make cauliflower and peanut butter dog biscuits, cauliflower and cheese bites, or even cauliflower dog-friendly muffins. These recipes not only provide a tasty experience but also allow you to control the ingredients, ensuring your dog's treats are wholesome and free from harmful additives.
Enhancing Your Dog's Meals with Cauliflower
Enhancing your dog's meals with cauliflower is not only about providing additional nutrients but also about making the dining experience more enjoyable. Dogs, like humans, appreciate variety and flavor in their food. By adding cauliflower in different forms, you can stimulate their taste buds and add excitement to their meals.
Creative Meal Mix-Ins: Mix finely chopped or pureed cauliflower into your dog's regular food. The subtle crunch and mild taste of cauliflower can complement the texture of their meal and enhance its overall appeal.
Cauliflower Gravy: Create a cauliflower-based gravy by blending cooked cauliflower with a small amount of low-sodium broth. Pour this gravy over your dog's kibble to add moisture and flavor. This method not only makes the meal more enjoyable but also ensures your dog stays hydrated.
Interactive Food Toys: Stuff cauliflower florets into interactive food toys or puzzle feeders designed for dogs. This engages their mind and natural foraging instincts while providing a tasty reward when they successfully retrieve the cauliflower pieces.
Cauliflower Smoothies: Blend cooked cauliflower with dog-safe fruits like apples or bananas and a splash of water to create a nutritious smoothie. Pour this mixture into ice cube trays and freeze it for a refreshing, icy treat on hot days.
Cauliflower-Based Recipes for Your Dog
Here are two simple and delicious cauliflower-based recipes that you can prepare for your furry friend:
Cauliflower and Peanut Butter Dog Biscuits:
Ingredients:
1 cup cooked and mashed cauliflower
1/2 cup natural peanut butter (unsalted, with no xylitol)
1 1/2 cups whole wheat flour
1 egg
Instructions:
Preheat your oven to 350°F (175°C) and line a baking sheet with parchment paper.
In a large bowl, mix the mashed cauliflower, peanut butter, whole wheat flour, and egg until well combined.
Roll out the dough on a floured surface to your desired thickness and use cookie cutters to create biscuit shapes.
Place the biscuits on the prepared baking sheet and bake for 20-25 minutes or until golden brown.
Allow the biscuits to cool completely before serving them to your dog.
Cauliflower and Cheese Bites:
Ingredients:
1 cup cooked and finely chopped cauliflower
1 cup grated cheese (cheddar or your dog's favoritevariety)
1/2 cup oat flour
1 egg
Instructions:
Preheat your oven to 350°F (175°C) and line a baking sheet with parchment paper.
In a bowl, combine the chopped cauliflower, grated cheese, oat flour, and egg until the mixture forms a dough.
Scoop tablespoon-sized portions of the dough and roll them into small balls. Place the balls on the prepared baking sheet.
Flatten each ball slightly with a fork or your fingers to create a bite-sized shape.
Bake the cheese bites for 15-18 minutes or until they are firm and lightly golden.
Let the bites cool completely before offering them to your dog.
Incorporating cauliflower into your dog's diet can be a fun and rewarding experience. By exploring these creative methods and preparing homemade treats, you not only provide your dog with nutritious options but also strengthen the bond between you and your beloved pet. Remember to always monitor your dog's reactions and consult your veterinarian if you have any concerns about their diet. Stay tuned as we uncover more exciting ways to enhance your dog's nutrition and well-being in the upcoming sections.
10 FAQs About Dogs Eating Cauliflower
As the trend of incorporating natural, whole foods into our pets' diets continues, questions about specific foods, including cauliflower, are on the rise. Here, we address ten frequently asked questions about dogs eating cauliflower, shedding light on common concerns and misconceptions.
1. Can All Dogs Eat Cauliflower?
Yes, most dogs can safely eat cauliflower in moderation. However, it's important to monitor your dog for any adverse reactions, especially during the first introduction. Dogs with certain health conditions, like kidney problems, should avoid cauliflower due to its purine content.
2. Can Dogs Eat Cauliflower Leaves and Stalks?
Yes, dogs can eat cauliflower leaves and stalks. These parts of the vegetable are edible and offer the same nutritional benefits as the florets. Just ensure they are clean, cooked, and cut into small, manageable pieces to prevent choking hazards.
3. Can Cauliflower Replace a Dog's Regular Diet?
No, cauliflower should not replace your dog's regular diet. While it's a nutritious vegetable, it lacks essential nutrients that are abundant in dog-specific food. Cauliflower should be considered a treat or supplement, not a primary source of nutrition.
4. Is Raw Cauliflower Safe for Dogs to Eat?
While raw cauliflower is not toxic to dogs, it can be challenging for them to digest. Cooking cauliflower softens it, making it easier for dogs to consume and digest. For this reason, it's generally recommended to feed your dog cooked or steamed cauliflower.
5. Can Dogs Eat Cauliflower Every Day?
It's not advisable to feed your dog cauliflower every day. Like any treat, cauliflower should be given in moderation. Regularly offering cauliflower can upset your dog's digestive system due to its high fiber content, leading to gastrointestinal issues such as gas, bloating, or diarrhea.
6. Can Puppies Eat Cauliflower?
Puppies can eat cauliflower, but it's best to introduce it gradually into their diet. Start with small, cooked pieces to see how they react. Puppies have sensitive digestive systems, so it's crucial to monitor their response and adjust the quantity accordingly.
7. Are There Any Health Benefits to Dogs Eating Cauliflower?
Yes, there are several health benefits to dogs eating cauliflower in moderation. Cauliflower is a good source of fiber, vitamins C and K, and folate. These nutrients support digestion, immune function, and overall health. Additionally, cauliflower's low-calorie content makes it a suitable treat for dogs on a weight management diet.
8. Can Dogs with Allergies Eat Cauliflower?
Dogs with allergies can eat cauliflower, but it's essential to watch for any allergic reactions. Allergic responses vary from dog to dog. If your dog has shown allergies to other vegetables, it's advisable to consult your veterinarian before introducing cauliflower into their diet.
9. Can Dogs Eat Frozen Cauliflower?
Yes, dogs can eat frozen cauliflower, but it should be thawed and cooked before serving. Freezing cauliflower preserves its nutrients, and dogs often enjoy the crunchy texture of frozen florets. However, always ensure the cauliflower is completely thawed and cooked to make it easily digestible.
10. Can Cauliflower Help with Dog Breath Odor?
Yes, the crunchiness of cauliflower can help with your dog's breath odor. Chewing on vegetables like cauliflower can aid in removing plaque and tartar buildup on their teeth, contributing to better breath. However, this should not replace regular dental care such as brushing your dog's teeth or providing dental chews.
In summary, while cauliflower can be a healthy addition to your dog's diet, it's crucial to offer it responsibly. Monitoring your dog for any adverse reactions, introducing it gradually, and avoiding excessive quantities are key to ensuring your furry friend enjoys the benefits of cauliflower without any drawbacks. Always consult your veterinarian if you have concerns about your dog's diet or if you notice any unusual reactions after introducing new foods. With proper care and attention, cauliflower can be a delightful and nutritious treat for your beloved canine companion. Stay informed and keep your furry friend's well-being a top priority in their culinary adventures.

Conclusion
In conclusion, while dogs can indeed enjoy cauliflower in small amounts as an occasional treat, it's crucial to tread carefully. As we've explored, cauliflower offers certain nutritional benefits but also comes with potential risks, especially if not prepared or served correctly. Remember, cauliflower is not a necessity in your dog's diet, and excessive or improper feeding can do more harm than good.
Alternative Safe Treats
If you're seeking alternative snacks for your furry friend, there are plenty of healthy options. Consider treats like baby carrots, apple slices (without seeds), or blueberries. These fruits are not only delicious but also packed with essential vitamins and minerals, promoting your dog's overall well-being. Always remove any seeds, pits, or cores before offering these treats to your pet.
Engage with Us
Do you have any questions or concerns about introducing new foods to your dog's diet? We're here to help! Feel free to share your thoughts or ask any queries in the comment section below. Have you ever tried alternative treats with your dog? How did they respond? We'd love to hear about your experiences! Connect with us on our social media platforms and share your stories. Your insights can benefit fellow pet lovers, creating a community where we all ensure our furry companions lead happy, healthy lives.
Dr. Rachel Davis is a passionate veterinarian, having completed her studies in veterinary medicine at the University of California. Alongside her professional commitments, she remains dedicated to her beloved dog and has a profound love for all animals. In her spare time, she indulges in her passion for writing, often focusing on topics related to veterinary care and animal welfare.