Introduction
Every dog owner wants the best for their furry companion. We pamper them with treats, play fetch in the park, and make sure they have a cozy spot by our side. But when it comes to their diet, confusion often arises. We all know the basics – no chocolate, no grapes – but what about cashews? It's a common snack for us humans, but can our canine friends indulge in this crunchy delight too?
In this comprehensive guide, we embark on a journey to unravel the mystery surrounding cashews and our canine companions. Picture this: you're enjoying a handful of cashews, and those big, innocent eyes of your dog follow every move, hoping for a share of the crunchy goodness. But before you toss a nut their way, there are vital facts every dog owner should know.
Table of Contents
Why Your Dog's Diet Matters
Our pets are not just animals; they are beloved members of our families. As responsible pet owners, westrive to provide them with a healthy and balanced diet. A nutritious diet is the cornerstone of a happy and active life for our furry friends. But the path to understanding what constitutes a healthy diet isn't always clear, especially when it comes to incorporating human food into their meals.
Can dogs eat cashews? It's a question that echoes in the minds of dog owners, and one that we're here to answer definitively. In the following sections, we will delve deep into the nutritional value of cashews, explore the potential risks and benefits of sharing this snack with your canine companion, and provide you with the knowledge you need to make informed decisions about your dog's diet.
Navigating the Canine Culinary World
Our canine companions, with their wagging tails and unwavering loyalty, rely on us for their sustenance. Understanding the nuances of what they can and cannot eat is crucial. Have you ever wondered about the intricacies of your dog's digestive system? Or pondered over the foods that might be harmful despite seeming harmless?
In this article, we aim to be your guiding light through the maze of canine culinary options. We will shed light on the specifics of cashews – from their scientific name, Anacardium occidentale, to their rich composition of proteins, healthy fats, and an array of vitamins and minerals. With this knowledge, you will be equipped to make informed choices about your dog's diet, ensuring they not only enjoy their meals but also stay healthy and vibrant.
The Mystery of Cashews Unraveled
Imagine this scenario: you're relaxing with your furry friend by your side, and you absentmindedly drop a cashew on the floor. Your dog, ever-vigilant, sniffs it out and looks at you with those imploring eyes. Before you decide to share or not to share, it's essential to understand the implications.
As we unravel the mystery of cashews in your dog's diet, we will discuss the importance of moderation. Yes, dogs can technically eat cashews, but the devil is in the details. Cashews are not toxic to dogs, but they come with important caveats. The high-fat and calorie content in cashews can lead to weight gain and digestive issues if consumed in excess. Moreover, the pancreas, a vital organ in your dog's body, can be strained due to the high-fat content, potentially leading to pancreatitis, a severe condition that demands immediate medical attention.
Cashews: A Nutritional Overview
The prospect of sharing a delightful snack with your furry companion can be enticing, especially when it's as universally enjoyed as cashews. The good news for dog owners is that cashews are not inherently toxic to our canine friends. Many dogs, in fact, relish the creamy texture and nutty taste of this popular snack. To provide you with a clear picture of what you might be sharing with your pet, let's break down the nutritional content of cashews.
| Nutrient | Amount per 100g |
| --- | --- |
| Proteins | 18.2g |
| Fats | 43.9g |
| Carbohydrates | 30.5g |
| Dietary Fiber | 3.3g |
| Vitamins | |
| Vitamin E | 0.9mg (5% DV) |
| Vitamin K | 34.1mcg (43% DV) |
| Minerals | |
| Magnesium | 292mg (73% DV) |
| Zinc | 5.8mg (53% DV) |
| Iron | 6.7mg (84% DV) |
Cashews: The Pros and Cons for Dogs
While cashews offer a decent amount of protein, healthy fats, and essential minerals, there are notable drawbacks. The high-fat content, with a substantial portion being saturated fats, can lead to weight gain and digestive issues in dogs if consumed excessively. Additionally, cashews are calorie-dense, meaning they can contribute significantly to your dog's daily caloric intake, potentially leading to obesity if not monitored.
Another concern arises from the phosphorus content in cashews. While phosphorus is essential, an excess can disrupt the balance of calcium and phosphorus in a dog's body, leading to bone-related issues over time. Furthermore, cashews are often heavily processed, salted, or seasoned when marketed for human consumption. Dogs, however, don't fare well with added salt and spices, which can lead to sodium toxicity and other health problems.
The Balanced Canine Diet
Understanding the nutritional content of cashews is vital, but it's equally essential to emphasize that cashews should never be a substitute for a well-balanced dog diet. Dogs have specific dietary requirements tailored to their biological needs. While cashews can offer some nutritional benefits, they should be considered an occasional treat rather than a regular part of their diet.
Making the Right Choices for Your Furry Friend
When it comes to sharing a snack with your beloved pet, knowledge is power. Now equipped with a detailed understanding of cashews and their impact on your dog's health, you are better prepared to make informed decisions. Remember, moderation is key. If you decide to share a cashew or two with your dog, ensure they are unsalted and unseasoned, and always observe their reactions closely.
In the grand tapestry of canine nutrition, cashews can find their place as an occasional, mindful indulgence. Your dog relies on your judgment to provide them with not only love and care but also a diet that promotes their overall well-being. As you navigate the world of treats and snacks, consider the specifics of your dog's breed, age, and health condition. Consult with your veterinarian if you have any doubts or concerns about your dog's diet, ensuring that every treat you share strengthens the bond you both cherish.
With the knowledge of cashews and their place in your dog's diet, you're now prepared to embark on a culinary journey that keeps your furry friend both delighted and healthy. Remember, every bite shared is a moment of love, care, and companionship, enriching the beautiful relationship you share with your loyal canine companion.
Understanding Portion Control: How Much Cashews Can Your Dog Safely Consume?
In the world of dog treats, moderation is the golden rule. It's no different when it comes to sharing cashews with your furry friend. While we've established that dogs can enjoy cashews in moderation, understanding the appropriate portion size is crucial. As a responsible pet owner, it's your duty to ensure that treats, including cashews, don't exceed a certain percentage of your dog's daily caloric intake.
Moderation: The Key to Canine Health
The mantra here is simple: treats, including cashews, should not make up more than 10% of your dog's daily calorie intake. Dogs havespecific dietary needs, and while cashews contain essential nutrients, they should be viewed as supplementary, not staple.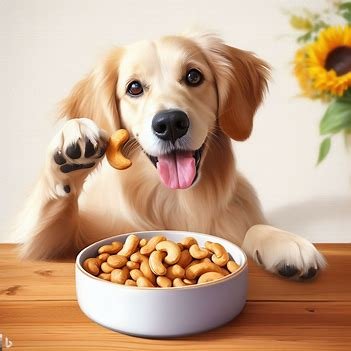 When introducing cashews to your dog, start small. Offer a tiny piece and observe your pet's reaction closely. Like humans, dogs can have varying tolerances to different foods, and while one dog might enjoy cashews without any issues, another might have a sensitive stomach. Watch out for any signs of discomfort, allergies, or digestive problems.
Preparing Cashews for Your Canine Companion
Before your dog indulges in a cashew, preparation is key. Opt for plain, unsalted, and unseasoned cashews. The added salt and spices in seasoned cashews can be harmful to your dog's health, potentially leading to sodium-related issues. If you can, choose raw or roasted cashews without any added flavorings.
Moreover, the size and breed of your dog play a vital role in determining the appropriate serving size. A large dog, with its higher metabolism, might be able to tolerate more cashews than a smaller breed. Always adjust the portion size according to your dog's weight. For example, a Golden Retriever could safely consume a few more cashews than a Chihuahua.
Appropriate Serving Sizes Based on Your Dog's Weight
Understanding your dog's weight is pivotal in determining the right portion size. Here's a general guideline to help you gauge how much cashews your furry friend can safely enjoy:
Small Dogs (e.g., Chihuahua, Dachshund): Up to 1-2 cashews per day
Medium Dogs (e.g., Beagle, Bulldog): Up to 3-4 cashews per day
Large Dogs (e.g., Golden Retriever, Labrador Retriever) Up to 5-6 cashews per day
Remember, these are approximate figures. Always monitor your dog's reaction and consult your veterinarian if you're unsure about the suitable portion size, especially if your dog has specific health concerns or allergies.
A Happy and Healthy Treat for Your Furry Friend
Incorporating cashews into your dog's diet can be a delightful experience for both you and your pet. When approached with knowledge, awareness, and a keen eye on moderation, cashews can become a tasty, occasional treat. Keeping your dog's health at the forefront, you can indulge your pet in a safe and enjoyable snack time.
As a responsible pet owner, your understanding of your dog's dietary needs contributes significantly to their overall well-being. Cashews, in the right quantity and preparation, can be part of the shared moments of joy and affection between you and your loyal companion. Always remember, a healthy dog is a happy dog, and your attention to their diet plays a pivotal role in ensuring their enduring happiness and vitality.
Navigating the Risks: Understanding the Hazards of Cashews for Dogs
While cashews might seem like a harmless treat, it's essential to recognize that they come with their share of risks, especially for our canine companions. Understanding these potential hazards is vital for ensuring your dog's safety and well-being.
Food Allergies in Dogs
Just like humans, dogs can develop food allergies. Cashews, being nuts, are a common allergen. While not all dogs are allergic to cashews, it's imperative to be vigilant. If your dog has never tasted cashews before, consider it akin to introducing any new food. Start with a tiny portion and monitor closely for any signs of an allergic reaction.
Short-Term Signs of Food Intolerance
Food intolerance in dogs often manifests as gastrointestinal distress. If your dog consumes cashews and experiences issues like vomiting, diarrhea, or excessive gas, it could bea sign of intolerance. While these symptoms might not indicate an allergy, they can still cause significant discomfort to your pet.
Specific Hazards in Cashews
Cashews, like other nuts, contain certain components that can be hazardous for dogs. The high-fat content, while beneficial in moderation, can lead to obesity and related health problems if consumed excessively. Moreover, the natural molds that can grow on cashews in certain conditions can produce mycotoxins, which are harmful to both humans and animals. While roasting can kill some of these molds, it's not a foolproof method.
Signs of Allergic Reactions
When introducing cashews to your dog, be alert for signs of allergic reactions. These can include itching, swelling, hives, difficulty breathing, and even anaphylaxis, a severe, life-threatening reaction. If you notice any of these symptoms after your dog has consumed cashews, seek immediate veterinary attention.
Potential Issues from Consuming Cashews
Additionally, there are specific issues that can arise from dogs eating cashews. Pancreatitis, a condition where the pancreas becomes inflamed, can be triggered by the high-fat content in cashews. This condition can be severe, requiring immediate medical attention.
Moreover, cashews, especially salted or seasoned ones, can lead to sodium ion toxicosis in dogs. Symptoms include vomiting, diarrhea, decreased appetite, and increased thirst and urination. If your dog shows any of these signs after consuming salted cashews, consult your veterinarian promptly.
Vigilance: The Key to Your Dog's Safety
In summary, while cashews offer some nutritional benefits, the risks associated with them, especially in large or frequent quantities, cannot be overlooked. As a diligent and caring pet owner, your vigilance is paramount. Always observe your dog closely after introducing new foods and treats. Keep an eye out for any changes in behavior, digestion, or overall well-being.
By understanding the potential hazards and being mindful of your dog's diet, you can ensure that your beloved pet remains healthy and happy. Remember, when it comes to your dog's diet, caution is your best friend. Your furry companion relies on you to make choices that enhance their quality of life. With your knowledge and care, youcan provide a safe and loving environment where your dog can thrive, free from unnecessary health risks.
Delightful Ways to Introduce Cashews into Your Dog's Diet
As a responsible pet owner, you not only want your dog to be healthy but also happy. While cashews should be given in moderation, there are creative and enjoyable ways to incorporate them into your dog's diet, making mealtime a delightful experience for your furry friend.
Fresh or Frozen Treats
One of the simplest ways to offer cashews to your dog is as a fresh or frozen treat. You can freeze whole cashews or small pieces in an ice tray with water, creating cashew-infused ice cubes. These frozen treats are perfect for hot days, providing both refreshment and nutrition. Remember, though, to always serve them in a safe size suitable for your dog's breed.
Cashews as Food Toppers or Mixers
Enhance your dog's regular meals by using cashews as food toppers or mixers. Crushed or finely chopped cashews can be sprinkled over your dog's kibble, adding a crunchy texture and a burst of flavor to their meal. Mixing cashew bits into wet dog food can create an interesting contrast in textures, making the meal more enjoyable.
Homemade Treats and Snacks
Get creative in the kitchen by making homemade treats or snacks using cashews. Here's a simple and dog-friendly recipe to get you started:
Cashew and Banana Bites:
Ingredients:
1 ripe banana, mashed
1/2 cup unsalted cashews, finely chopped or crushed
1/2 cup oat flour (you can make this by grinding oats in a blender)
1 egg
Instructions:
Preheat your oven to 350°F (175°C) and line a baking sheet with parchment paper.
In a bowl, combine the mashed banana, chopped cashews, oat flour, and egg. Mix until a dough forms.
Scoop out small portions of the dough and roll them into bite-sized balls.
Place the balls on the prepared baking sheet and flatten them slightly with a fork.
Bake for 12-15 minutes or until the treats turn golden brown.
Let the treats cool completely before serving them to your dog.
Enhancing Your Dog's Dining Experience
Aside from treats and snacks, cashews can also be used to enhance your dog's regular meals. You can blend cashews into a creamy paste and mix it with their wet food, adding a nutty richness to their meal. Alternatively, you can create a cashew-based sauce by blending cashews with water (in proportions suitable for your dog's size) and drizzling it over their kibble.
Remember, while these treats and enhancements can make your dog's meals more flavorful, it's crucial to maintain balance. Cashews should always be a supplement to their diet, not a replacement for a nutritionally balanced dog food.
Conclusion: A Flavorful Journey for Your Furry Friend
Incorporating cashews into your dog's diet can transform mealtime into a delightful adventure. From frozen treats on hot days to homemade snacks that show your love, there are numerous ways to make your dog's dining experience exciting and tasty. These creative additions not only offer variety but also provide a chance to bond with your pet through shared moments of joy and care.
However, always keep in mind the importance of moderation. While cashews can add flavor and nutrition, excessive indulgence can lead to health issues. Consult your veterinarian if you're unsure about the suitable portion sizes for your dog, especially if they have specific health concerns.
With a little creativity and a lot of love, you can turn ordinary meals into gourmet delights for your furry companion. Enjoy the journey of exploring new flavors and textures, and watch as your dog savors every bite, tail wagging in contentment. Mealtime isn't just a necessity; it's an opportunity to bring happiness and excitement to your dog's day, one tasty treat at a time.
Curiosity about our furry companions' diets is a common trait among pet owners, especially when it comes to introducing new foods like cashews. Here are ten frequently asked questions about dogs eating cashews, unraveling the nutty truth behind these canine cravings.
FAQs About Dogs Eating Cashews: Unveiling the Nutty Truth
1. Can Dogs Safely Eat Cashews Daily?
While dogs can technically eat cashews, it's not advisable for them to do so daily. Cashews are high in fats and calories, and excessive consumption can lead to weight gain and related health issues. Moderation is key, ensuring that cashews remain an occasional treat rather than a daily indulgence.
2. Are Allergies Common in Dogs Regarding Cashews?
Yes, dogs can develop allergies to cashews, just like humans. Allergic reactions might manifest as itching, swelling, or gastrointestinal problems. If you notice any unusual symptoms after your dog consumes cashews, consult your veterinarian promptly.
3. Can Puppies Eat Cashews?
Puppies have developing digestive systems, making them more sensitive to rich and fatty foods like cashews. It's best to avoid giving cashews to puppies, focusing on a balanced puppy-specific diet recommended by your veterinarian.
4. Are Salted Cashews Safe for Dogs?
No, salted cashews are not safe for dogs. Excessive salt intake can lead to sodium ion toxicosis, causing symptoms like vomiting, diarrhea, and increased thirst. Always offer unsalted cashews to your canine companion.
5. What Should I Do If My Dog Ate Cashews Accidentally?
If your dog consumes a small amount of unsalted, plain cashews without showing any adverse reactions, monitor them closely. However, if your dog eats a large quantity or shows signs of distress, such as vomiting or diarrhea, seek immediate veterinary assistance.
6. Can Cashews Cause Pancreatitis in Dogs?
Yes, the high-fat content in cashews can strain your dog's pancreas, potentially leading to pancreatitis. This condition is painful and requires immediate veterinary attention. Always exercise caution and avoid excessive consumption.
7. Are Cashew Shells Safe for Dogs to Chew On?
Absolutely not. Cashew shells are toxic to dogs due to the presence of urushiol, a substance also found in poison ivy. Ingesting cashew shells can lead to severe reactions, so it's crucial to keep them out of reach.
8. Can Cashews Lead to Canine Diabetes?
While a single cashew won't cause diabetes, a diet consistently high in fatty treats can contribute to obesity, which is a risk factor for diabetes. It's essential to maintain a balanced diet to prevent obesity-related health issues.
9. Should I Introduce Cashews if My Dog Is on a Special Diet?
If your dog is on a specialized diet due to health concerns, it's vital to consult your veterinarian before introducing any new food, including cashews. Certain medical conditions may require strict dietary restrictions, making it important to avoid unnecessary risks.
10. Can Cashews Improve a Dog's Coat?
Cashews contain healthy fats, which are beneficial for a dog's coat health. While they can contribute to a shiny coat, it's crucial to consider the overall dietary balance. Supplements designed specifically for coat health might be a safer and more controlled option.
In conclusion, while dogs can eat cashews in moderation, it's imperative to be aware of the potential risks associated with these tasty nuts. Always prioritize your dog's well-being by offering them a balanced diet tailored to their specific needs. When it comes to treats, variety is essential, so consider exploring other dog-friendly snacks recommended by your veterinarian. By staying informed and vigilant, you can ensure your furry friend enjoys a happy, healthy, and nutty-free life!

Conclusion: Making Informed Choices for Your Canine Companion
In summary, understanding what you feed your furry friend is paramount to their well-being. While dogs can eat cashews in moderation, it's crucial to be aware of the associated risks. These nuts, high in fats and calories, are best served sparingly, if at all. While cashews offer some nutritional value, they're not essential to your dog's diet and can lead to health issues if consumed excessively or improperly.
Looking for alternative treats? Consider options like blueberries, carrots, or unsalted peanut butter. These choices are lower in sugar and acidity than cashews, providing your dog with essential nutrients without the risks associated with high-fat snacks. Always ensure any treats given are free from harmful additives, and be mindful of portion sizes.
Your dog's health and happiness are paramount. If you have any questions or concerns about your dog's diet, consult your veterinarian. They can offer personalized guidance tailored to your pet's specific needs. Have a favorite dog-friendly treat or a question about your pet's diet? We'd love to hear from you! Share your experiences and thoughts in the comments below or reach out to us on our social media pages. Your insights can contribute to a healthier, happier community of pet owners.
Dr. Rachel Davis is a passionate veterinarian, having completed her studies in veterinary medicine at the University of California. Alongside her professional commitments, she remains dedicated to her beloved dog and has a profound love for all animals. In her spare time, she indulges in her passion for writing, often focusing on topics related to veterinary care and animal welfare.