Introduction
Understanding Canine Dietary Habits
Picture this: the sizzle of bacon permeates the air, filling your kitchen with an irresistible aroma. It's a breakfast favorite for many, a guilty pleasure that dogs, with their acute sense of smell, find utterly tantalizing. But amid the indulgence, a crucial question lingers in the minds of pet owners: can dogs eat bacon?
In this exploration of canine dietary habits, we venture into the complex world of our loyal companions and their relationship with human food. Dogs, the embodiment of unwavering loyalty, often share our table scraps. However, understanding the safety and implications of their indulgence, especially when it comes to bacon, is paramount. A dog's diet is not merely a matter of taste; it significantly impacts their overall well-being and longevity. Therefore, it is our responsibility as pet owners to navigate the culinary choices for our furry friends with care and consideration.
Table of Contents
The Canine Bacon Craving
To comprehend why dogs find the aroma of sizzling bacon irresistible, we must delve into the fascinating realm of their senses. Dogs, with their extraordinary olfactory abilities, perceive scents in a way that humans can only imagine. The aroma of meat, especially bacon, triggers an ancient instinct rooted in their evolutionary history as hunters and scavengers. This inherent craving often prompts pet owners to contemplate sharing this delectable delight with their canine companions, blurring the line between indulgence and responsibility.
Understanding the Risks
The Hazards of Bacon Consumption for Dogs
High Fat Content
Bacon, renowned for its savory taste, is equally infamous for its high fat content. While fats are essential components of a balanced diet, the excessive intake of fatty foods can lead to severe health complications in dogs. Pancreatitis, a painful inflammation of the pancreas, is a notable risk associated with high-fat diets. Dogs lack the necessary enzymes to efficiently process such foods, rendering them vulnerable to digestive distress and potential long-term health issues.
Salt and Sodium Concerns
Beyond its fat content, bacon is also laden with salt and sodium. While these elements are integral to our diet in moderation, dogs possess a significantly lower tolerance for sodium than humans. Excessive salt intake can lead to sodium ion poisoning, a condition marked by symptoms such as vomiting, diarrhea, seizures, and, in severe cases, even death. This heightened sensitivity necessitates a cautious approach when considering bacon as a treat for your beloved pet.
Additives and Preservatives
Commercially available bacon often contains additives and preservatives such as nitrates and nitrites. While these compounds enhance the flavor and appearance of the bacon, they pose significant risks to dogs. Consumption of these chemicals can lead to gastrointestinal distress and, alarmingly, contribute to the development of certain cancers in the long run. Pet owners must remain vigilant, recognizing that even seemingly harmless indulgences may harbor hidden dangers.
Examining the Benefits
Are There Any Nutritional Benefits?
Protein Content
While bacon boasts a notable protein content, a fundamental building block for muscle development and repair, its high fat and sodium levels overshadow this nutritional advantage. While protein is crucial for a dog's overall well-being, there are healthier and leaner sources available, specifically formulated to meet canine dietary requirements. Opting for these purpose-designed alternatives ensures that your dog receives the necessary nutrients without the accompanying risks.
Essential Nutrients
Bacon does contain trace amounts of essential nutrients, including vitamins B3 and B12, phosphorus, and selenium. However, these nutrients are present in minimal quantities compared to other, safer dietary options tailored for dogs. Relying on bacon as a primary source of these nutrients is ill-advised, as the associated risks far outweigh the potential benefits.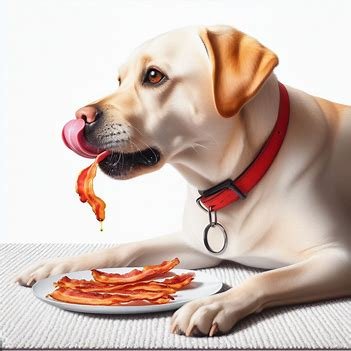 A Balanced Approach to Canine Nutrition
In the captivating dance between indulgence and responsibility, the risks associated with feeding bacon to dogs loom large. While the aroma might evoke temptation, responsible pet ownership demands a vigilant eye and informed decisions. Prioritizing the well-being of our furry companions entails choosing their treats with care. While dogs may be drawn to the allure of bacon, a balanced and safe nutritional intake is the cornerstone of their health and happiness.
In the subsequent sections of this article, we will delve deeper into the nuances of canine nutrition, exploring alternative treats and safe dietary practices. Remember, understanding your dog's dietary needs is an act of love and commitment, ensuring a long, healthy, and joyous life for your beloved pet.
Now that we've delved into the complexities of canine dietary habits and explored the risks and benefits associated with bacon consumption, it's time to address a fundamental question: can dogs eat bacon? The answer, in short, is yes, but with significant caveats. Unlike some other human foods, bacon is not inherently toxic or dangerous to dogs. Many dogs do enjoy the salty, savory taste of this beloved meat product.
Let's break down the nutritional facts of bacon to better understand what it offers to our canine companions:
Bacon Nutrition Facts:
| Nutrient | Amount per 3 slices (34.5 g) of bacon |
| --- | --- |
| Calories | 161 kcal |
| Fat | 12 g (15% DV) |
| Saturated fat | 4.1 g (21% DV) |
| Trans fat | 0.1 g |
| Polyunsaturated fat | 2.1 g |
| Monounsaturated fat | 5.4 g |
| Cholesterol | 34 mg (11% DV) |
| Sodium | 579 mg (25% DV) |
| Carbohydrates | 0.6 g (0% DV) |
| Fiber | 0 g (0% DV) |
| Sugars | 0 g |
| Protein | 12 g |
| Vitamin D | 0.1 mcg (1% DV) |
| Calcium | 3.8 mg (0% DV) |
| Iron | 0.3 mg (2% DV) |
| Potassium | 172 mg (4% DV) |
Bacon's Nutritional Benefits for Dogs:
Bacon does offer some nutritional benefits to dogs. It is a source of protein, providing the building blocks necessary for muscle development, repair, and overall body function. Additionally, bacon contains trace amounts of essential nutrients, including vitamins B3 and B12, phosphorus, calcium, iron, and selenium, which play various roles in maintaining a dog's health.
Drawbacks and Caution:
However, despite these nutritional benefits, there are significant drawbacks and risks associated with feeding bacon to dogs. As highlighted in our previous sections, bacon is high in fat and sodium. Excessive intake can lead to pancreatitis, sodium ion poisoning, and other severe health issues. Moreover, bacon often contains additives and preservatives like nitrates and nitrites, which can be harmful to dogs, potentially contributing to gastrointestinal distress and certain cancers.
It's crucial for pet owners to exercise caution and moderation when offering bacon to their dogs. Bacon should only be an occasional treat and never replace a dog's primary diet. Instead of relying on bacon for nutritional supplements, consider healthier alternatives specifically formulated for canine consumption.
---
Understanding the Right Portion: How Much Bacon Can a Dog Eat?
In the realm of treating our beloved canine companions, moderation is the cornerstone of responsible pet ownership. When it comes to indulging your dog's bacon cravings, the golden rule is simple: less is more. While it's tempting to share that tasty strip of bacon, it's vital to exercise caution and control. Treats, including bacon, should not constitute more than a certain percentage of your dog's daily caloric intake, as excess treats can upset the delicate balance of their diet.
Observation and Moderation:
Before you lavish your furry friend with bacon bits, it's wise to start small. Begin with a tiny piece and keenly observe how your dog reacts to it. Just like humans, dogs can have varying tolerances to different foods. Some may handle it well, while others might experience digestive discomfort. Watching your dog's reaction allows you to gauge their tolerance and make informed decisions about future servings.
Proper Preparation is Key:
When offering bacon to your dog, preparation matters significantly. Opt for unseasoned, cooked bacon, preferably baked or grilled, and free from added salt, spices, or preservatives. Avoid using bacon grease or oil, as these can lead to digestive distress. The goal is to provide your dog with a pure, unadulterated bacon experience, minimizing potential risks associated with additives.
Breed and Size Considerations:
The size and breed of your dog play a pivotal role in determining the amount of bacon they can tolerate. Larger dogs may have a higher threshold for indulgence, but even they are not exempt from the rules of moderation. Smaller dog breeds, on the other hand, are more sensitive to dietary changes and may react strongly to even a small amount of bacon. It's crucial to tailor your treats to the specific needs of your furry friend, ensuring that indulgences do not compromise their health.
Appropriate Serving Sizes:
Determining appropriate serving sizes of bacon requires a keen understanding of your dog's weight. As a general guideline, a small dog, weighing around 10 pounds, should have no more than half a strip of bacon as an occasional treat. Medium-sized dogs, weighing between 30 to 50 pounds, can have a full strip of bacon but no more than once a week. Large dogs, weighing over 50 pounds, can tolerate slightly more, but even they should not exceed two strips per week.
---
Understanding the Risks of Feeding Bacon to Dogs
While the tempting aroma of bacon might have your dog's tail wagging in excitement, it's crucial to understand the risks involved in sharing this savory treat. Despite the occasional indulgence, there are potential hazards associated with feeding bacon to dogs, ranging from food allergies to specific components that can trigger adverse reactions.
Food Allergies and Intolerance:
Just like humans, dogs can develop food allergies, and bacon is no exception. Proteins in bacon can trigger allergic reactions, leading to symptoms such as itchiness, redness, hives, swelling, vomiting, diarrhea, and even difficulty in breathing. It's important to observe your dog for any signs of discomfort after consuming bacon, especially if it's their first time tasting this delectable meat.
Short-Term Gastrointestinal Distress:
In the short term, feeding bacon to dogs can lead to gastrointestinal distress. The high-fat content and spices used in some varieties of bacon can irritate a dog's stomach, causing symptoms like vomiting, diarrhea, and stomach cramps. These signs of food intolerance are immediate and are the body's way of rejecting a substance it cannot process effectively.
Specific Issues and Hazards:
Certain components of bacon, such as salt and sodium, pose significant hazards to dogs. Excessive sodium intake can lead to sodium ion poisoning, characterized by symptoms like excessive thirst, urination, vomiting, diarrhea, high body temperature, tremors, seizures, and, in severe cases, coma or death. Furthermore, the preservatives and additives found in commercial bacon, like nitrates and nitrites, can be harmful to dogs, potentially causing digestive upset and even contributing to the development of certain cancers.
Signs and Symptoms of Adverse Reactions:
It's vital for pet owners to be vigilant about monitoring their dogs for any signs of adverse reactions after consuming bacon. These signs may include:
Vomiting and Diarrhea:

Persistent vomiting and diarrhea, especially if bloody, are red flags indicating a serious problem.

Lethargy:

Unusual tiredness or lack of energy can indicate gastrointestinal distress or other underlying issues.

Excessive Thirst and Urination:

These symptoms might indicate high sodium levels, potentially leading to poisoning.
Restlessness or Agitation:

Dogs in pain or discomfort may exhibit restlessness, pacing, or agitation.

Difficulty Breathing:

If your dog experiences labored breathing or wheezing after consuming bacon, it could be an allergic reaction requiring immediate attention.

Swelling:

Swelling of the face, throat, or body parts could indicate an allergic reaction and necessitates urgent medical intervention.
---
Enhancing Your Dog's Dining Experience with Bacon
While it's essential to acknowledge the risks associated with feeding bacon to dogs, there are safe and creative ways to incorporate this indulgence into your furry friend's diet. By exploring various methods of preparation, you can transform bacon into a delightful treat or meal enhancement, making the experience enjoyable and memorable for your canine companion.
Bacon as a Fresh or Frozen Treat:
One way to offer bacon to your dog is as a fresh or frozen treat. You can bake or grill lean, unseasoned bacon until it's crispy. Once cooled, cut it into small, bite-sized pieces suitable for your dog's size. Freezing these bacon bits can create a refreshing and crunchy treat, especially on hot days. Remember, moderation is key even when serving frozen bacon, ensuring it remains a special indulgence rather than a regular occurrence.
Bacon as a Food Topper or Mixer:
Another approach is to use bacon as a food topper or mixer. Crumble cooked bacon over your dog's regular meals to add a burst of flavor and aroma. This method enhances the overall meal experience, making it more appealing to picky eaters. However, ensure the portions are minimal, focusing on the enhancement rather than replacing the dog's primary diet.
Homemade Bacon Treats and Snacks:
Get creative by incorporating bacon into homemade dog treats and snacks. You can prepare simple recipes using dog-friendly ingredients like whole wheat flour, oats, and peanut butter, combined with finely chopped or blended bacon. Shape the mixture into small biscuits or use cookie cutters for fun shapes. Bake until golden brown, and voila! You have homemade bacon-infused treats that your dog will love.
Enhancing Regular Meals:
Bacon can also enhance your dog's regular meals without overpowering their diet. Mix finely chopped, cooked bacon with their kibble or wet food. This method provides a delightful surprise in every bite, encouraging your dog to finish their meal. However, be mindful of portion sizes and calorie intake, ensuring that the added bacon aligns with your dog's dietary needs.
Creative Meal Enhancements:
For a more gourmet approach, consider exploring creative meal enhancements. Blend cooked bacon into a puree with dog-safe vegetables and fruits, creating a flavorful sauce. Drizzle this sauce over your dog's regular meals to infuse them with a delightful aroma and taste. Not only does this method enhance the dining experience, but it also provides additional nutrients from the vegetables and fruits.
Recipe Ideas:
Bacon and Peanut Butter Biscuits:

Mix whole wheat flour, oats, peanut butter, and finely chopped bacon.
Shape into small biscuits and bake until golden brown.

Bacon and Sweet Potato Delights:

Blend cooked bacon and boiled sweet potatoes into a puree.
Spoon small portions onto a baking sheet and freeze for tasty frozen treats.

Bacon and Apple Muffins:
Combine shredded apples, whole wheat flour, eggs, and crumbled bacon.
Spoon the mixture into muffin cups and bake for canine-friendly muffins.
---
FAQs About Dogs Eating Bacon: Unveiling the Answers
As much as we adore pampering our furry friends, questions about their dietary habits often arise. When it comes to indulging our dogs in the delightful world of bacon, numerous queries abound. In this section, we unravel the answers to ten frequently asked questions about dogs and their relationship with bacon, shedding light on common concerns that pet owners might have.
1. Can All Dogs Eat Bacon?
While many dogs do enjoy the taste of bacon, not all canines can safely consume it. Dogs with certain health conditions, such as pancreatitis or kidney issues, should avoid high-fat foods like bacon. Additionally, dogs with allergies to specific proteins in pork should steer clear of this savory treat. It's crucial to consult your veterinarian to determine if bacon is suitable for your dog's diet.
2. Is It Safe to Feed Dogs Raw Bacon?
Feeding dogs raw or undercooked bacon is strongly discouraged. Raw pork can harbor harmful bacteria like Salmonella and Trichinella, posing significant health risks to dogs. Cooking bacon thoroughly is essential to kill these bacteria and ensure your dog's safety.
3. Can Bacon Be Used as a Training Treat?
Bacon's enticing aroma makes it an excellent training treat for dogs. However, moderation is key. Cut bacon into small, pea-sized pieces and use them sparingly during training sessions. Too much bacon, even during training, can lead to excessive calorie intake and potential health issues.
4. What Should I Do If My Dog Accidentally Eats Bacon?
If your dog consumes bacon accidentally and displays signs of discomfort, such as vomiting, diarrhea, or restlessness, contact your veterinarian immediately. Provide them with details about the quantity ingested and observe your dog's behavior closely. Timely veterinary intervention can prevent potential complications.
5. Can Puppies Eat Bacon?
Puppies have delicate digestive systems that are still developing. Introducing high-fat foods likebacon too early can strain their pancreas and lead to digestive problems. It's advisable to wait until your puppy is older and consult your vet before incorporating bacon into their diet.
6. Are There Healthier Alternatives to Bacon?
Yes, there are healthier alternatives to bacon for dogs. Many pet stores offer specially formulated dog treats with flavors resembling bacon. These treats are designed to be nutritionally balanced and safe for canine consumption. Additionally, natural treats like small pieces of cooked chicken or carrot sticks can be excellent alternatives.
7. Can Dogs Eat Bacon Grease?
Bacon grease, rich in fats and salt, can cause gastrointestinal distress and pancreatitis in dogs. It's best to avoid feeding your dog bacon grease altogether. Properly dispose of bacon grease to prevent accidental ingestion by curious pets.
8. Can Bacon Cause Allergic Reactions in Dogs?
Yes, bacon can trigger allergic reactions in dogs. Proteins in pork may lead to allergies, resulting in symptoms like itching, swelling, vomiting, or diarrhea. If you suspect your dog is allergic to bacon, consult your veterinarian for allergy testing and guidance on suitable dietary choices.
9. Are There Bacon-Flavored Dog Foods?
Yes, there are dog foods available with bacon flavoring. These commercial dog foods are formulated to be nutritionally balanced and safe for dogs. When choosing dog food, opt for reputable brands that prioritize your pet's health and well-being.
10. Can Bacon Improve a Dog's Coat Condition?
While bacon is not a direct solution for enhancing a dog's coat condition, a balanced diet that includes essential nutrients can contribute to a healthy coat. Instead of relying on bacon, consider high-quality dog foods rich in omega-3 fatty acids, which are known to promote healthy skin and a shiny coat.
---
Conclusion: Making Informed Choices for Your Furry Friend
In conclusion, understanding what your dog eats is paramount to their well-being. While dogs can indeed enjoy bacon in moderation, it's crucial to recognize the associated risks. Excessive consumption can lead to health issues, emphasizing the importance of limiting treats like bacon in your dog's diet. The key lies in responsible indulgence, ensuring that your canine companion's diet is primarily based on specially formulated dog foods tailored to meet their nutritional needs.
As an alternative, consider incorporating safer treats into your dog's routine. Fresh fruits like apples and blueberries, when offered in appropriate portions, can be delightful and nutritious alternatives to bacon. Not only are these fruits lower in sugar and acidity, but they also provide essential vitamins and minerals, promoting your dog's overall health.
We encourage you to share your experiences and questions. Have you found a unique treat your dog adores? Do you have concerns about specific foods? Your insights and queries are valuable to our community. Let's continue this conversation in the comments below or on our social media pages. Your shared knowledge can benefit fellow pet lovers and contribute to the well-being of our cherished canine companions. Together, we can make informed choices and ensure our dogs live happy, healthy lives.
Dr. Rachel Davis is a passionate veterinarian, having completed her studies in veterinary medicine at the University of California. Alongside her professional commitments, she remains dedicated to her beloved dog and has a profound love for all animals. In her spare time, she indulges in her passion for writing, often focusing on topics related to veterinary care and animal welfare.