Introduction
The Boxer dog breed is renowned for its distinctive appearance and spirited personality. If you're considering welcoming a Boxer into your family or are simply intrigued by this breed, you've come to the right place. In this comprehensive guide, we will delve into all aspects of the Boxer dog breed, from their unique characteristics to their specific care requirements.
Fun Fact: Did you know that Boxers are often called the "Peter Pan" of dog breeds due to their playful and youthful nature, even as they grow older?
In the vast landscape of dog breeds, finding accurate and up-to-date information can be challenging. That's why we've created this guide, so you have a trustworthy resource at your fingertips. Whether you're a seasoned dog owner or a first-time pet parent, this article will provide you with invaluable insights into the world of Boxers.
Boxer Dog Breed Characteristics
To help you get to know the Boxer breed better, let's start with an overview of their key characteristics. Please note that some specific details may vary from one Boxer to another, but this table provides a general idea of what to expect:
| Field | Information |
| --- | --- |
| Height | 21 to 25 inches (53 to 63 cm) |
| Weight | 50 to 80 pounds (23 to 36 kg) |
| Life Span | 10 to 12 years |
| Good with | Family, Children, Other Pets |
| Temperament | Playful, Energetic, Affectionate |
| Intelligence | High |
| Shedding Amount | Moderate to Low |
| Grooming | Easy (Regular Brushing) |
| Exercise Needs | High (Regular Exercise) |
| Energy Level | Very High |
| Barking Level | Moderate |
| Drool Amount | Minimal |
| Coat Length/Texture | Short and Smooth |
| Colors | Fawn, Brindle |
| Patterns | White Markings, Flashy |
Please keep in mind that while these general characteristics apply to Boxers, individual dogs may exhibit variations in their temperament and preferences.
Now that we've laid the foundation with these essential details, let's explore the Boxer breed further in the following sections. We'll cover topics such as their history, personality traits, training tips, health considerations, and more. By the end of this guide, you'll have a comprehensive understanding of what it takes to be a proud owner of a Boxer.
Table of Contents
2. Breed History and Origin
Exploring Their Roots
To truly appreciate the Boxer breed and understand its unique characteristics, it's essential to delve into its fascinating history and origins. Boxers have a rich heritage that spans centuries, and their development involved the contributions of several other breeds. Let's embark on a journey through time to uncover the Boxer's intriguing past.
A Blend of Ancestral Breeds
The story of the Boxer begins in 19th-century Germany. Their ancestors were likely descended from a now-extinct breed known as the Bullenbeisser, which was used for hunting large game. The Bullenbeisser was a powerful and tenacious breed, traits that would become synonymous with the Boxer.
The Boxer's lineage also includes Bulldogs and Mastiffs, which were bred with Bullenbeissers to refine their characteristics. These crossings resulted in a breed that possessed both strength and agility. Over time, breeders continued to fine-tune the Boxer's attributes, creating a versatile working dog.
Notable Traits
The Boxer breed stands out for several distinctive traits and features that have been honed through generations of selective breeding:
Muscular Build
One of the most striking features of Boxers is their muscular and athletic physique. They are medium-sized dogs with a robust frame, exhibiting power and agility in equal measure. This physique is a testament to their history as working and hunting dogs.
Unique Head Shape
Boxers are known for their distinctive head shape, characterized by a short, broad skull and a pronounced muzzle. This facial structure gives them an alert and expressive appearance, making it easy to recognize them in a crowd.
Short Coat
Boxers have a short and smooth coat that requires minimal grooming. This feature not only adds to their sleek appearance but also makes them well-suited to various climates.
Energetic Personality
Boxers are brimming with energy and enthusiasm. They're known for their playful nature and boundless zest for life. This lively disposition is a testament to their working dog heritage.
Relevance of Origin
Understanding the Boxer's origin is crucial because it provides valuable insights into their characteristics and behaviors today. The historical role of the Boxer as a hunting and working dog has left an indelible mark on their temperament and abilities.
Work Ethic
The Boxer's strong work ethic is a direct result of its history as a hunting and guardian breed. Even though most Boxers today aren't engaged in hunting, they retain their instinct to protect and serve their families. This makes them loyal and dependable companions.
Athleticism
The Boxer's athleticism and agility are deeply rooted in their ancestry. Their ability to move swiftly and with purpose is a reflection of their history as dogs used for tracking and capturing game.
Protective Instincts
Boxers have a natural protective instinct, which can be traced back to their role as guard dogs. This instinct makes them excellent watchdogs, always alert to potential threats.
In conclusion, the Boxer's history and origin are a testament to their resilience, adaptability, and unique set of traits. As we continue our journey through this comprehensive guide, we'll explore other aspects of the Boxer breed, including their temperament, training requirements, and health considerations. By the end, you'll have a deep appreciation for this remarkable breed and the knowledge needed to care for and enjoy the company of a Boxer in your life.
3. Understanding the Boxer Breed's Traits
Physical Characteristics
Boxers are a visually distinctive breed with several physical characteristics that set them apart. Understanding their appearance is crucial for potential owners and enthusiasts alike.
Size
Boxers are medium-sized dogs, typically standing between 21 to 25 inches (53 to 63 cm) tall at the shoulder. Their weight can range from 50 to 80 pounds (23 to 36 kg), with males usually being larger than females. This moderate size makes them suitable for both apartment living and homes with larger yards.
Coat Type
Boxers have a short, sleek, and dense coat. This coat type is easy to care for and doesn't require extensive grooming. It's worth noting that their short coat leaves them less insulated against extreme cold, so they may appreciate a doggy sweater during chilly weather.
Coat Color and Distinguishing Features
The Boxer's coat primarily comes in two standard colors: fawn and brindle. Fawn Boxers have a solid tan or light brown coat with a black mask on their face. Brindle Boxers feature a striped or tiger-stripe pattern in a dark shade over a fawn background. White markings are common and can appear on the face, neck, chest, and paws.
One of the Boxer's most recognizable features is its distinct head shape. They have a strong, broad skull and a prominent, square-shaped muzzle. Their expressive eyes are dark and soulful, conveying intelligence and curiosity.
Temperament Overview
Boxers are known for their lively and affectionate temperament, making them excellent companions for families and individuals alike.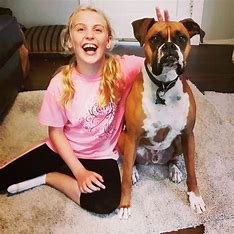 Family-Friendly
Boxers are often referred to as "gentle giants" due to their friendly and affectionate nature, especially toward children. They tend to form strong bonds with their human family members and are protective without being aggressive.
Compatibility with Other Pets
With proper socialization, Boxers can get along well with other dogs and pets in the household. However, their playful and exuberant nature might require supervision during initial interactions to ensure everyone feels comfortable.
Playful and Energetic
Boxers are highly energetic dogs that thrive on play and exercise. They have a zest for life that can be contagious, and they're always up for a game of fetch or a romp in the yard. This energy can make them a perfect match for active families.
Environment Needs
Understanding the Boxer's environmental requirements is essential to provide them with a comfortable and happy life.
Space
While Boxers can adapt to apartment living, they thrive in homes with access to a yard where they can burn off their abundant energy. Adequate space for exercise is crucial to keep them physically and mentally stimulated.
Temperature Tolerance
Boxers are sensitive to extreme temperatures. They can struggle in extreme cold due to their short coat, so it's essential to provide them with warmth during winter months. In hot weather, they can overheat, so access to shade and plenty of water is vital.
Training and Socialization
Boxers are intelligent and eager to please, which makes them generally trainable. However, they can also be a bit stubborn, so consistent, positive reinforcement-based training methods work best.
Importance of Socialization
Proper socialization is crucial for Boxers to ensure they grow up to be well-adjusted and friendly dogs. Expose them to various people, animals, and environments from a young age to prevent behavioral issues.
Basic Obedience Training
Boxers respond well to basic obedience training, and it's essential to establish boundaries and rules early on. Training sessions should be engaging and enjoyable for both you and your Boxer.
In summary, Boxers are a remarkable breed known for their striking physical characteristics, friendly temperament, and need for a stimulating environment. They can be an excellent addition to a family, provided they receive proper training, socialization, and the opportunity to burn off their boundless energy. In the next section, we will delve into Boxer breed-specific care requirements, including grooming, exercise, and health considerations.
4. Health Considerations and Care
Ensuring the health and well-being of your Boxer is paramount. In this section, we will discuss common health issues, lifespan expectations, dietary needs, exercise requirements, grooming practices, and more to help you provide the best care for your furry friend.
Common Health Issues
Like all breeds, Boxers are prone to certain health conditions that you should be aware of to ensure early detection and appropriate treatment. Regular veterinary check-ups are essential to catch these issues in their early stages.
1. Hip Dysplasia: A genetic condition where the hip joint doesn't develop properly, leading to arthritis and mobility problems.
2. Bloat (Gastric Torsion): This life-threatening condition occurs when a dog's stomach fills with gas and twists on itself. Immediate medical attention is crucial.
3. Heart Problems: Boxers are susceptible to certain heart conditions, including dilated cardiomyopathy. Regular heart check-ups are essential.
4. Cancer: The breed is prone to various types of cancer, including mast cell tumors and lymphoma. Early detection is vital for treatment.
5. Allergies: Boxers can suffer from skin and food allergies, which may require dietary adjustments and medication.
6. Eye Issues: Corneal ulcers, cherry eye, and other eye problems can affect Boxers. Regular eye exams are advisable.
Lifespan and Longevity
Boxers typically have a lifespan of 10 to 12 years, although some can live longer with proper care. To promote a longer and healthier life for your Boxer, consider the following tips:
1. Balanced Diet: Feed your Boxer a high-quality, balanced diet that meets their specific nutritional needs. Consult your veterinarian for dietary recommendations.
2. Regular Exercise: Ensure your Boxer gets plenty of physical exercise to maintain a healthy weight and prevent obesity-related issues.
3. Mental Stimulation: Boxers are intelligent dogs that need mental stimulation. Interactive toys and puzzle games can help keep their minds sharp.
4. Preventive Healthcare: Stay up-to-date with vaccinations, flea and tick prevention, and regular vet visits. Early detection and prevention are key to maintaining good health.
Diet and Nutrition
A well-balanced diet is crucial to your Boxer's overall health. Here are some dietary considerations:
1. Protein: Boxers benefit from a diet rich in high-quality animal protein to support their muscle health.
2. Avoid Overfeeding: Boxers are prone to obesity, so be mindful of portion control and avoid overfeeding.
3. Feeding Schedule: Establish a consistent feeding schedule with meals spaced throughout the day, as this can help prevent bloat.
4. Fresh Water: Ensure your Boxer has access to clean, fresh water at all times to stay hydrated.
Exercise and Activity
Boxers are an energetic breed that requires regular exercise and mental stimulation. Here's how to meet their exercise needs:
1. Daily Walks: Take your Boxer for brisk daily walks to burn off energy and maintain muscle tone.
2. Playtime: Engage in interactive play sessions, such as fetch or tug-of-war, to provide mental stimulation and strengthen your bond.
3. Agility Training: Boxers excel in agility training, which challenges their physical and mental abilities.
4. Dog Parks: Trips to dog parks can provide an opportunity for socialization and play with other dogs.
Grooming and Maintenance
Boxers have a short, low-maintenance coat, but regular grooming and care are still essential:
1. Brushing: Weekly brushing helps remove loose hair and keeps the coat shiny.
2. Ear Cleaning: Check and clean their ears regularly to prevent infections, especially if they have floppy ears.
3. Dental Care: Brush your Boxer's teeth regularly and provide dental chews or toys to maintain oral health.
4. Shedding: While Boxers are not heavy shedders, they do shed year-round. Regular brushing can help control shedding.
In conclusion, providing proper care and attention to your Boxer's health, diet, exercise, and grooming needs is essential for a happy and healthy life. Regular vet visits and early intervention for health issues can help ensure your Boxer lives a long and fulfilling life. In the next section, we'll focus on Boxer training and socialization, offering valuable tips to help you raise a well-behaved and happy canine companion.
5. Choosing and Adopting a Boxer Dog Breed
Adopting a Boxer is a rewarding experience that brings joy to both your life and the dog's. In this section, we'll explore the reasons for adopting a Boxer, the research and preparation required, the adoption process, and ethical considerations related to breeding.
Reasons for Adoption
Adopting a Boxer offers numerous benefits, not only for you but also for the dog and the broader community. Here are some compelling reasons to consider adopting a Boxer:
1. Save a Life: By adopting from a shelter or rescue organization, you provide a loving home to a dog in need, potentially saving their life.
2. Reduce Overpopulation: Choosing adoption over purchasing from a breeder helps reduce the number of dogs in shelters and minimizes overpopulation issues.
3. Pre-Trained Dogs: Many rescue Boxers come with basic training and socialization, making them excellent choices for families and individuals seeking well-behaved pets.
4. Health Benefits: Adopted dogs often receive initial vaccinations and medical care, saving you some initial veterinary expenses.
5. Emotional Rewards: Adopting a Boxer can be a deeply fulfilling experience, knowing you've given a deserving dog a second chance at a happy life.
Research and Preparation
Before adopting a Boxer, it's essential to do your research and make necessary preparations to ensure a smooth transition for both you and your new canine companion.
Understanding Boxer-Specific Needs
Boxers have unique needs related to exercise, grooming, and health. Research these needs thoroughly to make sure they align with your lifestyle and capabilities. For example:
Are you prepared for their high energy levels and exercise requirements?
Do you have the time and commitment for regular grooming and health check-ups?
Financial Responsibilities
Owning a Boxer comes with financial responsibilities, including:
Routine vet visits for vaccinations and preventive care.
Potential costs for unexpected health issues.
Quality food and grooming supplies.
Ensure you have the financial means to provide for your Boxer's well-being.
Adoption Process
The adoption process typically involves several steps to ensure that both you and the Boxer are a good fit for each other:
1. Research Shelters and Rescues
Start by identifying reputable shelters and rescue organizations that specialize in Boxers. Look for organizations with a positive reputation and a commitment to animal welfare.
2. Application
Complete an adoption application provided by the shelter or rescue. Be prepared to provide information about your living situation, experience with dogs, and how you plan to care for the Boxer.
3. Home Visit
Some organizations may conduct a home visit to assess your living environment and ensure it's safe and suitable for a Boxer.
4. Adoption Fee
Expect to pay an adoption fee, which usually covers the cost of vaccinations, spaying/neutering, and other initial medical expenses. The fee helps support the organization's rescue efforts.
5. Adoption Agreement
Review and sign an adoption agreement, which outlines your responsibilities as an owner and may include conditions such as regular vet visits and spaying/neutering if not already done.
6. Bring Your Boxer Home
Once approved, you can bring your Boxer home. Be patient and allow your new companion time to adjust to their new environment.
Breeding and Ethical Considerations
If you decide to go the route of purchasing a Boxer from a breeder, it's essential to choose a responsible and ethical breeder. Here are some considerations:
Responsible Breeding Practices
A responsible breeder prioritizes the health and well-being of their dogs and adheres to ethical breeding practices. They:
Screen breeding dogs for genetic health issues.
Provide proper care, socialization, and early training for puppies.
Offer a clean and safe environment for their dogs.
Health Screening
Ask breeders about health screening for common Boxer health issues, such as hip dysplasia and heart conditions. Reputable breeders conduct thorough health checks on their breeding dogs.
Genetic Diversity
Responsible breeders work to maintain genetic diversity within the breed to minimize the risk of inherited health problems. They don't engage in excessive inbreeding.
In conclusion, whether you choose to adopt a Boxer or purchase one from a breeder, it's essential to make an informed and responsible decision. Adopting offers a chance to provide a loving home to a dog in need, while responsible breeding practices ensure the health and well-being of future generations of Boxers. By following these guidelines, you can make the best choice for you and your future furry friend.
6. Popularity and Recognition
The Boxer breed has captured the hearts of many dog enthusiasts worldwide. In this section, we will explore the current popularity of Boxers, their recognition by kennel clubs and breed organizations, and any notable breed varieties or subtypes.
Current Popularity
Boxers have consistently ranked among the most popular dog breeds in various countries. Their unique combination of athleticism, intelligence, and affectionate nature has earned them a dedicated following. Here's a closer look at their current popularity:
United States: Boxers have maintained their popularity in the United States, often ranking within the top 10 most registered breeds with the American Kennel Club (AKC).
United Kingdom: In the UK, Boxers have a substantial following, with many families and individuals choosing them as beloved companions.
Worldwide: Boxers are recognized and appreciated by dog lovers worldwide, making them a global breed of choice.
Trends in Ownership: Over the years, there has been a noticeable trend toward adopting rescue Boxers. More and more people are choosing to give Boxers in need a second chance, recognizing the breed's loyalty and suitability as family pets.
Breed Recognition
Boxers enjoy widespread recognition by prominent kennel clubs and breed organizations, which helps establish and maintain breed standards. Key organizations that officially recognize Boxers include:
American Kennel Club (AKC): The AKC officially recognizes Boxers as a breed. They are classified in the "Working Group" due to their historical roles as hunting and guarding dogs.
The Kennel Club (UK): In the UK, Boxers are recognized by The Kennel Club and belong to the "Working Group" as well.
Fédération Cynologique Internationale (FCI): The FCI, an international canine organization, also recognizes Boxers and sets standards for the breed's appearance and characteristics.
Boxer Clubs: Numerous Boxer-specific clubs and associations exist around the world, dedicated to the promotion, welfare, and betterment of the breed.
Notable Breed Varieties
While Boxers are generally consistent in appearance and temperament, there are subtle regional differences that have led to distinctions between American and European Boxers. Let's explore these notable varieties:
1. American Boxers
American Boxers tend to be a bit taller and leaner than their European counterparts. They often have a more pronounced underbite, a feature that is acceptable by the American Kennel Club (AKC) standards but not preferred in European standards. American Boxers are renowned for their athleticism and are often sought after for agility and obedience competitions.
2. European Boxers
European Boxers are known for their stockier build and broader heads. They typically have a less pronounced underbite compared to American Boxers. European Boxers are highly regarded for their strong work ethic and suitability for protection work.
3. White Boxers
White Boxers are a distinct variety characterized by their predominantly white coat and often have some colored patches. While they have the same friendly and loving temperament as other Boxers, white Boxers are more prone to certain health issues, including deafness and sunburn due to their lack of pigment in some areas of the skin and ears.
In conclusion, Boxers have maintained their popularity over the years, thanks to their exceptional qualities as loyal and affectionate family dogs. They are officially recognized by renowned kennel clubs and breed organizations worldwide. The subtle variations in American and European Boxers offer unique traits for enthusiasts to consider. Whether you choose an American or European Boxer, you'll be bringing home a loving and devoted companion that embodies the spirit of this remarkable breed.
7. Exercise and Activity Recommendations
Boxers are renowned for their boundless energy and athleticism. To ensure their physical and mental well-being, a well-structured exercise plan is crucial. In this section, we'll provide detailed exercise recommendations, address any breed-specific exercise needs, and offer insights into keeping your Boxer active and healthy.
Exercise Plan for Boxers
Boxers thrive on physical activity, and a lack of exercise can lead to restlessness and undesirable behaviors. Here's a comprehensive exercise plan to keep your Boxer happy and healthy:
1. Daily Walks
Duration: Aim for at least 45 minutes to 1 hour of brisk walking each day.
Frequency: Daily walks are essential for mental stimulation and to burn off energy.
Variety: Change your walking route occasionally to keep things interesting for your Boxer.
2. Playtime
Types: Engage in interactive play sessions such as fetch, tug-of-war, or frisbee.
Duration: 15-20 minutes of intense play is often sufficient, but you can break it into multiple sessions throughout the day.
Benefits: Playtime helps strengthen the bond between you and your Boxer and provides mental stimulation.
3. Agility Training
Types: Consider agility training or obstacle courses to challenge your Boxer's agility and problem-solving abilities.
Frequency: A few times a week for 20-30 minutes per session can be stimulating and fun for your dog.
4. Running and Jogging
For Active Owners: If you're a runner or jogger, consider taking your Boxer with you. They love the exercise and companionship.
5. Dog Parks
Frequency: Regular visits to a dog park allow your Boxer to interact with other dogs and engage in off-leash play.
Supervision: Always supervise your Boxer at the dog park to ensure their safety and appropriate socialization.
6. Mental Stimulation
Puzzle Toys: Provide puzzle toys and treat-dispensing toys to keep your Boxer mentally engaged.
Training: Obedience training sessions can provide mental stimulation as well as reinforce good behavior.
Breed-Specific Exercise Needs
Boxers have specific exercise needs based on their breed traits. Addressing these needs can contribute to a well-rounded exercise routine:
1. Boxers Love to Play Fetch
Boxers are known for their love of fetch. Incorporate fetch into your playtime sessions to satisfy their natural retrieving instinct and provide cardiovascular exercise.
2. Agility and Obedience
Boxers excel in agility and obedience training. These activities provide both physical exercise and mental stimulation, making them a great choice for active Boxers.
3. Consider Water Activities
Some Boxers enjoy swimming. If your Boxer has a penchant for water, consider incorporating swimming sessions into their exercise routine, which is a fantastic low-impact workout.
Nutrition and Feeding Guidelines
Proper nutrition is vital for your Boxer's overall health and well-being. Here are some specific dietary recommendations to consider:
1. High-Quality Dog Food
Choose a high-quality dog food: Look for dog food labeled as "complete and balanced" to ensure it meets your Boxer's nutritional needs.
2. Age and Life Stage
Puppy: Young Boxer puppies require food specifically formulated for puppies to support their growth and development.
Adult: Adult Boxers should be fed a diet appropriate for their age and activity level.
Senior: Senior Boxers may benefit from diets designed for older dogs, which typically contain joint-supporting nutrients.
3. Protein and Fat
Protein: Boxers thrive on a diet with moderate to high protein content, typically derived from animal sources.
Fat: Ensure a healthy balance of fats in their diet to maintain their energy levels.
4. Portion Control
Follow Feeding Guidelines: Refer to the feeding guidelines on the dog food packaging to determine the appropriate portion size based on your Boxer's weight and activity level.
Avoid Overfeeding: Boxers are prone to obesity, so avoid overfeeding and monitor their weight regularly.
5. Dietary Restrictions and Allergies
Common Allergies: Some Boxers may have allergies, particularly to certain grains or proteins. If you suspect allergies, consult with your vet for guidance on an appropriate diet.
6. Feeding Schedule
Consistency: Stick to a consistent feeding schedule to establish routine and avoid digestive upset.
Meal Frequency: Adult Boxers are typically fed twice a day, while puppies may require more frequent meals.
Free Feeding: Avoid free-feeding (leaving food out all day), as it can lead to overeating.
In conclusion, Boxers are active and playful dogs that require regular exercise to maintain their physical and mental health. An exercise routine that combines daily walks, playtime, and mental stimulation will keep your Boxer happy and well-balanced. When it comes to nutrition, choose high-quality dog food that matches your Boxer's age, size, and activity level, and monitor their portions to prevent overeating. Always consult your veterinarian for personalized advice on exercise and nutrition for your specific Boxer.
8. Socialization and Training Tips for Boxer Dogs
Boxers are known for their intelligence and eager-to-please nature, making them excellent candidates for training. However, they also have their unique characteristics that require a specific approach. In this section, we will provide breed-specific training tips and advice on socializing Boxers with other dogs and people.
Training Tips
1. Start Early
Begin training your Boxer as early as possible. Puppies are like sponges when it comes to learning, so take advantage of this critical developmental stage.
2. Positive Reinforcement
Boxers respond exceptionally well to positive reinforcement. Use treats, praise, and affection to reward good behavior. Avoid harsh or punitive methods, as they can be counterproductive.
3. Consistency
Be consistent with your commands and expectations. Use the same cues for specific behaviors to avoid confusion.
4. Basic Obedience Commands
Teach your Boxer basic obedience commands such as sit, stay, come, and down. These commands provide the foundation for good behavior.
5. Socialization
Expose your Boxer to various people, animals, and environments from a young age. This helps prevent behavioral issues related to fear or aggression.
6. Exercise Before Training
Before training sessions, ensure your Boxer has had some physical exercise to burn off excess energy. A tired Boxer is more focused and receptive to training.
7. Crate Training
Crate training can be valuable for housebreaking and providing a safe space for your Boxer. Make the crate a comfortable and positive environment.
8. Leash Training
Boxers are strong and may pull on the leash. Use positive reinforcement techniques to teach loose-leash walking.
9. Mental Stimulation
Boxers are intelligent dogs and require mental stimulation. Incorporate puzzle toys and interactive games into their routine to keep them mentally engaged.
10. Socialization with Other Dogs
Boxers are generally friendly with other dogs, but early and positive socialization is essential. Arrange playdates or visits to the dog park to encourage healthy interactions.
11. Supervision
Always supervise interactions between your Boxer and other dogs, especially if they are meeting a new dog for the first time. This helps prevent any potential conflicts.
Socialization Tips
1. Early Socialization
Start socializing your Boxer as a puppy and continue throughout their life. Positive experiences during puppyhood set the foundation for a well-adjusted adult dog.
2. Positive Experiences
Ensure that socialization experiences are positive and free from fear or aggression. Use treats and praise to reinforce good behavior during interactions.
3. Expose to Various Environments
Take your Boxer to different places, such as parks, pet-friendly stores, and urban settings. Exposing them to a variety of environments builds confidence.
4. People and Children
Introduce your Boxer to a diverse group of people, including children, to ensure they are comfortable around various individuals.
5. Other Animals
Expose your Boxer to different animals, not just dogs. Familiarity with cats, birds, and other pets can help them be more adaptable.
6. Puppy Classes
Consider enrolling your Boxer in puppy obedience classes or socialization classes. These classes provide controlled environments for positive interactions.
7. Positive Reinforcement
Use positive reinforcement techniques during socialization. Reward your Boxer for calm and friendly behavior with treats and praise.
9. Common Behavioral Traits of Boxer Dogs
Boxers have a range of unique behavioral traits, both positive and challenging. Understanding these traits is essential for providing proper care and addressing any potential issues. In this section, we'll discuss common behavioral traits associated with Boxer dogs and offer advice on managing and addressing them.
Positive Behavioral Traits
1. Playfulness
Boxers are known for their playful and exuberant nature. Their love for play makes them excellent companions for families and individuals who enjoy an active lifestyle.
2. Loyalty
Boxers form strong bonds with their human families. They are loyal and protective, which can provide a sense of security and companionship.
3. Affectionate
Boxers are affectionate dogs that often seek physical contact with their owners. They thrive on cuddles and affectionate interactions.
4. Intelligence
Boxers are intelligent and quick learners. Their intelligence makes them adaptable to various training exercises and mental challenges.
5. Alertness
Boxers are naturally alert and make excellent watchdogs. They are attentive to their surroundings and will often bark to alert their owners to potential threats.
Challenging Behavioral Traits
1. Energetic
While their energy is a positive trait, it can be challenging for owners who cannot provide sufficient exercise and mental stimulation. Lack of activity can lead to restlessness and destructive behavior.
2. Strong-Willed
Boxers can be strong-willed and somewhat stubborn. This requires consistent and patient training methods.
3. Jumping
Boxers have a tendency to jump on people as a form of greeting. This behavior should be addressed early in training to prevent injury or inconvenience.
4. Separation Anxiety
Some Boxers may develop separation anxiety if left alone for extended periods. Proper crate training and gradual alone time can help address this issue.
5. Chewiness
Boxers, especially puppies, may be prone to chewing on furniture or objects if not provided with appropriate chew toys. Providing suitable toys can prevent destructive chewing.
6. Territorial Behavior
Boxers can be territorial and protective. This behavior should be managed to avoid over-aggressiveness or excessive barking.
7. Barking
Boxers have a natural inclination to bark, especially when excited or alert. Training can help control excessive barking.
In conclusion, Boxers are loving and loyal dogs with a zest for life. Understanding their behavioral traits, both positive and challenging, is key to providing them with a happy and fulfilling life. Consistent training, socialization, and mental stimulation are essential for addressing any challenges and fostering the best qualities of this remarkable breed.
10. Personal Stories and Testimonials
To provide a real-world perspective on owning a Boxer, we've gathered personal stories and testimonials from owners of this beloved breed. These stories offer insights into the challenges, joys, and unique experiences of Boxer ownership. Additionally, we'll discuss the costs associated with owning a Boxer and explore the pros and cons of having this breed as a pet.
Personal Stories and Testimonials
Testimonial 1: Sarah's Experience with Bella
Sarah, a Boxer owner, shares her experience with Bella, her playful and affectionate Boxer:
"Bella has been a true blessing in our lives. Her boundless energy keeps us active, and her loyalty is unmatched. However, we had to invest time and effort into training her, especially when it came to leash manners. Early socialization was key to her friendly and outgoing nature. Bella loves cuddling on the couch just as much as going for long hikes. Her goofy antics always bring a smile to our faces."
Testimonial 2: Mark's Adventures with Rocky
Mark, another Boxer enthusiast, shares his adventures with Rocky, a charismatic Boxer:
"Rocky is the definition of a 'gentle giant.' He's a big, boisterous boy with a heart of gold. Training him was a bit of a challenge due to his strong-willed nature, but the rewards have been immense. Rocky is fantastic with our kids and has even helped us shed a few pounds with his enthusiasm for daily walks and playtime. He's not just a pet; he's a cherished family member."
Testimonial 3: Mia's Journey with Max
Mia recounts her journey with Max, a Boxer she adopted from a rescue:
"Adopting Max was the best decision we ever made. His previous owner couldn't handle his energy, but we were more than willing to provide him with the exercise and attention he needed. Max's transformation from a timid rescue dog to a confident, happy Boxer has been incredibly rewarding. He's become a beloved mascot in our neighborhood, and his friendly nature never fails to make new friends."
Testimonial 4: Emily's Bond with Daisy
Emily shares her special bond with Daisy, a Boxer who helped her through tough times:
"Daisy entered my life during a challenging period, and she became my source of strength and happiness. Her unwavering loyalty and playful spirit lifted my spirits every day. She's a bit of a goofball and often keeps me laughing with her antics. The only downside is her love for digging in the garden, but it's a small price to pay for the joy she brings."
Cost of Owning a Boxer
Owning a Boxer comes with various expenses that potential owners should consider. Here's a breakdown of the costs associated with Boxer ownership:
1. Initial Adoption or Purchase
Adoption: If you adopt a Boxer from a shelter or rescue, adoption fees typically range from $50 to $500.
Purchase: If you buy from a breeder, Boxer puppies can cost anywhere from $700 to $2,500 or more, depending on the breeder's reputation and bloodline.
2. Food and Treats
High-Quality Food: Expect to spend around $50 to $100 per month on high-quality dog food.
Treats: Treat expenses can vary but might add an additional $10 to $20 per month.
3. Veterinary Care
Routine Check-ups: Annual veterinary check-ups, vaccinations, and preventive care can cost $200 to $400 per year.
Emergency Care: Be prepared for unexpected medical expenses, which can range from a few hundred to several thousand dollars.
4. Grooming
Grooming Supplies: Brushes, shampoos, and grooming tools can cost approximately $50 to $100 annually.
Professional Grooming: If you opt for professional grooming services, expect to spend $50 to $100 per session.
5. Training and Socialization
Training Classes: Obedience classes or professional training services may cost $100 to $500 or more, depending on the type and duration of training.
Socialization: Expenses for socialization activities, such as dog park memberships or playdates, can add up to $50 to $100 per year.
6. Toys and Accessories
Toys: Plan to spend $20 to $50 or more on toys annually to keep your Boxer mentally stimulated and entertained.
Collars, Leashes, and Beds: Additional accessories like collars, leashes, and comfortable beds can amount to $50 to $100 or more.
7. Licensing and Identification
License: Check your local regulations for dog licensing fees, which can range from $10 to $50 annually.
Identification: Consider the cost of microchipping or ID tags for your Boxer's safety.
8. Pet Insurance
Pet Insurance: Monthly premiums for pet insurance can vary but typically range from $30 to $60 or more, depending on the coverage and your dog's age.
Pros and Cons of Having a Boxer as a Pet
Pros
1. Loyal and Affectionate: Boxers are known for their unwavering loyalty and affectionate nature. They form strong bonds with their families.
2. Playful and Energetic: Boxers are highly energetic and love to play. They're always up for an adventure, making them great companions for active individuals and families.
3. Intelligent and Trainable: Boxers are intelligent and eager to please, which makes them relatively easy to train. They excel in obedience and agility.
4. Protective Nature: Boxers have a protective instinct, making them excellent watchdogs. They will alert you to any potential threats.
5. Good with Children: Boxers are generally good with children and make fantastic family pets. Their playful nature makes them great playmates.
Cons
1. Energy Level: While their energy is a positive trait, it can be challenging for owners who cannot provide sufficient exercise and mental stimulation. A bored Boxer can become destructive.
2. Strong-Willed: Boxers can be strong-willed and somewhat stubborn, requiring consistent training methods.
3. Health Concerns: Boxers are prone to certain health issues, including hip dysplasia, heart conditions, and cancer. Veterinary care can be costly.
4. Excessive Drooling: Some Boxers have a tendency to drool, which can be messy and require regular cleaning.
5. Short Lifespan: Boxers have a relatively short lifespan, with an average of 10 to 12 years. Saying goodbye to a beloved Boxer can be heartbreaking.
In conclusion, owning a Boxer can be a deeply rewarding experience filled with love, loyalty, and unforgettable moments. However, it's essential to be prepared for the responsibilities and expenses that come with Boxer ownership. Understanding the breed's characteristics and considering both the pros and cons will help you determine if a Boxer is the right fit for your lifestyle and family.
11. Breed-Specific Accessories and Care Products for Boxer Dogs
Boxer dogs have specific needs and characteristics that can influence the choice of accessories and care products. To help you provide the best care for your Boxer, we've compiled a list of breed-specific accessories and recommended products tailored to their needs.
1. Grooming Tools and Supplies
Boxers have short coats that are easy to maintain, but regular grooming is still necessary to keep them looking and feeling their best. Here are some grooming tools and supplies you may need:
Rubber Curry Brush: This type of brush is excellent for removing loose hair and massaging your Boxer's skin.
Slicker Brush: Use a slicker brush to remove tangles and mats in your Boxer's coat.
Gentle Shampoo: Choose a gentle dog shampoo that won't irritate their skin. Look for hypoallergenic options.
Ear Cleaner: Boxers are prone to ear infections, so regular ear cleaning is essential. Use a dog-specific ear cleaner and cotton balls.
Nail Clippers: Keep your Boxer's nails trimmed to prevent discomfort and avoid injury.
Toothbrush and Toothpaste: Dental health is crucial. Brush your Boxer's teeth regularly with a dog-specific toothbrush and toothpaste.
De-shedding Tool: If your Boxer sheds excessively, a de-shedding tool can help reduce loose hair around your home.
2. Collars, Harnesses, and Leashes
Proper walking and training accessories are essential for your Boxer's safety and control. Consider the following:
Martingale Collar: These collars can prevent your Boxer from slipping out of their collar during walks.
Front-Clip Harness: A front-clip harness can help control your Boxer's pulling during walks and provide better support.
Retractable Leash: Opt for a sturdy retractable leash to give your Boxer some freedom while maintaining control.
Training Collar: If you're working on obedience training, consider a training collar with adjustable settings.
3. Toys for Mental and Physical Stimulation
Boxers are active and playful dogs that require mental and physical stimulation. Here are some toys to keep them engaged:
Interactive Puzzle Toys: These toys challenge your Boxer's problem-solving skills and keep their minds sharp.
Fetch Toys: Boxers love to play fetch. Invest in durable balls or frisbees for hours of fun.
Chew Toys: Durable chew toys can satisfy your Boxer's natural chewing instinct and help keep their teeth clean.
Kong Toys: Kong toys can be filled with treats or peanut butter, providing mental stimulation and entertainment.
Tug Toys: Boxers enjoy a good game of tug-of-war. Choose sturdy tug toys designed for dogs.
4. Dietary Supplements and Health Products
To support your Boxer's overall health and address breed-specific concerns, consider these dietary supplements and health products:
Joint Supplements: Boxers are prone to joint issues like hip dysplasia. Joint supplements with glucosamine and chondroitin can help maintain joint health.
Omega-3 Fatty Acids: These supplements promote healthy skin and coat and can benefit your Boxer's overall well-being.
Heartworm Preventatives: Given Boxer's susceptibility to heart conditions, monthly heartworm preventatives are essential.
Allergy Relief Products: If your Boxer has allergies, consult with your vet about allergy relief products or special diets.
Flea and Tick Preventatives: Protect your Boxer from external parasites with veterinarian-recommended flea and tick preventatives.
5. Crates and Beds
Providing your Boxer with a comfortable and safe place to rest is crucial. Consider these crate and bed options:
Crate: Choose a crate that provides enough room for your Boxer to stand, turn around, and lie down comfortably. It's a valuable tool for house training and providing security.
Orthopedic Dog Bed: Boxers can benefit from orthopedic dog beds, especially as they age. These beds offer support for joints and muscles.
6. Training Treats and Supplies
Effective training is essential for Boxers. Use these training treats and supplies to reinforce good behavior:
High-Quality Training Treats: Small, tasty treats are excellent for rewarding your Boxer during training sessions.
Clicker: A clicker can help with positive reinforcement training and mark desired behaviors.
Training Pouch: Keep your treats handy in a training pouch for easy access during walks and training sessions.
7. Dental Care Products
Oral hygiene is crucial for Boxers. Here are some dental care products to consider:
Dog Toothbrush: Use a dog-specific toothbrush to clean your Boxer's teeth effectively.
Dog Toothpaste: Dog-friendly toothpaste is essential for regular dental care.
Dental Chews: Dental chews can help reduce plaque and tartar buildup while providing a tasty treat.
8. Cooling Accessories
Boxers are susceptible to heat-related issues due to their short muzzles. Consider these cooling accessories, especially in hot weather:
Cooling Vest: A cooling vest can help regulate your Boxer's body temperature during outdoor activities.
Cooling Mat: Place a cooling mat in your Boxer's crate or designated rest area to provide relief from heat.
9. Doggy First Aid Kit
Prepare for minor injuries and emergencies with a doggy first aid kit. Include items like bandages, antiseptic wipes, and tweezers for removing splinters or ticks.
10. ID Tags and Microchips
Ensure your Boxer can be identified if they ever become lost. Custom ID tags and microchipping are essential for their safety.
11. Poop Bags and Waste Dispensers
Responsible pet ownership includes cleaning up after your Boxer. Keep a supply of poop bags and a dispenser for easy cleanup during walks.
12. Breed-Specific Health Insurance
Consider health insurance tailored to your Boxer's breed-specific health concerns. This can provide peace of mind and financial assistance in case of unexpected medical expenses.
Remember that every Boxer is unique, so your dog's specific needs may vary. Consult with your veterinarian for personalized advice on choosing the right accessories and care products to meet your Boxer's individual requirements.
12. Frequently Asked Questions (FAQs) About Boxer Dogs
In this section, we address ten common questions about the Boxer breed, covering various aspects of their care, behavior, and characteristics. If you're considering bringing a Boxer into your life or already have one, these FAQs will provide valuable insights into this remarkable breed.
1. Are Boxers Good Family Dogs?
Yes, Boxers are excellent family dogs. They are known for their loyalty, playfulness, and affection, making them great companions for both adults and children. Boxers are generally gentle and protective, making them a suitable choice for families.
2. How Much Exercise Do Boxers Need?
Boxers are high-energy dogs and require a substantial amount of exercise. Daily activities should include at least an hour of physical exercise, such as walks, playtime, or agility training. Mental stimulation is also crucial to keep them engaged and prevent boredom.
3. Do Boxers Get Along with Other Pets?
Boxers are usually friendly and get along well with other pets when properly socialized from an early age. However, their strong prey drive may lead them to chase smaller animals. Always supervise interactions and introduce them to other pets gradually.
4. Do Boxers Drool a Lot?
Yes, Boxers are known for their drooling tendencies, especially after eating or drinking. While not all Boxers drool excessively, it's a breed characteristic to be aware of. Keeping a drool cloth handy can help manage this trait.
5. Are Boxers Aggressive?
Boxers are not inherently aggressive dogs. They are protective and may display aggression if they perceive a threat to their family. Proper training and socialization are essential to ensure they are well-behaved and not overly aggressive.
6. What Health Issues Are Common in Boxers?
Boxers are prone to certain health issues, including hip dysplasia, heart conditions, bloat, and cancer. Regular veterinary check-ups and a healthy diet can help address and prevent some of these health concerns.
7. Do Boxers Shed a Lot?
Boxers have short coats that shed moderately throughout the year. Regular brushing can help minimize shedding. They are considered a low-maintenance breed in terms of grooming.
8. How Long Do Boxers Live?
The average lifespan of a Boxer is around 10 to 12 years. With proper care and attention to their health, some Boxers can live even longer.
9. Do Boxers Need Special Training?
While Boxers are intelligent and eager to please, they can be strong-willed. Consistent and positive reinforcement-based training is essential. Early socialization and obedience training are recommended to ensure they are well-behaved and obedient.
10. Can Boxers Live in Apartments?
Boxers are adaptable and can live in apartments, but they require sufficient exercise and mental stimulation. If you live in an apartment, commit to daily walks and playtime in nearby parks to keep your Boxer happy and healthy.
These FAQs address some of the most common questions about Boxer dogs. Remember that each Boxer is an individual, and their behavior and needs may vary. Always consult with a veterinarian or a professional dog trainer for personalized advice on caring for your Boxer and ensuring they lead a happy and fulfilling life.
13. Conclusion: Embracing Boxer Ownership
As we conclude this comprehensive guide on Boxer dogs, let's recap the key points covered throughout this article. We've explored the unique characteristics of Boxers, their origin, temperament, health considerations, and much more. This information equips you with valuable insights into providing the best possible care for your Boxer and ensuring a happy, healthy life for your four-legged friend.
Summarizing Key Points
Boxer Characteristics: Boxers are renowned for their loyalty, playfulness, and protective nature. They are known to be excellent family dogs with a strong bond with their owners.
Exercise Needs: Boxers have high energy levels and require daily exercise and mental stimulation. Regular activities like walks, playtime, and training are essential for their well-being.
Health Concerns: Boxers are susceptible to specific health issues, including hip dysplasia, heart conditions, bloat, and cancer. Regular veterinary check-ups and a balanced diet are crucial for their health.
Grooming: While Boxers have short coats, they do shed moderately. Regular brushing and basic grooming practices, such as ear cleaning and dental care, are necessary to keep them clean and healthy.
Training and Socialization: Proper training and early socialization are essential for Boxers to ensure they are well-behaved and obedient pets. Positive reinforcement methods work well with this breed.
Family Compatibility: Boxers are known for their affectionate nature and compatibility with families. They are often good with children and can make loving and protective companions.
Adoption Considerations: Consider adopting a Boxer from a shelter or rescue organization. Many wonderful Boxers are in need of loving homes, and adoption can be a rewarding experience.
Responsible Ownership
Responsible ownership is paramount when it comes to Boxers, as with any dog breed. Here are some key responsibilities:
Proper Care: Ensure your Boxer receives regular veterinary care, a balanced diet, and appropriate exercise. Keep up with vaccinations and preventive measures.
Training and Socialization: Invest time in training and socializing your Boxer to promote good behavior and ensure they are well-adjusted around other animals and people.
Exercise: Commit to providing daily exercise and mental stimulation to keep your Boxer happy and prevent boredom-related issues.
Grooming: Practice regular grooming, including brushing, ear cleaning, and dental care, to maintain your Boxer's health and appearance.
Safety: Keep your Boxer safe by providing a secure environment, using appropriate collars or harnesses, and ensuring they are supervised around young children.
Health Monitoring: Be vigilant about your Boxer's health, watch for any signs of discomfort or illness, and seek prompt veterinary attention when needed.
Spaying/Neutering: Consider spaying or neutering your Boxer if you don't plan to breed. This can help prevent certain health issues and contribute to the control of the pet population.
Encourage Adoption
We encourage you to explore adoption options for Boxer dogs. Shelters and rescue organizations often have loving and deserving Boxers in need of forever homes. By adopting, you provide a second chance to a dog in need and enrich your life with a faithful companion.
Resources for Adoption:
In conclusion, Boxer dogs are a remarkable breed known for their loyalty, playfulness, and loving nature. By understanding their unique characteristics and embracing responsible ownership, you can provide the best possible life for your Boxer. Whether you're considering bringing a Boxer into your family or already have one, the bond you share with this breed is sure to be filled with joy and unforgettable moments.
Dr. Rachel Davis is a passionate veterinarian, having completed her studies in veterinary medicine at the University of California. Alongside her professional commitments, she remains dedicated to her beloved dog and has a profound love for all animals. In her spare time, she indulges in her passion for writing, often focusing on topics related to veterinary care and animal welfare.